Above Ground Swimming Pool Lights
Above ground swimming pool lights keeps the pool party going after the sun has gone down. We love to swim in the evening and as the days get shorter, the pool lights provide the perfect atmosphere.
Pool lights are a great investment to extend the use of your pool.
Consider:
1. What wattage you want - 50 or 100 watts
2. Are the lights for a hard or soft sided above ground pool
Above Ground Pool Lights - 100 Watts
The easiest above ground pool lighting is the NiteLighter. It features:
* 100 Watt Long-Life Halogen Bulb with a patented reflector lens, meaning this light will brighten up even the largest above ground pool.
* On/Off Switch
* 12 Volt/100 Watt Outdoor Pool Transformer
* Easy Installation - No Drilling or Draining of Pool
* Tested to UL Standard 676 and Certified by ETL * One Light Sufficient to Illuminate Most Above ground Pools
* Will Not Interfere with Water Return
* Chemical-Resistant Lens
* Comes with 3 colored lenses to snap on for mood effects
* Fuse Overload Protection
* 28' cord (Including Transformer and Plug)
Above Ground Pool Lights - 50 Watts
This light by SmartPool® NiteLighter is an above ground 50-watt light that features a long-lasting bulb and a patented reflector designed to provide maximum illumination. It's easy to install and is set-up with 5 amp fuse overload protection. Features:
# 12-volt outdoor pool transformer
# Long-lasting halogen bulb
# Easy DIY installation, no drilling or draining of pool
# Patented reflector design engineered for maximum illumination


Go from Above Ground Swimming Pool Lights to Pool Lights

Return to Pool Fun for Everyone Home Page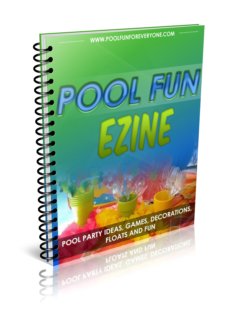 Get tips and ideas for:
Pool Party Themes, Invitations, Games and Decorations
Outdoor Patio Umbrellas - Frame, Fabric and the Best Size
Swimming Pool Floats for Infants, Kids and Adults

Pool Party Food from Summer Appetizers to Cold Desserts
Outdoor Party Lights - Patio Umbrella Lights to Solar Torches
Sign up here: