Beach Party Food

Any food becomes beach party food when served in a new beach pail or sand toy.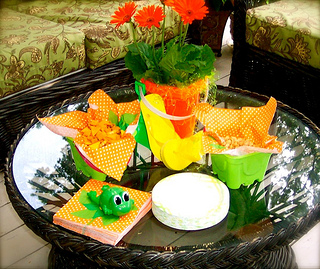 Pictured here are multi-grain pita chips served in new bright green sand bucket lined with a polka-dot orange napkin. The hummus is in a little sand toy I bought at Target.
Easy Hummus Recipe

 Buy premade hummus or make your own. Using a food processor add: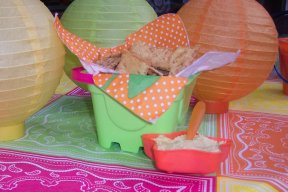 1 15 oz Can of Chickpeas - drained, but reserve liquid
2 Cloves Garlic minced
Juice of 1 Lemon
1/2 Teaspoon Sea Salt
2 Tablespoons Virgin Olive Oil
Cilantro or Parsley Leaves
Mix to the consistency that you like. If it needs more liquid add some of the liquid from the drained chickpeas.
Cold Salads

We often serve salads at our pool parties and one of our favorites is chicken salad.
If I am in a rush, I buy it from our local grocery store.
Made with red grapes and celery it is really tasty. Serve it with a slice of cantaloupe and a bunch of green grapes.
For cold salad recipes click here:
Turkey and Spinach Roll-Ups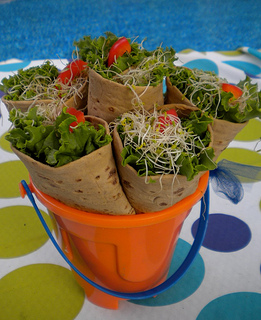 Make turkey roll-ups using thin slices of turkey, fresh lettuce, alfalfa sprouts, strips of red pepper, and mayonnaise.
Other good ingredients to use are slices of avocado, tomatoes, cucumbers or onion.
Give some extra flavor by using flavored mustard, like Dijon or our favorite is Pale Ale Honey Spice Mustard.
Cream cheese sprinkled with some dill can be used as a spread as well.
Serve them in a new brightly colored orange sand bucket.
Beach Party Cake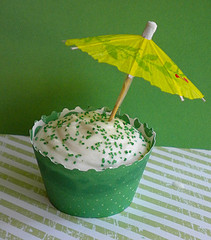 Serve fun "beachy" cupcakes for your beach party food.
Wrap a colorful cupcake wrapper around the cupcake and top it with a "beach umbrella."
Use brown colored sugar as sprinkles or just use a bright color like green, blue or orange.
If you decide to make your own cupcakes, I found that store bought frosting works better than homemade frosting. On a warm or hot day, homemade frosting melts and the cupcakes don't look very fresh. The store bought frosting stays in place and looks fresh so you can keep the cupcakes outside until they are ready to be served.
Place the cupcakes in a cupcake stand and use the stand as a centerpiece.

Glass Stem Tags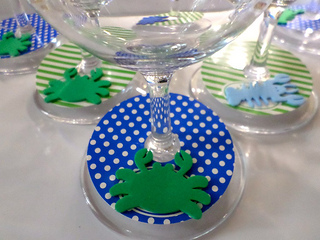 Don't you just love the bright colors of these wine glass stem tags? Found the tags at Target and then used beach themed foam stickers rather than names.
People often don't take the time to write their name on the tag, so by having a unique sticker they can remember which glass is theirs.
Even though I have many wine charms, what I don't like about them is that they are so small and with aging eyes it can be hard to distinguish the difference between them.
Go from Beach Party Food to Beach Party Ideas

Go from Beach Party Food to Pool Fun for Everyone Home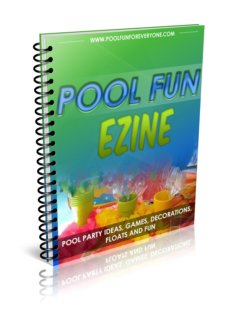 Looking for ideas to have fun with friends and family out by the pool? Get free tips on:
Pool Party Themes, Invitations, Games and Decorations
Outdoor Patio Umbrellas - Frame, Fabric and the Best Size
Swimming Pool Floats for Infants, Kids and Adults

Pool Party Food from Summer Appetizers to Cold Desserts
Outdoor Party Lights
- Patio Umbrella Lights to Solar Torches

Sign up here:
© Copyright 2011 - 2016 www.PoolFunforEveryone.com
All rights reserved. This DMCA site is protected under U.S. and International copyright laws. Do Not Copy and Content or Images. No use is permitted without written permission.