Floating Solar Pool Lights
Floating solar pool lights gather energy during the day and automatically illuminate at night, without batteries or electricity. The solar panels convert the sunlight into electricity and then recharge the rechargeable battery. So simple and yet such an impact to the evening ambience.

You don't need to worry about buying batteries or that the batteries will run out before the parties over. Many of the batteries will provide up to eight hours and more of light when the batteries are fully charged (depending on the hours of light).
A LED lamp will automatically turn on at dusk and turn off at dawn. They come in different colors, like white or blue and some will change to different colors. Depending on the size of your pool and the look you want to create, usually you will need several floating lights for such a large space. If you are using it for a pond, a bird bath or spa then 1-3 of them will work.
They are a fun and no fuss way of lighting your pool.
Floating Solar Lights
These solar lights come on every evening without having to do anything - no batteries, no light switches, no work. The light will stay on for 6 hours - but be sure the switch is on the "ON" position for it to charge.
They are about 4" which means you will need several of them to light up a swimming pool - at least 6-8 of them. If you only want one light, don't waste your money because it just won't provide enough impact. This is a color changing orb with red, green, yellow and blue lights. It cannot be set to one color.
Waterproof Solar Power LED Color Changing Globe Lights
Floating Solar Pool Light -6"

This globe shaped solar light is 6" - I wish it was bigger but it is one of the brightest solar lights available.
The price is just over $27 which is fine if you just want one. But for a large pool like ours - we would need probably six or it would look rather funny with just 2 floating out there in such a big space.
Color-Changing Floating Solar Powered Lights
Floating Solar Pool Lights - 12"

When it comes to lighting up your pool at night - size matters. The larger the better
unless your pool is really small. That's why I love this 12" solar globe. It's waterproof so it can be used in the pool, a spa, birdbath or pond.
If you like color - this one has it. There are settings for red, blue and green. Set the color you want by pressing a button.
Simply turn it off by holding the button. Another nice feature is that it automatically turns off after four hours.
Floating Globe with Color Changing LED Lights
Solar Lotus Flower
I purchased several of these floating solar lily pads. Place them in a sunny spot during the day (or in your swimming pool) and the light comes on automatically at night. It is is large - almost 11" - a great size for a pool and the price is right to buy multiples - less than $10 from Amazon with free shipping. It is light changing and rotates from white to green to red. When you get it be sure to switch the light to "Auto" or it won't turn on. Get yours at Amazon here:
White Solar Powered LED Pool Floating Lotus Flower Night Light Lamp
You can find other floating solar lights that are smaller - around 3" - that are less expensive.  I would not recommend them as they are just too small for a swimming pool.  The larger the better. 

Go from Floating Solar Pool Lights to Swimming Pool Lights

Go from Floating Solar Lights to Pool Fun for Everyone Home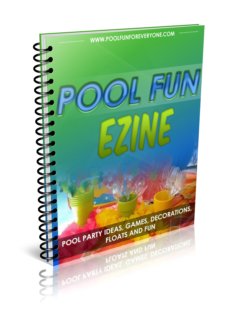 Looking for ideas to have fun with friends and family out by the pool? Get free tips on:
Pool Party Themes, Invitations, Games and Decorations
Outdoor Patio Umbrellas - Frame, Fabric and the Best Size
Swimming Pool Floats for Infants, Kids and Adults

Pool Party Food from Summer Appetizers to Cold Desserts
Outdoor Party Lights
- Patio Umbrella Lights to Solar Torches

Sign up here:
© Copyright 2011 - 2014 www.PoolFunforEveryone.com
All rights reserved. This DMCA site is protected under U.S. and International copyright laws. Do Not Copy and Content or Images. No use is permitted without written permission.