Frozen Blender Drinks
Frozen blender drinks are made often at our house - for family and friends. We serve them sometimes as an appetizer, or just by themselves as a snack for evening guests.
I always keep the ingredients I need on hand in the freezer - frozen bananas, frozen pineapple, mango, strawberries, etc.
Frozen Tropical Drinks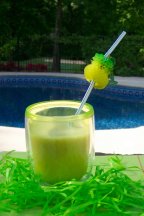 Frozen tropical drinks include ingredients like pineapple, mango and coconut. Our latest and most popular frozen fruit drink is our pina colada smoothie recipe.
My recipe for two servings:
2 Cups of Coconut Juice Blend
1 Cup of Frozen Mango Slices
1 Frozen Banana Sliced
1 Cup of Frozen Pineapple Chunks
Mix in your favorite blender until smooth and serve in chilled glasses with a fun tropical straw.


Blender Fruit Drinks
I always use frozen (and not fresh) fruit for my blender fruit drinks. Even the banana, I peel and slice it and then put it in a freezer bag. Many people use ice in their homemade fruit smoothie - instead I use frozen fruit.
It makes a nice thick smoothie with lots of good for you ingredients. It also means that I am always ready for last minute guests because I keep lots of frozen fruit ready to go in the freezer.
Watermelon Drinks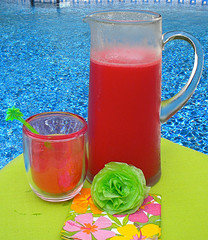 We have served several different watermelon drinks (with fun, fancy straws) at our pool gatherings. All of them require a blender. If you have a portable, rechargeable blender bring it out by the pool and make it out by the guests or have the guests make their own.
My sister served this refreshing watermelon drink and we loved the refreshing taste.
Ingredients:
2 Cups of Cut up Watermelon
1 Pint of Cut up Strawberries
1/3 Cup of Sugar
1/3 Cup of Lemon Juice (for a frozen alcoholic drink use 1/3 Cup of Lime Vodka)
2 Cups of Ice Cubes
Garnish with a sprig of mint.
In a container mix the watermelon, strawberries, sugar and lemon juice. You can do this ahead of time. When it's time to serve just put the mix in the blender and add 2 Cups of ice cubes. It is really good! It is now one of our favorite pool side drinks.
Simple ingredients like watermelon, strawberries and lemon juice make it a drink that can be served to any age group.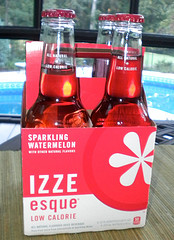 Of course, if you want a refreshing summer drink for a last minute gathering or just to have on hand try this Sparkling Watermelon drink by Izze Esque.
It is all natural - pure fruit juice from concentrate and sparkling water - that's it.
No artificial ingredients.
It is 25% pure fruit juice - so there are some calories - but not many.
All of our guests have loved this cold drink, so now we keep some in the fridge to for guests or our own enjoyment.
Homemade Fruit Smoothie
Because we grow raspberries along our pool fence, I make a homegrown and a home made fruit smoothie out of raspberries.
Raspberry smoothie recipes can be adjusted in many ways. Here is a basic one.
Blend on high the following ingredients: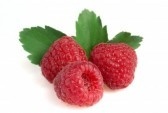 1. One 8 oz cup of vanilla or raspberry yogurt
2. 1 Cup of Frozen Raspberries
3. 3/4 Cup of Milk or Almond Milk
4. 1/2 Teaspoon of Vanilla
5. 1/2 Frozen Sliced Banana
Mix until smooth.
The best blender for smoothies is one that you can take out by the pool. My neighbor brought over her cordless Breville blender one evening when neighbors came over to cool off in the pool. It was powerful enough to mix frozen pineapple and frozen mangoes.
Making the smoothies together helped create an atmosphere of fun and friendship. Don't you think that's much better than being by yourself in the kitchen making the smoothies?


Go from Frozen Blender Drinks to Pool Party Food

Go from Frozen Blender Drinks to Pool Fun for Everyone