Frozen Pie Recipes

Frozen pie recipes can be made days ahead for your party or just keep one in the freezer for last minute get togethers by the pool.
Frozen Strawberry Pie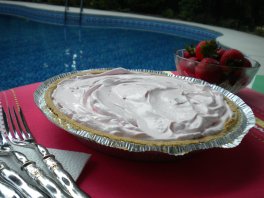 This frozen strawberry pie recipe is easy to make and can keep for weeks in your freezer.
Frozen Yogurt Strawberry Pie - Light and Refreshing
1 Ready made graham cracker pie crust
2 (8 oz.) container strawberry yogurt
1 (12 oz.) frozen whipped topping, thawed 1 (10 oz.)
1 Cup of fresh strawberries cut up
Mix the yogurt, with 3 3/4 cupped whipped topping and cut up berries and put into the pie crust. Freeze for at least 2 hours. Take it out to thaw about 15 - 30 minutes before serving and garnish with fresh strawberries.
Ice Cream Pie Recipes

Ice cream pie recipes can be varied by just changing the flavor of ice cream. This recipe calls for vanilla ice cream, but our favorite ice cream is Moose Tracks. So substitute the vanilla ice cream with your favorite ice cream flavor.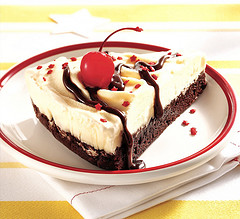 1 box (1 lb 6.5 oz) Betty Crocker® Original Supreme brownie mix (with chocolate syrup pouch)
Water, vegetable oil and eggs called for on brownie mix box
1/2 gallon (8 cups) vanilla (or your favorite flavor) ice cream, slightly softened
1 cup hot fudge topping

1. Heat oven to 350°F. Line 2 (9-inch) round cake pans with foil; grease bottoms only with shortening or cooking spray.
2. Make brownie mix as directed on box —except divide the batter evenly between pans. Bake as directed or until toothpick inserted 2 inches from side of pan comes out almost clean. Cool completely in pans, about 1 hour. Do not remove from pans.
3. Spread slightly softened ice cream evenly on brownies in pans. Freeze at least 2 hours or until ice cream is firm.
4. Remove desserts from pans; remove foil.
Cut and drizzle each wedge with hot fudge topping.
Store covered in freezer. Ice cream pie recipes are easy and everyone likes them. You can vary them in any way that you like. Here is our favorite ice cream dessert:
Hot Fudge Ice Cream Pie
Ingredients:
1. Oreo cookie crust - I always use a store bought one
2. Smuckers Hot Fudge Sauce
3. Vanilla Ice Cream (or your favorite ice cream flavor)
4. Cool Whip
First warm the hot fudge sauce so that it is easy to pour out of the jar. Use half of it to cover the bottom of the pie crust.
Soften your ice cream so that you can spoon it over the hot fudge sauce into the pie crust.
Pour the other half of the hot fudge sauce over the ice cream
Spread a layer of Cool Whip over the hot fudge sauce.
Put in the freezer and bring it out 15- 30 minutes before it's time to serve it.
Go from Frozen Pie Recipes to Cold Dessert Recipes

Go from Frozen Pie Recipes to Pool Fun for Everyone Home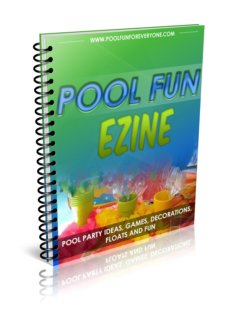 Looking for ideas to have fun with friends and family out by the pool? Get free tips on:
Pool Party Themes, Invitations, Games and Decorations
Outdoor Patio Umbrellas - Frame, Fabric and the Best Size
Swimming Pool Floats for Infants, Kids and Adults

Pool Party Food from Summer Appetizers to Cold Desserts
Outdoor Party Lights
- Patio Umbrella Lights to Solar Torches

Sign up here:
© Copyright 2011 - 2016 www.PoolFunforEveryone.com
All rights reserved. This DMCA site is protected under U.S. and International copyright laws. Do Not Copy and Content or Images. No use is permitted without written permission.