Girl's Pool Party

A high school reunion and milestone birthday prompted this Girls Pool Party.  Friends flew in from California, Colorado and Wisconsin for a weekend of flamingling.

Let's Flamingle

I found these cute pink and green invites at Etsy which set the theme and colors for our girls pool party.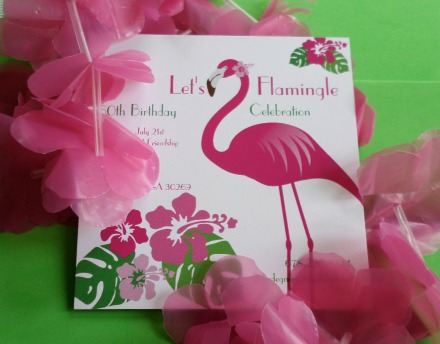 Girls Pool Party Supplies

As the guests arrived they donned their
Foam flamingo glasses
and
hot pink flower leis
and the weekend of fun began.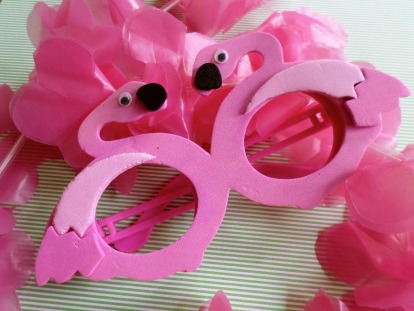 Girls Pool Party Decorations

A friend of mine donated her 20 pink plastic flamingos.  The flamingos greeted guests in the driveway, along the side walk, and by the pool steps. I loved how they watched over us in the pool.  You can get a set of 6 of them at Amazon here:

Bright Pink Flamingo Yard Ornaments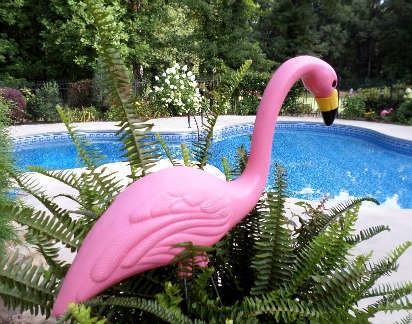 A colorful flamingo flag - with the design on both sides -
greeted guests by the pool gate.
Flamingo Inflatables
Set out several pink inflatable flamingos - by the pool, the party table, steps, or pool entrance.  These are nice and large - 28".  I love to decorate with inflatables since they can get wet and when they end up in the pool - which they often do - it just adds to the fun.

28" Inflatable Pink Flamingo
Flamingle Drinks

Flamingo Straws
and
tropical wine charms
added a festive touch to the watermelon cooler drink.
I juiced a whole water melon in my Vitamix and then froze it.  Just put a big scoop of frozen watermelon in each glass, poured in some Sprite and for those who wanted it a bit of lime liquer. So refreshing!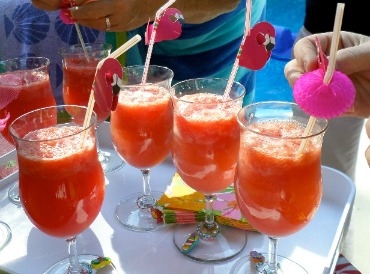 Girls Pool Party Table

I loved the colors in this
tropical umbrella tablecloth.
It fit with our fun theme and color scheme. There is a hole that accommodates the umbrella pole and it has velco strips to close it. The party favor bags are used as centerpieces.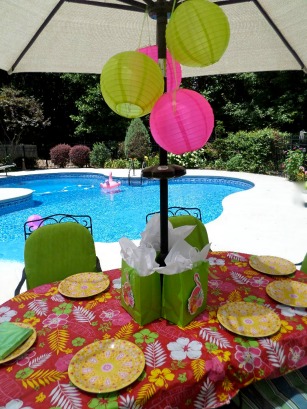 I now only use nylon lanterns, rather than paper lanterns.  They don't wilt in the humidity and water won't hurt them.  For five days we kept these pink and lime green lanterns up and they still looked great - ready for the next party.

I purchased
14" Hot Pink Nylon Lantern
and
14" Apple Green Nylon Lanterns
The 14" size was just right for 4 of them strung up and around the ribs of the umbrella.

Pink Drink Coasters

Everyone got their own pink flamingo coaster.  They kept drinks a bit cooler and although they float - I wouldn't count on them not tipping.
Ask me how I know :)  But they sure looked cute on the table.
You can find them at Amazon for just over a dollar a piece for a set of 12:

Inflatable pink flamingo coasters (1 dz)
Keep the Theme Going At Night

I wish I would have found these flamingo luminary bags in time for my party.  If the timing of your celebration will be in the evening hours, surprise everyone with these luminary bags.
The cut-out bags, like these are my favorite.  You can really see the cut flamingo shape when the bag is lit up.
Use cheap electronic tea lights and decorative rocks for added weight.
These bags only come in a package of 50 - so you'll have plenty for another party :)

Flamingo luminary bag - Case of 50
Girls Pool Party Floats

Who could resist this flamingo float?  I couldn't.   The floats were bought at Publix at the end of summer. 

This float is even better than the one I bought because of the deep pink vibrant color and the fact that it inflates to over 4 feet.
Thick and durably vinyl, the flamingo head stands high - 5 feet actually.  So if you want an instant pool decoration float this is the one. 
BigMouth Inc Pink Flamingo Pool Float, inflates to over 4ft. wide
Let's Talk

Floating chairs like this one meant that the chatter didn't stop when we got into the pool.  I bought several of them from Amazon (we took them to the ocean as floats and loved using them there too). 

Floating Chair with Arm and Headrest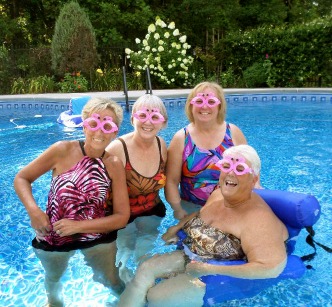 Pink Beach Balls
Since floating flamingos are hard to come by, I purchased a dozen 24" pink beach balls and had them floating in the pool when the guests arrived.  I found mine at the Dollar Store in the beginning of summer - if your're not that lucky you can buy them on line here:

24'' Solid Hot Pink Beach Ball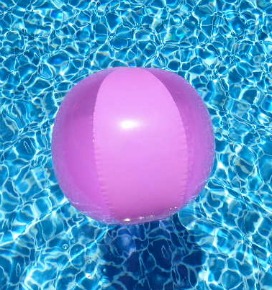 Girls Pool Party Favors

Everyone received a gift of an insulated tumbler with a straw in their party bag.  With each design being unique everyone knew which glass was theirs for the weekend.  It is a nice size - 24 oz - keeps drinks cold  without sweating.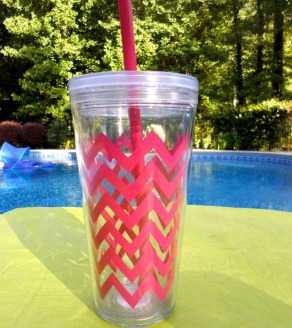 I bought mine at Amazon as the stores didn't carry them. Buy yours here:
Copco Chevron Tumbler with Straw, 24-Ounce, Magenta Pink
Lime green party bags are adorned with some pink toulle and flamingos. The flamingos are actually centerpieces and I just cut off the honeycomb portion. You can still find them at Birthday Direct - 3 for $1.87.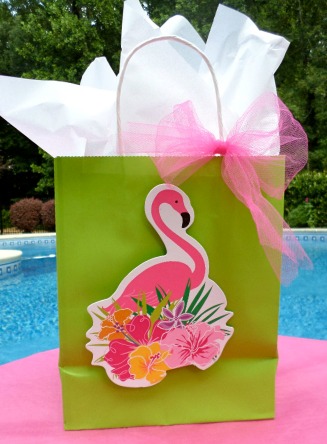 Pink Flamingo Cupcakes
OK, not pink - fuchsia cupcake wrappers topped by pink flamingo finger puppets ended our meal - but not our fun.  Running out of time, I ordered the cupcakes from Publix - white cake and white frosting.  Can I tell you they were the best cupcakes!  So moist, light and fluffy and the frosting was tasty - just right not too sweet.  Embellish with some colorful sprinkles and display them in a cupcake tower.

For only $3.99 for a dozen with free shipping you can't go wrong.  Remember these are cupcake wrappers that go over the cupcake liners which fade when you bake them. Buy them here:

Fuchsia Polka Dot Cupcake Wrappers, Set of 12
So if you are planning a girls pool party find out how much fun it is to flamingle with your girl friends with this pool party theme.

Go Back to Adult Pool Party Ideas

Return to Pool Fun for Everyone Home Page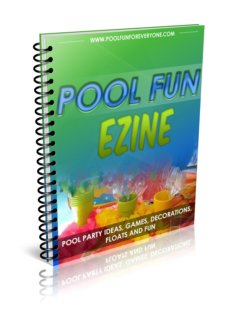 Looking for ideas to have fun with friends and family out by the pool? Get free tips on:
Pool Party Themes, Invitations, Games and Decorations
Outdoor Patio Umbrellas - Frame, Fabric and the Best Size
Swimming Pool Floats for Infants, Kids and Adults

Pool Party Food from Summer Appetizers to Cold Desserts
Outdoor Party Lights
- Patio Umbrella Lights to Solar Torches

Sign up here:
© Copyright 2011 - 2016 www.PoolFunforEveryone.com
All rights reserved. This DMCA site is protected under U.S. and International copyright laws. Do Not Copy and Content or Images. No use is permitted without written permission.