Glass Torch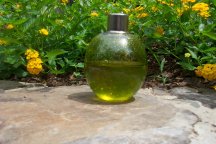 A glass torch is pretty during the day and provides great ambient lighting for evenings out by the pool or in your backyard.
We bought 15 of these glass oil torches (half price at the end of the summer :)to have around our pool.
As fall approaches, we find we entertain even more outside, so it is important to provide all kinds of light.
Tiki torch lights, along with floating pool lights provide that extra special feeling to keep you and your guests outdoors.
Be sure to have plenty of tiki torch oil and tiki torch wicks on hand for spur of the moment guests or for your own personal enjoyment.
Stone Torch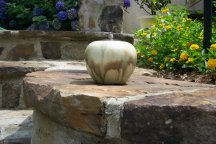 A stone torch provides the perfect look on the stone stairs to our pool.
We place a torch on each step so that it is easy to see as people are going up and down the stairs in the evening.
I found these torches at the end of the summer last year and was fortunate to find 3 of them. They were purchased at a local gift store.
Tabletop Tiki Torches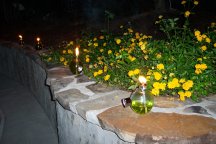 A glass oil torch can be purchased also as a tabletop torch. The mini tiki torches can be placed on steps, and on ledges around your pool.
Look for a torch that includes a long lasting fiber glass wick that doesn't ever need replacing. Be careful, however, with torches made of glass as they can break and we all know that broken glass around the pool is not a good thing.
However, these outdoor torches last a long time and don't rust like some metal torches or fall apart like bamboo tiki torches.


Go from Glass Torch to Outdoor Torches

Return to Pool Fun for Everyone Home