Lion King Party Supplies
Lion King party supplies can include the real Disney Lion King trademark paper goods or as you can see for our party, we used brightly colored, happy looking lions.
Lion King Decorations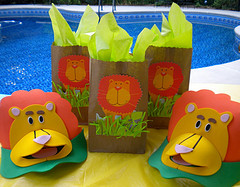 Most often my party supplies do double or triple duty. For this Lion King party, the party bags also served as the centerpieces. Use bright lime green tissue paper in the party bags to add extra color.
Four bags were placed around the patio umbrella with green grass sprinkled in between. Several plastic snakes sat hiding in the grass as well.
We bought this set of jungle animal visors to hand out when the kids first arrived. Everone picked out their favorite animal.
Made out of foam, the visors are really colorful and strong. Getting them wet is not a problem.
The kids wore them as we started off the party with a Lion King Parade around the pool to Disney's "I Can't Wait to Be King."
You can get a set of safari animal visors at Amazon here: 12 Foam Jungle Animal Sun Visors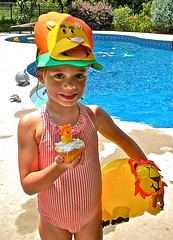 The birthday girl got the lion visor while the rest of the guests picked out their favorite animal visor.
The same with the jungle themed beach balls - the birthday girl got one of the lion beach balls set apart just for her.
Instead of cake, cupcakes were served topped with little lion plastic finger puppets.
The kids loved them - that is the cupcakes and the finger puppets. The finger puppets could be played with in the pool and then taken home as party favors.
Lion King Games
An assortment of Jungle Animal Shaped Beach Balls
were floating in the pool when the kids arrived. They became the prop for many of the Lion King games and then served as take home party favors.
Lion King Party Bags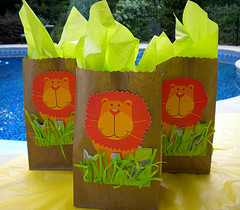 I ordered extra Lion Birthday Invitations
and used them for the party bags. I cut out the lion and glued him onto inexpensive brown paper lunch bags. Extra strips of green grass were added with a glue stick. Trim the top of the bag with a decorative scissor for a more finished look.
Top the favors with lime green tissue paper for extra color.
Lion King Party Favors
I found these plastic lions from Birthday Express and then added some jungle stickers and plastic snakes.
Other ideas are animal crackers and jungle tattoos. The kids also took home their jungle animal visors and beach balls.




Go from Lion King Party Supplies to Lion King Party

Go from Lion King Party Supplies to Pool Fun for Everyone Home