Lion King Party Supplies
Lion King party supplies can include the real Disney Lion King trademark paper goods or as you can see for our party, we used brightly colored, happy looking lions.
Invites and Paper Goods

These invites set the theme and color scheme for our party. Not only were they used for invitations, but I bought an extra set to use on the party bags.
I love the colors of yellow, orange, green and brown for this kids pool party theme.
Lion Invitations
If you decide to go with these invites, you can also get matching plates and napkins.
I bought the party plates and then used solid orange colored napkins. The plates are around $3.50 for 8 of them.
Jungle Animals 7" Plates - 8 ct
Visors and Beach Balls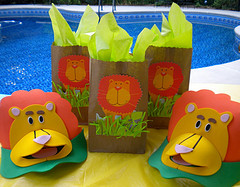 Most often my party supplies do double or triple duty. For this Lion King party, the party bags also served as the centerpieces. Use bright lime green tissue paper in the party bags to add extra color.
Four bags were placed around the patio umbrella with green grass sprinkled in between. Several plastic snakes sat hiding in the grass as well.
We bought this set of jungle animal visors to hand out when the kids first arrived. Everone picked out their favorite animal. Made out of foam, the visors are really colorful and strong. Getting them wet is not a problem. The kids wore them as we started off the party with a Lion King Parade around the pool to Disney's "I Can't Wait to Be King." You can get a set of safari animal visors at Amazon here:
12 Foam Jungle Animal Sun Visors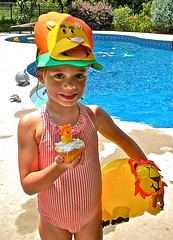 The birthday girl got the lion visor while the rest of the guests picked out their favorite animal visor.
The same with the jungle themed beach balls - the birthday girl got one of the lion beach balls set apart just for her.
Instead of cake, cupcakes were served topped with little lion plastic finger puppets.
The kids loved them - that is the cupcakes and the finger puppets. The finger puppets could be played with in the pool and then taken home as party favors.
An assortment of
Jungle Animal Shaped Beach Balls
were floating in the pool when the kids arrived. We always have some kind of themed inflatable or beach balls for our pool parties.
When the kids first walk into the pool area, that is what they notice first. It gets them excited to get into the pool and start the pool games.
The beach balls became the prop for many of the Lion King games and then served as take home party favors.
Lunch Bags for Party Bags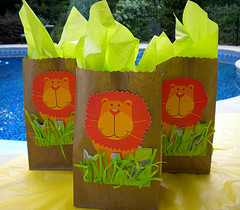 I ordered extra
Lion Birthday Invitations
and used them for the party bags. I cut out the lion and glued him onto inexpensive brown paper lunch bags. Extra strips of green grass (stiff Easter grass) were added with a glue stick. Trim the top of the bag with a decorative scissor for a more finished look. Top the favors with lime green tissue paper for extra color.
Lion Party Favors
I found these plastic lions from Birthday Express and then added some jungle stickers and plastic snakes. Amazon sells
Disney Lion King Stickers
in a party pack as well. Other ideas are animal crackers and jungle tattoos. The kids also took home their jungle animal visors and beach balls.
Lion King Cupcakes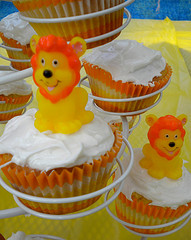 Fun cupcakes make the perfect Lion King Cake. Lion plastic finger puppets are the cupcake toppers. Chocolate sprinkles and green sugar can be sprinkled on the top of the frosting.
Display your creation on a cupcake stand and use it as a centerpiece.
We found these cute plastic yellow and orange lion finger puppets from Oriental Trading.
Finger puppets are a lot more fun and a lot more safe than cupcake toppers that use toothpicks. Not only are the finger puppets colorful, they make a great little take home party favor as well.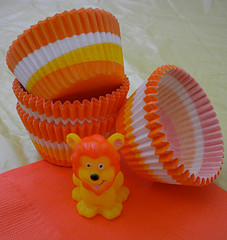 Bright yellow and orange cupcake liners that actually keep their color make for a more colorful cake.  These liners are heavy duty so they are more expensive.
But the colors don't fade if you make a white cake like they do with the cheap liners from the grocery store. If you make chocolate the colors are less vivid.

I figured since I am not spending money on a store bought cake, spend the extra money to make your cupcake creations pop with bright orange and yellow, instead of a dingy, faded color.
Because they are heavy duty, they can be used to serve snacks like candy, popcorn, pretzels, small crackers or fruit.
I found my liners at Tuesday Morning. You can also get them here at Amazon:
Cupcake Creations Baking Cups, Orange Circle 80-Pack
Another way to bring color to your cupcakes is to use cupcake wrappers. I used to make my own from scrap booking paper but they are now readily available and cheap that it's not worth the time anymore.
Go from Lion King Party Supplies to Lion King Party

Go from Lion King Party Supplies to Pool Fun for Everyone Home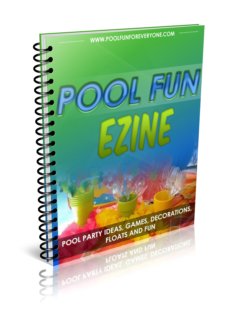 Looking for ideas to have fun with friends and family out by the pool? Get free tips on:
Pool Party Themes, Invitations, Games and Decorations
Outdoor Patio Umbrellas - Frame, Fabric and the Best Size
Swimming Pool Floats for Infants, Kids and Adults

Pool Party Food from Summer Appetizers to Cold Desserts
Outdoor Party Lights
- Patio Umbrella Lights to Solar Torches

Sign up here:
© Copyright 2011 - 2014 www.PoolFunforEveryone.com
All rights reserved. This DMCA site is protected under U.S. and International copyright laws. Do Not Copy and Content or Images. No use is permitted without written permission.