Luminary Bags
Use luminary bags as outdoor party lights to light walkways, paths, steps or sidewalks.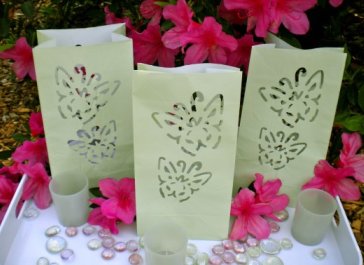 Paper luminaries make great outdoor party lights. Use them to light up the path to your pool or patio. Place them on tables as centerpieces or on steps or rock walls.
The easiest, safest and most reliable way to set them up is to use decorative rocks to add weight to the bags and electronic votive candles as lights.
Then there is no need to worry about the wind blowing the candles out or a fire starting if the bag tips over.
Paper Luminaries
There is a wide assortment of styles and designs available.
1. Flame retardant bags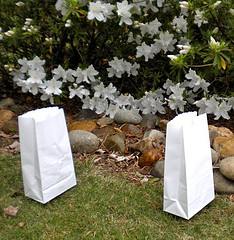 Flame retardant bags are thicker and the glow from the candle is not as bright, but they are the safest option. Add an inch or two of sand or cat box filler to the bottom of each bag. Put a tea light candle in the center. Light your candle.
2. Not flame retardant bags
These paper luminaries are thinner so the glow is brighter. For safety reasons use battery-operated tea lights and decorative rocks or sand to add weight to the bag.
3. With or without tea lights.
You will find the prices vary depending on the number of bags you order and if they come with or without the tea lights. The large the number of bags the better the value.
4. Bags with cut out patterns
These are my favorite outdoor party lights.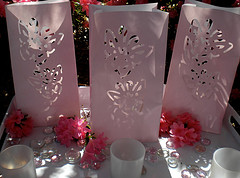 The cutouts make the light and the glow more noticeable.
The white flame retardant bags we have used had no cut outs and the thicker flame retardant paper meant that the glow from the tea light was very dim. You can get white cutout luminaries
from Amazon.


5. Solid color or white bags
White bags provide the better glow or light. Light pastel bags also provide a nice glow. We have used darker aqua colored bags with a Hawaiian them. They look great during the day, but the small tea light has a hard time glowing through the dark bag. So remember the darker the bag or thicker the paper the less light shines through.
Themed bags for holidays such as Halloween, Christmas or Valentines add a festive outdoor touch to any party.
For a finishing touch, trim the tops of the bag with a decorative scissor.
To make an impact place your bags every couple of feet to line your driveway, walk way or pool perimeter.
For just around $5 for 12 bags what's not to like about them.
Fall Luminary Bags (1 dozen)
7. Use Electronic Tea Lights
There is nothing more frustrating than setting out your bags, putting in new candles, lighting each one of them .... only to have them blow out or just not stay lit. That's why I now use electronic tea lights
. Once you turn them on - they stay on and the lights is just as good as a tea light candle.
Go from Luminary Bags to Outdoor Party Lights

Go from Luminary Bags to Pool Fun for Everyone Home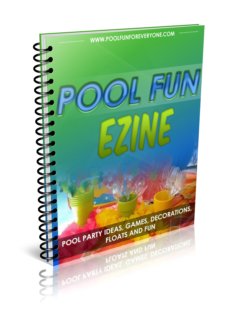 Looking for ideas to have fun out by the pool? Get free tips on:
Pool Party Themes like Flip Flop Parties or Beach Parties
Pool Party Games like Diving for Pirate Treasure or Beach the Ball
Pool Toys for Infants and Adults
Pool Party Food, Floats, Furniture and more...
If you said "yes" to any of the above, sign up for my free Pool Fun E-Zine.