Pool Party Invitations
Pool party invitations do so much more than provide the party details of when and where. They set the the tone and theme of the party and with a little creativity build anticipation and excitement for the event.
Pool Party Invites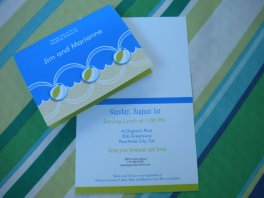 Pool party invites set the tone and the theme for your next pool party. If your party has a theme, use your invitations to reflect that - whether it is a flip flop party, beach ball party or a tropical luau.
Invites can be expensive custom designed invitations or free evites that are sent by e-mail. I have sent expensive custom designed pool party invites, free e-vites and homemade pool party birthday invitations.
Your invitations should reflect your pool party theme and they need to include all the important information one needs to know for the big event.
Free Pool Party Invitations
For a girl's night out by the pool I sent free Flip Flop themed e-vites from Evites.com. There are several other summer designs to choose from.
It is a quick, easy and inexpensive way to let others know about your next pool party.
To learn more about how to send a free e-vite click here:
Wording for Pool Party Invites
Pool party invitations need to include important details like who is hosting the party and the purpose of the party.
Pool party invitations need to include important details like:
1. Who is hosting the party
2. The purpose of the party - birthday party, fun pool party, going away party, etc.
3. Name of the person being honored if it is a birthday or special celebration
4. Day and Date of the party
6. Time
7. Location of Place (street address, city and state if inviting out of town guests)
8. Appropriate attire - Just for fun you could add "Wear your Favorite Flip Flops and Bring your Suit."
9. Include what they should bring, i.e, swimsuit, towels, sunscreen
Make sure you proof the invite for mistakes and/or forgotten information. It's best to have a second set of eyes check to see if you've included all the necessary information and if there are any mistakes or typos.
The company I use most often for printed invitations is VistaPrint. Sometimes they have special promotions for invitations that are half off or more.
It is very easy to create and design your invitation on their website. To go to VistaPrint to see what I mean click here:
50% Off All Note Cards, Announcements & Invitations
Pool party invitation ideas can be as traditional as colorful printed invites or as creative as sending your invites in a bottle for your tropical pool party.
Before you send out your invitations, decide if you want to give your pool party a theme - such as a tropical or luau party, a jungle party theme, a deep sea birthday party or a pirate treasure hunt.
Let your invitation set the tone and style for the party.
Of course, a swimming pool itself can be the theme of the party.
If that's the case, you can use cheap inflatable pool rings or pool toys from one of your local dollar stores. Flatten out the ring and write about the "splashing good time" at your pool party.
Beach Party Invitations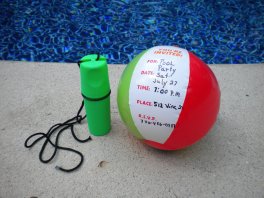 Beach party invitations or beach ball invites are a fun and fitting theme for your next pool party.
For a beach ball theme, you can purchase small beach balls, inflate them, write in permanent pen the details of the party, then deflate them and send them in an oversized envelope with beach ball stickers sealing the envelope.
Of course you can always buy printed pool party invites with colorful beach balls as well.
For more beach ball invitation ideas click here: Beach Party Invitations
Flip Flop Invitations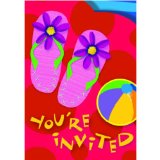 What is cuter or more colorful than a flip flop themed party? It is fitting for all ages and provides all kinds of ideas for flip flop decorating crafts for kids birthday parties to flip flop themed cakes, plates and center pieces.
If you like being creative and want to make your own flip flop pool party invites, trace a child size flip flop onto colorful card stock paper, glue on decorative ribbon as the straps and then write the details of the party on your flip flop invitations.
Or if you don't mind the extra effort of a bulky invite, write your invite on a cheap pair of flip flops.
To see a selection of flip flop invitations click here: Flip Flop Invitations
Little Mermaid Invitations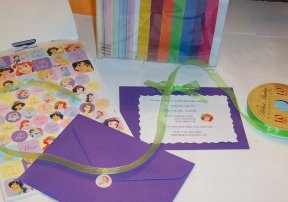 Little Mermaid invitations can be purchased on-line at Amazon or you can find them at some of your big stores like Hobby Lobby.
You can also make your own with some purple color stock paper and Little Mermaid stickers and a little ribbon.
For more ideas click here: Little Mermaid Invitations
Beach Ball Invitations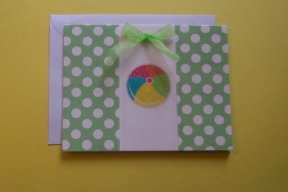 I made these cute beach ball invitations from stationery that I bought in the dollar section at Target and added the beach ball stickers and some bright ribbon.
It makes for a great theme for your next pool party. To get more ideas on beach ball invites and to see some pictures click here: Beach Ball Invitations
Pirate Invitations
Pirate invitations set the theme for an adventurous pirate themed pool party.
A pirate treasure map can be used for the invite showing "X marks the spot" for the party location.
I used a foam pirate ship foam craft from Oriental Trading.
It actually was on clearance as part of a Vacation Bible School theme and I just used the foam stickers differently to make our invites.
For more great ideas click here: Pirate Invitations
4th of July Invitations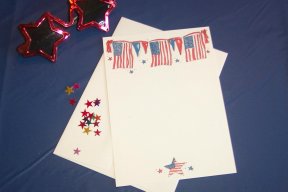 We host an annual 4th of July pool party that includes kids, teenagers, adults and seniors. The party starts right after our local 4th of July parade. Instead of sending invitations, we just called and invited friends and neighbors.
Guests started coming at 11:30 and kept coming at different times all day with the last group coming at 6:30 PM.
Next year I've decided I will send out formal invitations with specific times - especially what time the food will be served.
After putting away food, heating it up again, and taking it out again several times, I decided that next year there will be one meal time and I'll make it clear on the invite.
I've already purchased the invites for next year at half price :)
Fourth of July Invitations


Go from Pool Party Invitations to Pool Fun For Everyone