Portable Air Pump
We keep a portable air pump out be the pool for all of our pool inflatables.  You can get one with or without the need for batteries.

The
Double Quick II Air Pump
is a hand pump that actually pumps air as you push down and bring it back up.
It includes three nozzles that are different sizes to fit just about any pool float, swim ring, or inflatable toy.  Just push down on the handle and pull up and you will find that it fills any inflatable really fast and really easy.  Never blow up a swim float again!

Battery Operated Air Pump

This was the old way of inflating our pool toys - using a 12 volt air compressor connected to the cigarette lighter in the care.   We had it in our garage for years. It literally took well over an hour to inflate the octopus.  So for Christmas I bought my husband a battery operated, quick to inflate air pump.

If you want something else to do all the work for you and do it quickly, then get a battery operated air pump.
Not only is it battery operated, but the batteries are rechargeable so you don't have to keep buying new ones. However, it is important to keep the batteries charged, even when not in use.
Made by a company that knows about outdoors, Coleman is a well respected, long time company known for their great outdoor products. Weighing just under 4 lbs it can be easily taken to the pool or beach.
No more squeezing air out because this pump has a reverse air flow. It will deflate your inflatable pool toys so that they can be stored easily for the winter. Be aware that it is noisy , so you may not want to be inflating a float at 7 in the morning or 10 o'clock at night.
What most people like about this air pump is that it is fast - much faster than our hand pump or air compressor. I don't need to see my husband's steely eyes any more when I ask him to inflate a new pool toy.
Coleman Rechargeable Quick Pump
Go from Portable Air Pump to Swimming Pool Floats

Return to Pool Fun for Everyone Home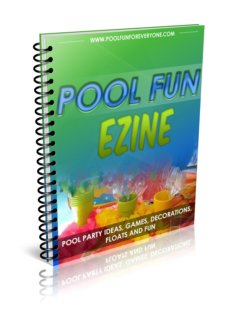 Looking for ideas to have fun with friends and family out by the pool? Get free tips on:
Pool Party Themes, Invitations, Games and Decorations
Outdoor Patio Umbrellas - Frame, Fabric and the Best Size
Swimming Pool Floats for Infants, Kids and Adults

Pool Party Food from Summer Appetizers to Cold Desserts
Outdoor Party Lights
- Patio Umbrella Lights to Solar Torches

Sign up here:
© Copyright 2011 - 2016 www.PoolFunforEveryone.com
All rights reserved. This DMCA site is protected under U.S. and International copyright laws. Do Not Copy and Content or Images. No use is permitted without written permission.