Beach Theme Party Decorations
Beach balls, beach pails, and beach towels all make simple but colorful decorations for a beach themed party.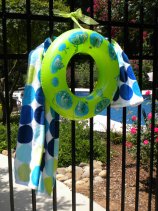 Use a swim ring and beach towel to decorate your pool gate and new beach pails for beach party table decorations.


For your drinks consider a beach ball cooler like this inflatable one. Have a dozen or so beach balls floating in the pool when the guests arrive.
Serve your food in new beach buckets with new sand shovels or use the beach pails for your party favor containers.
Get lots more ideas and see pictures here:
Kids Beach Party Ideas for Decorations, Games, Food and Party Favors
P.S. Please check the Facebook Like in the left corner if you like it :)