Cheap Paper Lanterns Make Great Pool Party Decorations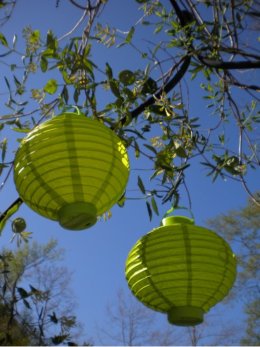 Cheap paper lanterns make great pool party decorations. Hang them from your garden arbor, from the ribs of your patio umbrellas, or on tree branches.

Rather than using an assortment of all different colored paper lanterns use either variations of one color - like light blue and dark blue or perhaps two colors like pink and white. If you are using a single color try hanging different sizes. Hanging paper lanterns come in small, medium and large sizes.

There are also themed paper lanterns - like red, white and blue ones for the Fourth of July or beach ball ones for a beach party.

Colored paper lanterns provide great color and a festive atmosphere to any pool party without having to spend a lot of money. Often they can be found at your local dollar store or on line for your convenience.

Decorate with hanging paper lanterns for your next patio or pool party.



New!

Comments Have your say about what you just read! Leave me a comment in the box below.