Looking for Some Cold Salad Recipes?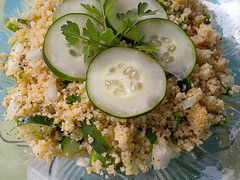 We've been entertaining quite a bit out by the pool and it is hot here in Atlanta. Serving cold salads that I can make ahead makes for an easy dinner by ourselves or with company.
Tabouli Salad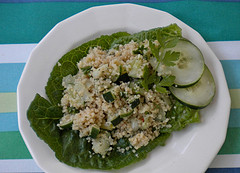 One of our favorite summer salads is a tabouli salad. It is quick and easy to make - much easier than a pasta salad (and better for you).

Just pour boiling water over a cup of bulgar and let it sit for 30 minutes. No complicated dressing - just good extra virgin olive oil and lemon juice.

Add whatever fresh vegetables you like - but the most common are fresh cucumbers, tomatoes and green or red peppers.

You can find bulgar in the healthy or organic section of your grocery store.

For more ideas for cold summer salads go to: Cold Summer Salads



New!

Comments Have your say about what you just read! Leave me a comment in the box below.