Hello


Kids Pool Party Ideas for Themes, Games and Decor
Before you start planning for your next pool party - can I give you a suggestion? Don't just host a pool party - give the party a theme - whether it's pirates, Cars, dolphins, Minnie Mouse, horses or sharks.
Pool Games for Kids
The theme is what builds anticipation and excitement starting with the pool invitation. Games, decorations, and even the food get a new spin with a theme. The Mustangs and the Stallions "race" across the pool with their horses and pirates dive for treasure.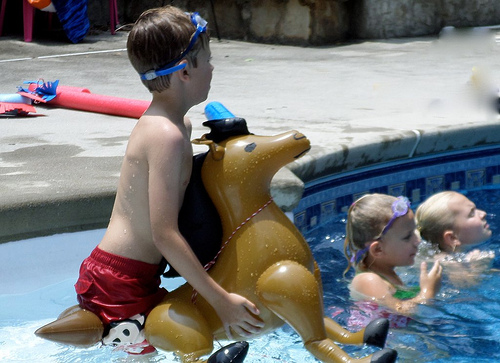 From the Wild West, to African Jungles to Sunny Beaches, find a theme that appeals to your child and then build your swimming pool party games, party decorations and take home favors around it.
Inflatable Pool Toys and Floats
Themed pool floats and fun inflatables become the best party of your pool party. Have them floating in the pool when guests arrive for pool party decorations and then use them for your pool party games.
Get a whole bunch of kids pool party ideas for hosting your next fun pool party ...
Kids Pool Party Ideas with Lots of Pictures
P.S. Please check the Facebook Like in the left corner if you like it :)