Luminary Bags for Pool Party Lights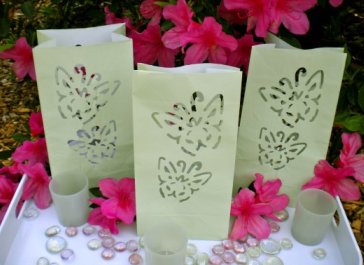 Paper luminaries can be used to light up the path to your pool or patio. Place luminary bags on tables as the centerpiece or on steps or rock walls.

The easiest, safest and most reliable way to set them up is to use decorative rocks rather than sand to add weight to the bags so that they don't blow over.

Ever have most of your votive lights blow out from the wind? Use electronic votive candles rather than real candles as your light. They are inexpensive, reliable, last a long time and they don't blow out.

There is a wide assortment of styles and designs available. If you are using a solid color bag, white or pastel colors provide the best evening glow or light. Bags with cut out patterns add a special touch like these butterfly cut-out bags.

For a finishing touch, trim the tops of the bag with a decorative scissor to give it a special touch.

Use lots of different types of outdoor party lights for your next patio or pool party.



New!

Comments Have your say about what you just read! Leave me a comment in the box below.