Some Serious Monkey Business
Monkeys hanging from tree branches and pool umbrellas are trying to keep up with their shenanigans in and out of the pool. Starting with monkey tattoos and foam visors, kids got into this pool party theme really quick.

Pool party games included Monkey Rescue and a Monkey Chase using of course a monkey swim ring.

The best treat was left for last with these cute finger puppets adorning the cupcakes along with some colorful sprinkles.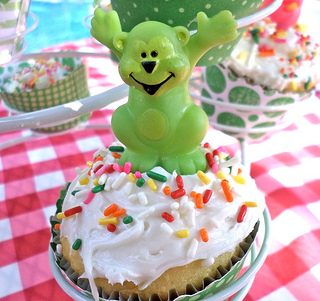 See lots of pictures and get some great ideas for pool party games, invites, and party bags that will make this party the best pool party yet:

P.S. Please check the Facebook Like in the left corner if you like it :)