Choosing a Pool Umbrella
Here Comes the Sun .... and isn't it's warmth and brightness a welcome sight after this cold winter? But soon that same sun will give us some hot days and cool shade will be important to keep us comfortable outside. So if you are in need of replacing or adding an outdoor patio umbrella, now is the time to start shopping around.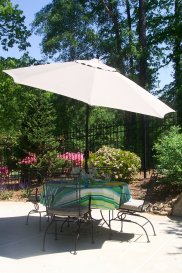 One of the most important features to consider is - how will the patio umbrella open? At least it was for me. At 5 feet tall, some of the opening mechanisms are not practical for me.
There three different lift mechanisms. They are:
1. A pulley system,
2. A crank mechanism, or
3. A manual lift
The larger the umbrella the heavier or the harder it is to open with a manual lift or a pulley system. We have a 9' and an 11' patio umbrella - both with a crank for easy opening.
If you are getting a smaller umbrella - say a 6' size then the opening mechanism is not that important.
Many of the crank open umbrellas also have a tilt feature. This means by simply using the crank mechanism the umbrella will tilt to help block the sun and to provide shade no matter where the sun is.
To see a video of how the crank and tilt mechanism works click here:

Tips for Choosing Pool Umbrellas
P.S. Please check the Facebook Like in the left corner if you like it :)