Swimming Pool Fountains - a Great Pool Party Decoration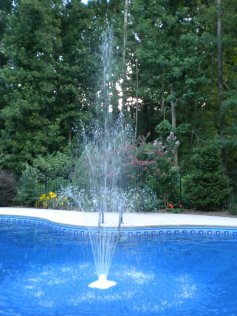 Next week I'm hosting a Luau Pool Party for a girl's night out. I sent out my free pool party invitations using Evite and have some fun ice breakers planned. The colored leis, paper goods and hanging lanterns are ready to go.

There is still one decorating item that needs to be taken care of ... that is to hook up our floating pool fountain. It really adds to a party atmosphere with the soothing sound of cascading water in the background and the spray of water shooting into the air.

Last year was the first time we added this pool accessory. I was so surprised that pool fountains can be purchased for less than $30. We used it many times last year and plan to kick off our pool season with it next week.

Consider adding a swimming pool fountain as a pool party decoration and liven up your next pool party.



New!

Comments Have your say about what you just read! Leave me a comment in the box below.