Battery Operated Paper Lanterns

Battery operated paper lanterns provide color during the day and a nice glow for evening pool parties.

Choose battery powered paper lanterns for your outdoor party lights. There is nothing uglier or (unsafe) than electric cords hanging from trees or stretched across the patio for someone to trip on.
Battery operated lights give you the flexibility to put the lights wherever you want to - and because they have a nice flat base you can use them on your tables as well.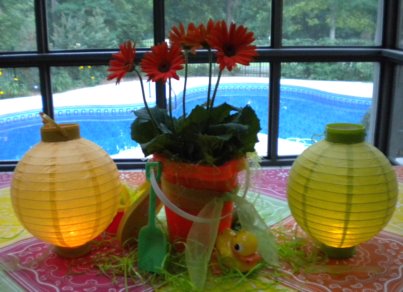 Paper Lantern Lights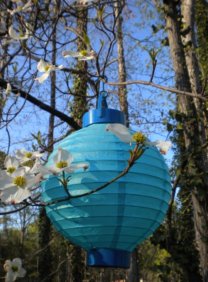 Paper lantern lights can offer lots of variety in style, color and size. White paper lanterns offer a soft and sophisticated look while bold and brightly colored party lanterns add a more festive feel.
Patterns and fun shapes like beach balls add a splashes of color and light.
Where should you put your hanging paper lanterns? You can see that these colored paper lanterns came with hooks (and also light up with batteries). The hooks make it very simple to hang (not all paper lanterns have these).
You can hang your colored paper lanterns from tree branches, on a string strung across your food table, from shepherd hooks in the ground, or on the ribs of your outdoor umbrella.
These paper lantern lights take AAA batteries and fit into a small compartment on the bottom.
The batteries should provide about 12 hours of light.

White Lighted Lanterns

White paper lanterns have a little bit more of an elegant feel, but certainly they can be used for formal or informal gatherings.
They put a festive feel in the air (literally :) and can be used for day time or evening outdoor parties.
It is important that they be grouped together, and that you use lots of them for visual impact.  With any outdoor party, bigger is better because of the expansive space.

White lanterns come in a variety of shapes as you can see from the picture.  The traditional round is the least expensive.

Pack of 3 Lighted Battery Operated White Paper Lanterns 8"
Solid Color Lanterns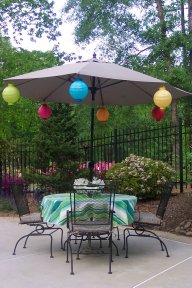 Colored paper lanterns can be used as pool party decorations and as outdoor party lights.
I used these for an outdoor dinner party for girlfriends. They looked festive right from the start when everyone arrived.
The battery operated lights were turned on with a switch on the base when the sun went down and they looked fantastic.
I love the assorted colors of lime green, orange, aqua blue and pink.
Colored paper lanterns can be pastel like these or bold, bright colors like hot pink and bright yellow.
Holiday Paper Lanterns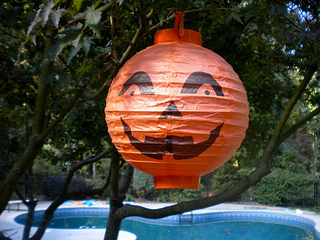 What I love about these battery operated paper lanterns is that you can find them in just about any theme - pumpkin ones for fall or Halloween parties, red and white ones for Christmas, Easter egg ones for Easter and beach ball ones for beach parties.
We hosted an evening fall party and hung the lighted pumpkins on the tree branches and on vines growing on our arbor to greet the guests when they first arrived.
I found my battery operated paper lanterns at our Dollar Store but bought the last 4 that they had. Dollar stores are by far the cheapest, but they go quickly. You can also get them online any time of the year at Amazon. Click on the banner below for a great selection:
Go from Battery Operated Paper Lanterns to Outdoor Party Lights

Go from Battery Operated Paper Lanterns to Pool Fun for Everyone Home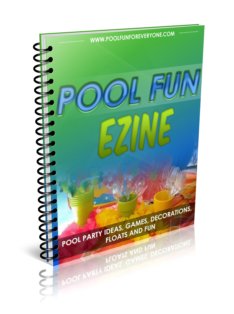 Looking for ideas to have fun with friends and family out by the pool? Get free tips on:
Pool Party Themes, Invitations, Games and Decorations
Outdoor Patio Umbrellas - Frame, Fabric and the Best Size
Swimming Pool Floats for Infants, Kids and Adults

Pool Party Food from Summer Appetizers to Cold Desserts
Outdoor Party Lights
- Patio Umbrella Lights to Solar Torches

Sign up here:
© Copyright 2011 - 2016 www.PoolFunforEveryone.com
All rights reserved. This DMCA site is protected under U.S. and International copyright laws. Do Not Copy and Content or Images. No use is permitted without written permission.