Battery Powered Candles
Battery Powered Candles - No more lights blowing out, but still get the flickering look of real candles.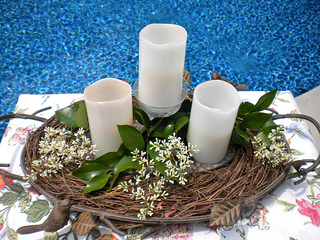 Battery flameless candles make great outdoor party lights for several reasons:
1. They never blow out.
If you use new batteries - they always work and they don't go out in the middle of a party.
2. They look real.
Many of these new candles flicker just like real candles. Just ask my husband. I watched in amusement one night while he tried to blow out the new battery powered candle.
3. They smell good.
I found candles that give off a nice vanilla scent. Not too strong, just a soft pleasant smell.
4. Some are made of real wax.
Some candles are made of hard plastic, but many have an exterior of soft wax. Again giving it the appearance and feel of a real candle. I found that the ones made of real wax melt if left outside in the hot sun.
5. No flame to catch something on fire.
One party we had several years ago, a friend reached over a candle with his arm. The sweater he was wearing was made of a knit with lots of long, fine hairs - that caught on fire. Although the flame was quickly put it out with no harm done, it was a scary reminder that flames can be dangerous.
6. Use Ones with Timer
Many electric candles now offer a simple way for your lights to come on in the evening. On the bottom of the candle is a switch - if you push it one way it will turn on - push it the other way and you will set the timer.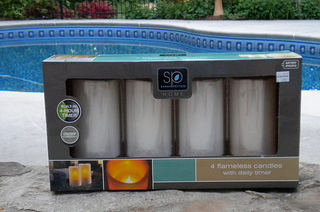 At the time you want your candle to come on, let's say 7:00 PM - move the switch to T.
The candle will stay on for around 5 hours and then automatically turn off. Leave it there and the candle will come automatically at 7:00 the next night. My candles use three AAA batteries.
I prefer the white candles, just because they give a little bit brighter glow than the cream colored ones. The batteries last for months even though the candles come on automatically every night.
Flameless Candles, Led Candles Set of 12(H 4" 5" 6" 7" x D 2.2") Outdoor Indoor Candles with Remote Timer (Made of Plastic)
7.  Blow On and Off Flameless Candles

First turn on the switch on the bottom of the candle and then blow the wick part to turn on and off the candle.
Real wax and a flickering light makes these battery operated candles appear real. 
This set includes 6 white LED flameless candles. They are approximately 2 inches high by 1.5 inch in diameter. The candles are battery operated with a CR2032 3 volt battery which is included.
Blow Out LED Flameless Candles - Real Wax, Battery Operated, Ivory Colored Set of 6
8. Use Candles with Remote Control and Real Looking Flame

Candles with realistic flickering flames show up at our evening pool parties. Set the timer so they come on automatically or just use the remote to turn them on or off.

These candles use 2 AA batteries.
They last for to 120 hours with LED lights that flicker like flames. No need to to walk around to turn them on and off. 

Get your set of 5 battery operated candles made of real wax, with a vanilla scent and the convenience of a remote control at Amazon
LED Candles, Set of 5 Real Wax Battery Flameless Candles Include Realistic LED Flames, Remote Control with Timer
We love our real looking candles and use them in the evening out by the pool. Set them on a table or on the steps to the pool. We have used ours many times for several hours and have yet to replace the batteries.
Never put your candles in water or leave them out in the rain.
Outdoor Electric Candles
Surprisingly these outdoor electric candles are similar in price to the indoor ones - and still have the convenient feature of a timer.
I own this set and what I like about them is that the whole candle glows giving more light. 
Unlike battery operated candles made of real wax these are made of  plastic - which is a good thing. Because the wax ones melt in the heat and hot sun when left outside.
I actually bought mine at a gift shop for twice the price shown at Amazon.

While they can't be left out in the pouring rain, a light rain or drizzle is not going to hurt them. I like the idea of being able to set the candles out a couple of hours before company arrives so that the table setting is all ready to go.

The switch on the bottom can go either left or right - one movement turns the candle on and while the side marked T for timer will turn on the candle and and then sets it to come on at that same time every evening.

Inglow Flameless Outdoor Candles with Timer, White, Set of 3
These flameless candles are a great way to light up your outdoor pool party and to add ambience to evening entertaining.  They always stay lit and any wind or breeze won't blow them out.

Go from Battery Powered Candles to Outdoor Party Lights

Go from Battery Powered Candles to Pool Fun for Everyone Home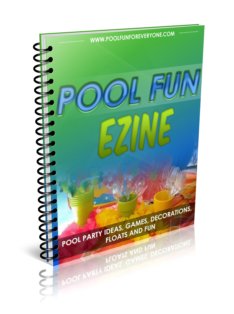 Looking for ideas to have fun with friends and family out by the pool? Get free tips on:
Pool Party Themes, Invitations, Games and Decorations
Outdoor Patio Umbrellas - Frame, Fabric and the Best Size
Swimming Pool Floats for Infants, Kids and Adults

Pool Party Food from Summer Appetizers to Cold Desserts
Outdoor Party Lights
- Patio Umbrella Lights to Solar Torches

Sign up here:
© Copyright 2011 - 2019 www.PoolFunforEveryone.com
All rights reserved. This DMCA site is protected under U.S. and International copyright laws. Do Not Copy and Content or Images. No use is permitted without written permission.