Beach Party Decorations
Beach party decorations are fun and easy to find (in the summer). Items like beach towels, beach pails and sand toys make the perfect party decorations.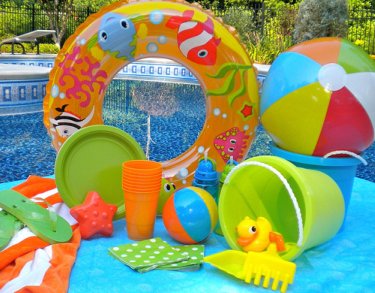 Many party hosts struggle with pool party decorations - and that's because they don't have a theme. Make it more than a pool party - make it "Have a Ball at Miller's Beach."
Entering Beach Party Zone
Let your guests know that they are entering the "beach party zone" by decorating the pool gate. Hang a colorful beach towel and pool float on the gate.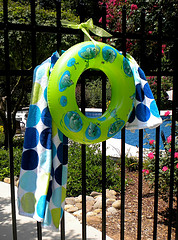 Spend the money and get a new beach towel that has vivid, bright colors.

Or use a bright colored beach hat or beach bag with a towel hanging from the side.  If you have a beach umbrella or beach place it on the ground near the gate.
Simply tie some new beach sand toys with ribbon to your gate.

I couldn't resist buying these bright orange gerber daisies at a local nursery for our pool party. Placed in these bright orange sand pails, I set them out by the arbor entrance, the pool gate and on the food table.
Beach Party Decorations for the Pool
Beach party decorations need to include the swimming pool! Inflatable pool toys come in so many different styles and colors.

You can simply have some inexpensive air mattresses floating in the pool, several large beach balls, or this pair of fun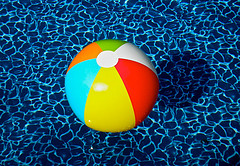 Don't forget to decorate the pool with floating pool decorations. What could be better than a bunch of beach balls floating across the top of the water.
It's best to get at least 12" size balls and for large pools, get 24" size.  Beach balls range in size from 6" to 48". Not only do they make great pool party decorations, but are fun to play with no matter what age your guests are.
Turn off the pump so that the balls don't all bunch together.  You can get a dozen of 12" balls here at Amazon:
Dozen Multi-Color Inflatable 12" Beach Balls
A pair of inflatable flip flop floats say, "beach time" like no other float.  Of course you can't have just one :)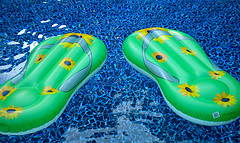 Paper Lanterns for Splashes of Color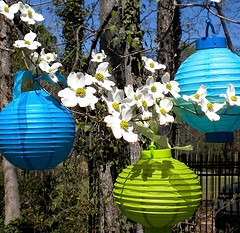 Hanging paper lanterns make great pool party decorations. They can be found at dollar stores, Pier One, and on-line.
Hang them from tree branches or our favorite is to hang them from the patio umbrella ribs. Use an assortment of colors or ones that are consistent with your color theme.
Battery operated paper lanterns are great if it is an evening party. They usually take AAA batteries and will last one or two evenings - so keep extra batteries on hand. The best assortment of colors and sizes comes from the Paper Lantern Store here:

Paper Lanterns, Parasols, Party Lighting and more, plus FREE SHIPPING on orders over $99 at PaperLanternStore - SHOP NOW!
Beach Party Decorations for the Table
Head to your local dollar store and buy a bunch of beach toys to use as beach party decor around the food and drink table.

Place blue napkins in yellow beach pails with a small pool toy peaking out.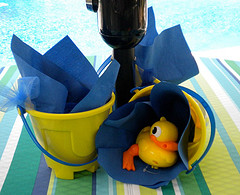 Colored
Beach Pails and Shovels
can be used on the table for beach party decorations.
I love how they help to hide the patio umbrella pole. Use three small ones placed at different angles.
A little tissue paper and a beach toy complete the decor. Other decorating ideas for the table are to use new sand toys, shovels, and sea shells.
You can also use the sand buckets to hold the napkins and silverware.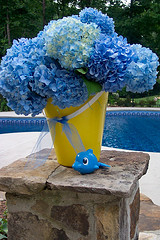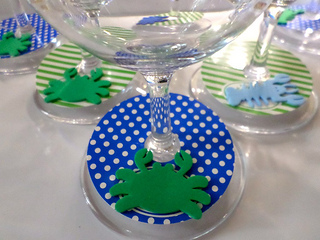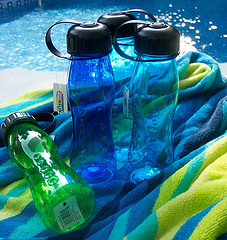 Instead of cups serve your beverages in blue plastic water bottles.
Keep the tags on them to write the guests name.  That way everyone knows which water bottle is there's. Or get this set from Amazon - each bottle has a different design and they are BPA free and dishwasher safe.
They can serve as take home party favors as well.
WaterCardigan Bottles, 16-Ounce - Set of 5
Hanging Beach Party Decorations

Hang these beach ball shaped paper lanterns from your umbrella ribs.
The set comes with 3  paper lanterns that are 9.5" wide. 
The bright colors have the appearance of beach balls and will bring bursts of color to your party.
Beach Ball Paper Lanterns
Place beach party decorations high and low.  We love to have something hanging from the patio umbrella ribs - it can be paper lanterns or these cute plastic beach pails. You can also hang mini-beach balls.
Borrow a
beach umbrella
and place it in the ground near the swimming pool with a beach chair under it.
Place a striped beach towel over the chair arms along with a large beach pail and shovel sitting next to the chair.
Inflatable Beach Party Decorations

Place an inflatable surf board at the entrance to the pool or party or by the party table.
Bright colors of blue and orange and a great size 71" x 30"  and that's deflated.

Of course move it to the swimming pool for beach party games.

Inflatable Gecko Hawaiian Surfboard
Tiki Torch Lights for Around the Pool

For an evening beach party, be sure to include some pool party lights.

Inexpensive bamboo tiki torches can be found at your local home improvement store or grocery store.

Line the perimeter of the pool with these outdoor torches and place them along dark pathways or steps. Be sure to never leave them unattended.

Use citronella oil to help keep away the bugs.

Go Back to Beach Theme Party Ideas
Return to Pool Fun for Everyone Home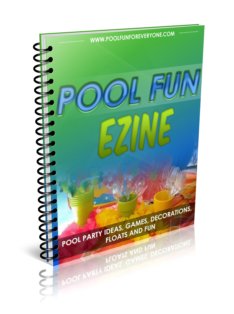 Looking for ideas to have fun with friends and family out by the pool? Get free tips on:
Pool Party Themes, Invitations, Games and Decorations
Outdoor Patio Umbrellas - Frame, Fabric and the Best Size
Swimming Pool Floats for Infants, Kids and Adults

Pool Party Food from Summer Appetizers to Cold Desserts
Outdoor Party Lights - Patio Umbrella Lights to Solar Torches


Sign up here:
© Copyright 2011 - 2020 www.PoolFunforEveryone.com
All rights reserved. This DMCA site is protected under U.S. and International copyright laws. Do Not Copy any Content or Images. No use is permitted without written permission.