Beach Party Games

Looking for some beach party games for your beach themed pool party? Get ready for some fun with hula hoops, beach balls and fun floats.

Swimming Pool Volleyball

You don't need to invest in an expensive pool volleyball net, if you only need the net for a party. Use this pool volleyball net from Amazon. 
Play with a 24" beach ball instead of a volleyball to keep the beach party theme going in your games.
Night Volleyball

For an evening or night time party try this
Glow in the Dark Volleyball.
For an evening or night time party try this Glow in the Dark Volleyball.
To charge it you need to hold it under a light and then it provides a nice glow. It's a great volleyball to use during the day or night - it's an official size and weight.
The stiffness of this volleyball is about right - not too soft and not too hard.
Light Up Beach Ball

Use a light-Up beach ball if it's an evening party.
Every time the ball is tapped, LED lights are activated. The lights continue for several seconds and then re-activated again with the next tap.
Use it to play pool volley ball or other pool party games.
Hula Hoop Contest

Get the beach party music going and see who can hula hoop the longest. For daytime parties you can find these fun hoops at stores like Target or K-mart. Get two. Have two contestants start at the same time and see who can keep their hoop up the longest.
For an evening, night time party, you can't beat a lighted hula hoop.
36" - 24 Color Changing LED Hula Hoop
Light Up Sunglasses

Wear light up sunglasses for evening pool parties. Provide the special birthday person with these glasses or one for each team to use in your games.
The lights on these sunglasses can be set to slow flash, fast flash, or still light.

Beach Ball Games

1. Beach Ball Hot Potato
Just like hot potato get everyone in the pool to create a large circle. Toss the beach ball to anyone - it can be the person next to you or the person across from you. Play your favorite music or beach type music.
Whoever is in possession of the ball when the music stops is out. Keep playing until there is a winner.
2. Beach Ball Pool Relay
Divide the guests into two teams. Provide some fun, goofy sunglasses and a beach ball for each team. Each player takes a turn swimming across the pool with the beach ball placed under them and wearing the pair of sunglasses. If the ball pops up, the player has to start over. Hand over the sunglasses and the beach ball to the next team member. The team that finishes first wins.
Go from Beach Party Games to Beach Party Ideas

Go from Beach Party Games to Pool Fun for Everyone Home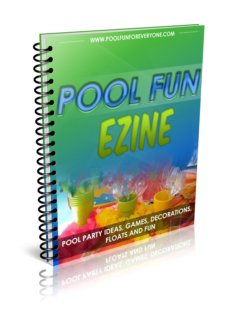 Looking for ideas to have fun with friends and family out by the pool? Get free tips on:
Pool Party Themes, Invitations, Games and Decorations
Outdoor Patio Umbrellas - Frame, Fabric and the Best Size
Swimming Pool Floats for Infants, Kids and Adults

Pool Party Food from Summer Appetizers to Cold Desserts
Outdoor Party Lights
- Patio Umbrella Lights to Solar Torches

Sign up here:
© Copyright 2011 - 2016 www.PoolFunforEveryone.com
All rights reserved. This DMCA site is protected under U.S. and International copyright laws. Do Not Copy and Content or Images. No use is permitted without written permission.