Bean Salad Recipes

Bean salad recipes make a hearty side salad or main dish for you vegetarians. They need to be made ahead of time so that the flavors can mix. Which means if you have guests you don't have to make a fresh salad at the last minute. As a registered nurse, bean salads offer more nutritional value than past salads.
Black Beans and Cilantro

Mix:
3 Cans of Black Beans Rinsed and Drained
1 Cup of Cut Up Red Onion
2 Tomatoes Seeded and Chopped
Dressing:
1/2 Cup Chopped Fresh Cilantro
3 Crushed Garlic Cloves
2 Tablespoons of Lime Juice
1 1/2 Teaspoon of Cumin
1 Tablespoon of Red Wine Vinegar
1/2 Cup of Olive Oil
Mix the dressing ingredients and pour over the bean mixture. Make the day before so that the flavors are all enhanced.
Salt and Pepper to Taste
Three Bean Salad Recipe

2 15 oz can red kidney beans
1 14 oz can cut green beans
1 14 oz can yellow wax beans
1 Green Bell Pepper seeded and chopped
1 Medium Onion Chopped
4 Ribs of Celery sliced
3/4 Cup of organic apple cider vinegar
1 Tablespoon Red Wine Vinegar
1/2 Cup of extra virgin olive oil
1/3 Cup of Sugar (or 2 teaspoons of Stevia)
Rinse and drain each can of beans. Combine beans, bell pepper, onion and celery in a large bowl.
Whisk together vinegar, olive oil and sugar.  Pour vinegar mix over the vegetables and toss lightly. Cover and refrigerate for several hours or overnight.
Add 1/4 cup orange pepper for color and variation.

Season with salt and pepper to taste. It can it can keep in the refrigerator up to one week.
This is a good make ahead salad.
Black Bean and Corn Salad

Black bean and corn salad is a hearty salad that can be prepared in advance.
Ingredients
2 Cups of frozen corn kernels thawed
1/2 Cup of Finely Chopped Red Onion
2 Cans of Black Beans drained
1 Red Bell Pepper seeded and diced
1/3 Cup of Cilantro finely chopped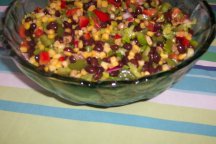 2 Tablespoons of Balsamic Vinegar
1 Tablespoon of Extra-virgin Olive Oil
1 Tablespoon of Lime Juice
1/4 Teaspoon of Sea Salt
1/2 Teaspoon of Ground Black Pepper
Whisk together the vinegar, oil and lime juice and salt and pepper in a large bowel.
Add the corn, red pepper, black beans and onion and toss. Cover and chill for 2 hours. Add the cilantro just before serving.
Go from Bean Salad Recipes to Cold Salad Recipes

Go from Bean Salad Recipes to Pool Fun for Everyone Home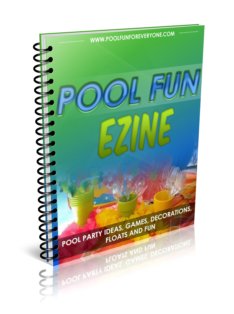 Looking for ideas to have fun with friends and family out by the pool? Get free tips on:
Pool Party Themes, Invitations, Games and Decorations
Outdoor Patio Umbrellas - Frame, Fabric and the Best Size
Swimming Pool Floats for Infants, Kids and Adults

Pool Party Food from Summer Appetizers to Cold Desserts
Outdoor Party Lights
- Patio Umbrella Lights to Solar Torches

Sign up here:
© Copyright 2011 - 2016 www.PoolFunforEveryone.com
All rights reserved. This DMCA site is protected under U.S. and International copyright laws. Do Not Copy and Content or Images. No use is permitted without written permission.