Blueberry Dessert Recipes

Blueberry dessert recipes, like this one made from angel food cake is a favorite cold dessert recipe at our house and with our company. This is from Betty Crocker and it is called Berry Angel Delight. I used lots of fresh, local blueberries.
Ingredients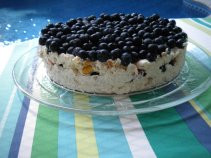 1 Round Angel Food Cake cup into 1" pieces
3 6 oz Containers of Yoplait Thick and Creamy Vanilla Yogurt
1 8 oz Container of Cool Whip
1-2 Cups Fresh Blueberries
1-2 Cups Cut up Peaches
Directions
Mix the yogurt and Cool Whip together
Add the cut up pieces of Angel Food Cake
Spoon half of the mixture into a 9-inch springform pan.
Press firmly in pan with rubber spatula. Top with half of the berries.
Add the rest of the cake mixture. Press firmly down with the spatula. Top with the rest of the berries.
Cover and refrigerate 4 hours or overnight.
Run the spatula carefully around the spring form pan to loosen. Remove side of pan. Cut dessert into wedges.
I let mine sit for 4 hours and it was long enough. Garnish with a dollop of whipped cream. It is delicious and one of my new favorite cold desserts.
Blueberry Trifle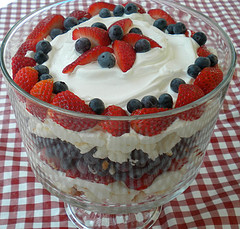 This blueberry trifle is a big hit - not just for the Fourth of July. With 6 blueberry bushes around our pool, we have plenty of fresh blueberries. I love this trifle, because there is no cooking involved :)
Just layer it with:
Cut up pieces of angel food cake
Cool Whip
Blueberries
Stawberries
Repeat the layers and keep in the fridge until it 's time to serve.
Fresh Blueberry Pie

This tastes so much like and I think even better than a traditional cheesecake. It is so easy to make and so light and refreshing.
Ingredients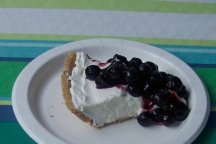 * 3/4 cup of powdered sugar
* 1 (8oz) sour cream
* 1 (8oz) Cool Whip
* 1 (4oz) cream cheese
* 1 graham cracker crust Directions
1. Cream the cream cheese in medium bowl
2. Mix in the sour cream and powdered sugar
3. Fold in the Cool Whip
3. Spread into pie crust
4. Let stand in refrigerator for 30 min.
Then cover with fresh blueberries mixed with a little bit of blueberry jam (I used the Smuckers brand)
Keep refrigerated. Serve with a dollop of Cool Whip
Go from Blueberry Dessert Recipes to Cold Dessert Recipes

Return to Pool Fun for Everyone Home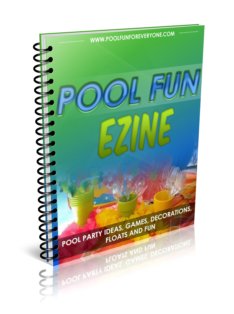 Looking for ideas to have fun with friends and family out by the pool? Get free tips on:
Pool Party Themes, Invitations, Games and Decorations
Outdoor Patio Umbrellas - Frame, Fabric and the Best Size
Swimming Pool Floats for Infants, Kids and Adults

Pool Party Food from Summer Appetizers to Cold Desserts
Outdoor Party Lights
- Patio Umbrella Lights to Solar Torches

Sign up here:
© Copyright 2011 - 2016 www.PoolFunforEveryone.com
All rights reserved. This DMCA site is protected under U.S. and International copyright laws. Do Not Copy and Content or Images. No use is permitted without written permission.