Cantilevered Patio Umbrella
A cantilevered patio umbrella is the perfect patio umbrella for your outdoor seating area or for an outdoor patio table.  For those who want to shade some of the pool area, these outdoor umbrellas can do that as well.  Not only will it shade the swimmers but it will shade the pool so that the water stays cooler.  Here is a picture that was posted by Bird Air Patio from Flickr: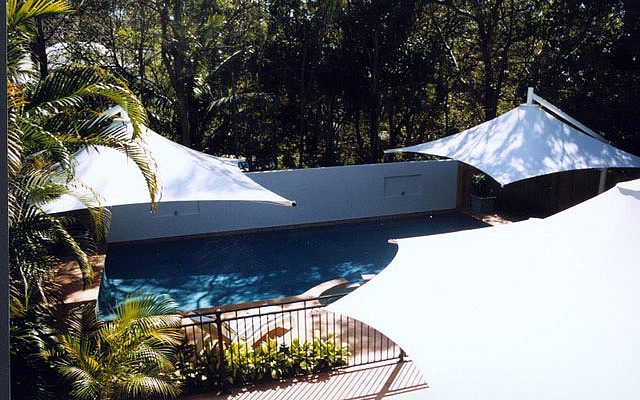 Others use offset patio umbrellas to shade their chaise lounge, their outdoor spa or a sunny section of the pool.
What you need to decide on are:
1. Where the umbrella will be used
2. What shape works best for the area - octagon (round), square or rectangle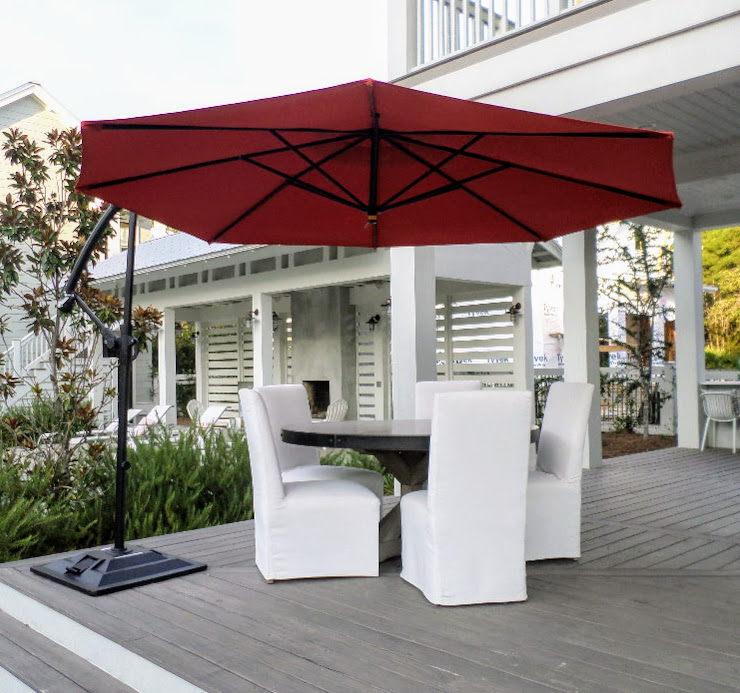 3. What size is needed to provide the needed shade - 9', 10', 11' or 13'
4. What color works best with your outdoor furniture
Unless you are buying one that uses Sunbrella outdoor fabric, stay away from red or rust colors. They seem to fade the quickest.
Features and Function

Some features to consider are:

Some features to consider are: A Rotating Base that allows you to rotate the umbrella
Tilt Feature
Pulley or Crank Opening
Wind Vent at the Top
Valence or No valence
Solar Lights
Shape - Round, Octagon, Square or Rectangular
You can find this outdoor patio accessory in the spring at stores like Bed, Bath and Beyond, Tuesday Morning and Home Depot.
The most popular one from Amazon is this 10' umbrella.  
Go to Amazon here:
Abba Patio Offset Cantilever Patio Umbrella with Base / Crank and Air Vented Top, 10 Feet, Ivory
11' Round Cantilevered Patio Umbrella

This 11' round offset umbrella comes with a plastic base that you fill with sand. A strong steel frame offers durability and stability.
It also has a tilt feature and 360 degree rotation.  An extra bonus includes 24 LED solar lights that come on automatically at night when your umbrella is exposed to several hours of sunshine.
The fade resistant olefin fabric is also mildew resistant.  If you like a mocha color this is a great umbrella for shade.

11 Foot Offset Cantilever Umbrella, 360° Rotated with Solar LED Lights
10' Cantilevered Patio Umbrella
This round 10' offset umbrella has a sturdy 2" metal powder coated pole with 8 heavy duty ribs.
Use this offset umbrella to shade conversation areas, patio dining tables or even a section of the pool. 
Weights/base are not included and need to be purchased separately.   Because it's so heavy you will need to buy heavy duty pavers/squares to weigh it down.  
10 Foot Solar LED Lights Outdoor Offset Cantilever Umbrella, LED Lights, Crank Lift
Cantilevered Patio Umbrella Cover
Protect your umbrella with a UV treated cover made of WeatherMax material.
Tested to withstand temps from 240 Fahrenheit to -100, this cover will not crack, fade, or deteriorate due to high or low temps or rain.  This one way breathable fabric allows moisture to leave, but rain and dust to stay out. 
A snug fit with super strong fabric makes for a great cover for all weather conditions. 
Measuring 106 inches long and 20 inches wide it is large enough to go over the cantilever part of the umbrella. The rod running down the entire length of the cover makes it stiffer and the heavy duty zipper adds to the durability. 

Abba Patio Outdoor Patio Offset Cantilever Umbrella Cover for 9-11 Ft Umbrella, Water Resistant
Cantilvered Patio Umbrella Bases

Offset patio umbrella bases sometimes use paver stones or stepping stones that your purchase from your local home improvement store.
Some cantilevered umbrellas are sold as a patio umbrella and base set. These bases are filled with sand to provide the weight that is needed.
Other stands are specific to a model and make of an offset umbrella.
Be certain where you want to position your umbrella because once you fill the base plates with sand, there is no moving it. 
Abba Cantilever Offset Umbrella Base Plate Set, Black, Pack of 4
If you are looking for a way to shade an outdoor seating area, so that you can find a spot to relax or enjoy a conversation with friends this style outdoor umbrella is the one for you. 

Go from Cantilevered Patio Umbrella to Outdoor Umbrellas

Return to Pool Fun for Everyone Home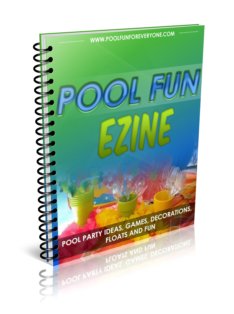 Looking for ideas to have fun with friends and family out by the pool? Get free tips on:
Pool Party Themes, Invitations, Games and Decorations
Outdoor Patio Umbrellas - Frame, Fabric and the Best Size
Swimming Pool Floats for Infants, Kids and Adults

Pool Party Food from Summer Appetizers to Cold Desserts
Outdoor Party Lights
- Patio Umbrella Lights to Solar Torches

Sign up here:
© Copyright 2011 - 2019 www.PoolFunforEveryone.com
All rights reserved. This DMCA site is protected under U.S. and International copyright laws. Do Not Copy and Content or Images. No use is permitted without written permission.