Floating Pool Toys

Floating pool toys make great pool party decorations as well as provide great fun and entertainment in the pool.

This large octopus kept a large group of kids entertained not just for hours - but for the summer. Our niece's kids and grandkids ranged in age from 3 to 15 years old and spent 5 days at our house - thankfully most of the time in the pool. They couldn't wait to get back to Ollie the Octopus.

Inflatable Dinosaur Float

Your kids will have fun all summer with a giant T-Rex in their backyard. Large enough for more than one child to ride him. It doesn't tip easily and many adults have had fun with this buy guy.
It has 4-5 chambers so be sure to have it blown up before your guests arrive. Durable material means that it stays inflated for a summer full of fun.
Inflatable Dinosaur Float
Ride On Shark
I couldn't resist this floating shark that was on sale at the end of the season.
That's when it was decided that we would be having a shark pool party. Inflatable pool toys make great pool party decorations as well as props for pool party games.
You can get yours at Amazon.
Intex Great White Shark Ride-On Shark
Floating Stingray

You don't need to go on a Caribbean cruise to swim the sting rays.
There are two grab handles on each side of the float for stability - but this guy is not too easy to tip as the width is about 4-5' inflated.
Easy to balance for lots of summer time pool fun.

Intex Stingray Ride-On, 74" X 57", for Ages 3+
Swan Pool Float

This giant inflatable swan at 75" long made its appearance at several of our neighbor's pools.
 I guess he just flew from one pool to another when he decided he wanted a different home.
It's very study and made of heavy gauge PVC and will hold at least 140 lbs.  The handles on the neck make it easy to ride and to prevent falling off.   Although pool owners and kids love this swan, be warned that the wings often detach or become deflated easily.

Swimline Giant Swan Float Toy
Duck Pool Float

This pool float is giant - 60" long and 48" tall. It is also very sturdy. You may think it's just for kids but adults love playing on it too.
It can be a challenge getting on it - but once you do it's easy to stay on. It has 4-5 air chambers so be sure to use some type of portable pump.
Giant Duck Inflatable Ride-On
Inflatable Whale
There's a float for every age and interest.
This is large - so you need a nice big pool as it measures 76" x 47".   Although made of durable vinyl it comes with a repair patch.
There are two air chambers to inflate..
With 2  grab handles on the top it's easy to get on and to stay on. The key is to sit to the back of the float - not close to the front.


Inflatable Whale Swimming Pool Float
Jet Ski Float

Who doesn't want a jet ski?
But this one you can use in the swimming pool.
It is sturdy and stable - with two handles it's easy to stay on - that is if the rest of the kids aren't trying to get you to "move over" for their turn.
For less than $20 and free shipping if your Amazon Prime - get one or two for more pool time fun.

Inflatable Jet Ski Float
Inflatable Alligator Float

This not-so-mean alligator is long - almost 7'.  It is 45" wide and to be exact it is 80" long - which means it can fit several kids.

Kids love riding on this float - because it doesn't tip easy.  There are several chambers to fill with air which means better stabilization and easier for kids to balance.

Inflate with a portable air compressor.
This pool toy can be taken to the beach as well. Anywhere you go kids will flock to it and you will find it will provide a summer full of fun.

Inflatable Alligator Float
Go from Floating Pool Toys to Swimming Pool Floats
Return to Pool Fun for Everyone Home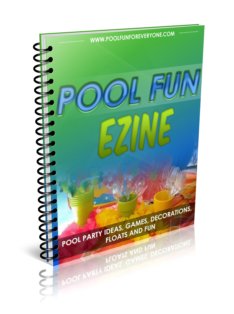 Looking for ideas to have fun with friends and family out by the pool? Get free tips on:
Pool Party Themes, Invitations, Games and Decorations
Outdoor Patio Umbrellas - Frame, Fabric and the Best Size
Swimming Pool Floats for Infants, Kids and Adults

Pool Party Food from Summer Appetizers to Cold Desserts
Outdoor Party Lights
- Patio Umbrella Lights to Solar Torches

Sign up here:
© Copyright 2011 - 2016 www.PoolFunforEveryone.com
All rights reserved. This DMCA site is protected under U.S. and International copyright laws. Do Not Copy and Content or Images. No use is permitted without written permission.