Foam Pool Float

A foam pool float comes in many different styles, shapes and prices. These swimming pool lounge floats cost much more than other floats but they never sink, they last longer and will provide you with years of enjoyment.
These floats come in different thicknesses - with the lightest one at 1 1/4" thick for a light weight person to a full 3" thick for a heavier person. Expect to pay lots more for a foam float - from $60 to more than $200 for an adjustable, aluminum framed one.
But if you are tired of replacing your inflatable pool floats every summer this type of lounge float is very durable, never develops a leak and doesn't sink. Go to Amazon for this light weight thinner pool float:
Unsinkable Pool Float

Because this type of float is made of solid foam rather than vinyl inflated with air, it is unsinkable.
You never need to blow it up or hassle with a finding a leak and patching the vinyl.
You can start using it right away as there is no need to inflate it. Likewise it is easy to store - you don't need to spend your time trying to get all the air out of it before putting it away. Get this thicker foam pool float - 1 3/4" from Amazon here:
No need to inflate or deflate it.
It's always ready to float when I am :).
It's pretty much indestructible with no possibility of a leak or tear so it will give you many seasons of enjoyment.
Softie Pool Float - 3" Thick

This type of pool float is often called a softie pool float. There is a reason for that - they are very soft and are really comfortable to float in. Foam floats are better than an inflatable pool lounge in my opinion as an "expert pool lounger."
Made of a very soft vinyl-coated foam, the soft foam just feels better than sticky plastic.
However, you do pay a lot more for a foam pool mattress and the thicker the foam the higher the price.
Of course a nice headrest adds to the comfort and the thick padding will hold almost any weight. Go to Amazon to read the reviews here:
Ultra Sunsation Pool Float in Bronze by Texas Recreation
Short Foam Float

If you are looking for a lounge that's made of soft foam and doesn't take up much room this is the one.
Shorter than other soft floats, it's not for those who are really tall - but for those who like their feet dangling in the water to keep cool - well give this one a try.
This swimming pool float gives you the best "pool floating experience." The foam is soft and comfortable with a substantial head rest. Check it out here at Amazon:
Swimline Swimming Pool Aqua Hammock


Go from Foam Pool Float to Swimming Pool Floats

Return to Pool Fun for Everyone Home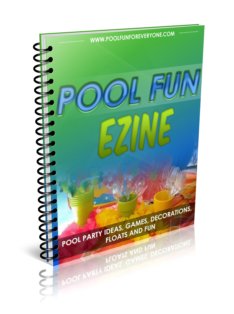 Looking for ideas to have fun with friends and family out by the pool? Get free tips on:
Pool Party Themes, Invitations, Games and Decorations
Outdoor Patio Umbrellas - Frame, Fabric and the Best Size
Swimming Pool Floats for Infants, Kids and Adults

Pool Party Food from Summer Appetizers to Cold Desserts
Outdoor Party Lights
- Patio Umbrella Lights to Solar Torches

Sign up here:
© Copyright 2011 - 2016 www.PoolFunforEveryone.com
All rights reserved. This DMCA site is protected under U.S. and International copyright laws. Do Not Copy and Content or Images. No use is permitted without written permission.