Peach Dessert Recipes
When you live in Georgia, peach dessert recipes are a must. Enjoy freshly picked peaches bought from the farmer's market by using them in this creamy, cold dessert.
Ingredients:
1 8 oz pkg cream cheese
1 Cup of Cold Milk
1 Small Pkg of White Chocolate Pudding
2 Cups of thawed Cool Whip
2 Cups of cut up fresh peaches
Beat cream cheese until creamy. Gradually beat in milk. Add dry pudding mix and beat 2 more minutes. Stir in Cool Whip and peaches.
Spoon the filling into the Cupcake Creations Baking Cups
(put them in a muffin pan for a better shape - you can remove them after they become solid). Remove from the freezer just before serving as they soften really quickly on a hot Atlanta evening. Top with a dollop of whipped cream, a peach slice and sprig of mint.
Summer Dessert Recipes
Summer dessert recipes, like this one is made from angel food cake, blueberries and peaches. It is a favorite at our house and with our company.
This is from Betty Crocker and it is called Berry Angel Delight. I used lots of fresh peaches (we live in Georgia) and local blueberries.
Ingredients
1 Round Angel Food Cake cup into 1" pieces
3 6 oz Containers of Yoplait Thick and Creamy Vanilla Yogurt
1 8 oz Container of Cool Whip
1-2 Cups Fresh Blueberries
1-2 Cups Cut up Peaches
Directions
Mix the yogurt and Cool Whip together Add the cut up pieces of Angel Food Cake
Spoon half of the mixture into a 9-inch springform pan. Press firmly in pan with rubber spatula. Top with half of the berries and peaches.
Add the rest of the cake mixture. Press firmly down with the spatula. Top with the rest of the berries and peaches.
Cover and refrigerate 4 hours or overnight.
Run the spatula carefully around the spring form pan to loosen. Remove side of pan. Cut dessert into wedges.
I let mine sit for 4 hours and it was long enough. Garnish with sliced peaches and a dollop of whipped cream. It is delicious and one of my new favorite cold desserts.
No Bake Cheesecake Recipe
This tastes so much like (and I think even better) than a traditional cheesecake. It is so easy to make. There is no cooking and it tastes so light and refreshing.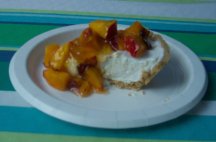 Ingredients
* 3/4 Cup of Powdered Sugar
* 1 (8oz) Sour Cream
* 1 (8oz) Cool Whip
* 1 (4oz) Cream Cheese
* 1 Graham Cracker Crust
Directions
1. Cream the cream cheese in medium bowl
2. Mix in the sour cream and powdered sugar. Blend until smooth
3. Fold in the Cool Whip
3. Spread into pie crust
4. Let stand in refrigerator for 30 min.
Then cover with fresh, cut up peaches mixed with a little bit of peach preserves (I used the Smuckers brand).
Keep refrigerated. Serve with a dollop of Cool Whip.
Go from Peach Dessert Recipes to Cold Dessert Recipes 

Return to Pool Fun for Everyone Home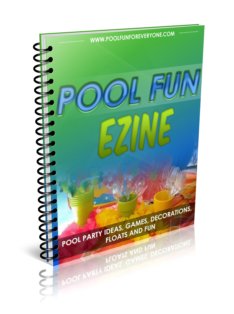 Looking for ideas to have fun with friends and family out by the pool? Get free tips on:
Pool Party Themes, Invitations, Games and Decorations
Outdoor Patio Umbrellas - Frame, Fabric and the Best Size
Swimming Pool Floats for Infants, Kids and Adults

Pool Party Food from Summer Appetizers to Cold Desserts
Outdoor Party Lights - Patio Umbrella Lights to Solar Torches

Sign up here: