Strawberry Dessert Recipes

Strawberry dessert recipes can provide the perfect ending to your pool gathering or we often invite friends over in the evening just for dessert.
Some of these desserts you can be made ahead of time and kept in the freezer for last minute gatherings or for unexpected guests.
Strawberry Trifle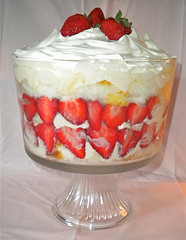 This strawberry trifle that is pictured above is an easy, quick but pretty dessert. The ingredients are angel food cake, white chocolate pudding, Cool Whip and fresh strawberries. Mix a small box of instant white chocolate or cheesecake pudding with 2 cups of cold milk. Gently spoon in 2 cups of cool whip with the pudding.
Simply layer:
1. Cut up pieces of store bought angel food cake
2. White Chocolate Pudding/Cool Whip Mix
3. Cut up Fresh strawberries
Repeat the layers. Top with just the Cool Whip and garnish with strawberries.
I sliced some strawberries lengthwise and placed them next to the trifle bowl as you can see.
Fresh Strawberry Dessert Recipe

Fresh strawberry desserts are colorful, easy to prepare and great tasting. We often pick our own fresh strawberries at a local farm not too far from our house. My favorite strawberry dessert is made with angel food cake, vanilla yogurt, whipping cream and fresh strawberries, blueberries and raspberries.
Everyone says what a light tasting and refreshing dessert it is - especially on a warm evening out by the pool. I had this fresh strawberry delight served as a cold dessert on a hot day. Before I left my friend's house I had the recipe in hand.
It is from the Betty Crocker website:
1 Cup whipping (heavy) cream
2 Tablespoons sugar
2 Cups Yoplait® Thick & Creamy vanilla yogurt (from three 6-ounce containers)
1 Round angel food cake (8 inches in diameter), cut into 1-inch pieces
1 Cup fresh blueberries
1 Cup quartered fresh strawberries
1 Cup fresh raspberries
INSTRUCTIONS
1. In chilled medium bowl, beat whipping cream and sugar with electric mixer on high speed until stiff peaks form. Gently stir in yogurt.
2. Place cake pieces in large bowl; gently stir in yogurt mixture. In medium bowl, gently mix berries.
3. Spoon half of the cake mixture into 9-inch springform pan; press firmly in pan with rubber spatula.
Top with half of the berries.
Repeat with remaining cake mixture; press with spatula.
Top with berries.
Cover and refrigerate at least 4 hours or overnight.
4. Run metal spatula carefully along side of dessert to loosen; remove side of pan. Cut dessert into wedges.
Strawberry Mousse Recipe

This strawberry mousse recipe is one of my favorites - it is so light and so refreshing. Since you make it ahead of time, you are freed up to be visiting with your guests or having fun in the pool.
Ingredients:
2 Cups Quartered Fresh Strawberries
3 Tablespoons Sugar
1/2 Cup Low-Fat Sour Cream or Low-fat Plain Yogurt
1 1/2 Cups Cool Whip (thawed)
Directions:
Combine the strawberries and sugar in a blender and process until smooth
Combine strawberry puree and sour cream in a large bowl, stirring well with a whisk
Fold whipped topping into strawberry mixture
Spoon into 6 (6 ounce) custard cups or I use heavy duty paper cups. Cover and freeze 4 hours or until firm.
Remove from freezer 30 minutes before serving.
Garnish with some sliced, fresh strawberries
Other Substitutions:
Substitute real, whipped cream for the Cool Whip (whip 1 Cup of Whipping Cream)
Substitute Stevia for Sugar
Frozen Strawberry Pie

This frozen strawberry pie recipe is easy to make and can keep for weeks in your freezer.
Frozen Yogurt Strawberry Pie - Light and Refreshing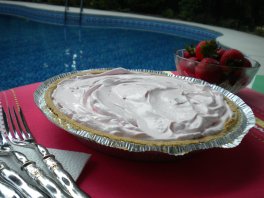 1 Ready made graham cracker pie crust
2 (8 oz.) container strawberry yogurt
1 (12 oz.) frozen whipped topping, thawed 1 (10 oz.)
1 Cup of fresh strawberries cut up
Mix the yogurt, with 3 3/4 cupped whipped topping and cut up berries and put into the pie crust. Freeze for at least 2 hours. Take it out to thaw about 15 - 30 minutes before serving and garnish with fresh strawberries.
Go from Strawberry Dessert Recipes to Cold Dessert Recipes

Go from Strawberry Dessert Recipes to Pool Fun for Everyone Home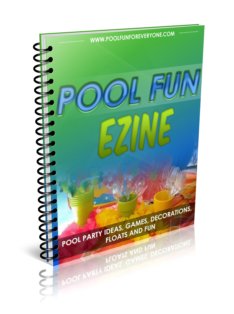 Looking for ideas to have fun with friends and family out by the pool? Get free tips on:
Pool Party Themes, Invitations, Games and Decorations
Outdoor Patio Umbrellas - Frame, Fabric and the Best Size
Swimming Pool Floats for Infants, Kids and Adults

Pool Party Food from Summer Appetizers to Cold Desserts
Outdoor Party Lights
- Patio Umbrella Lights to Solar Torches

Sign up here:
© Copyright 2011 - 2016 www.PoolFunforEveryone.com
All rights reserved. This DMCA site is protected under U.S. and International copyright laws. Do Not Copy and Content or Images. No use is permitted without written permission.