Sunbrella Chair Cushions

Sunbrella chair cushions are durable, comfortable, and attractive. We've had these chair cushions made with Sunbrella fabric for over 3 years.  We leave them out all summer and they still look like new. These outdoor cushions come in a variety of colors and patterns, but what most people like about these outdoor chair cushions is that they are ....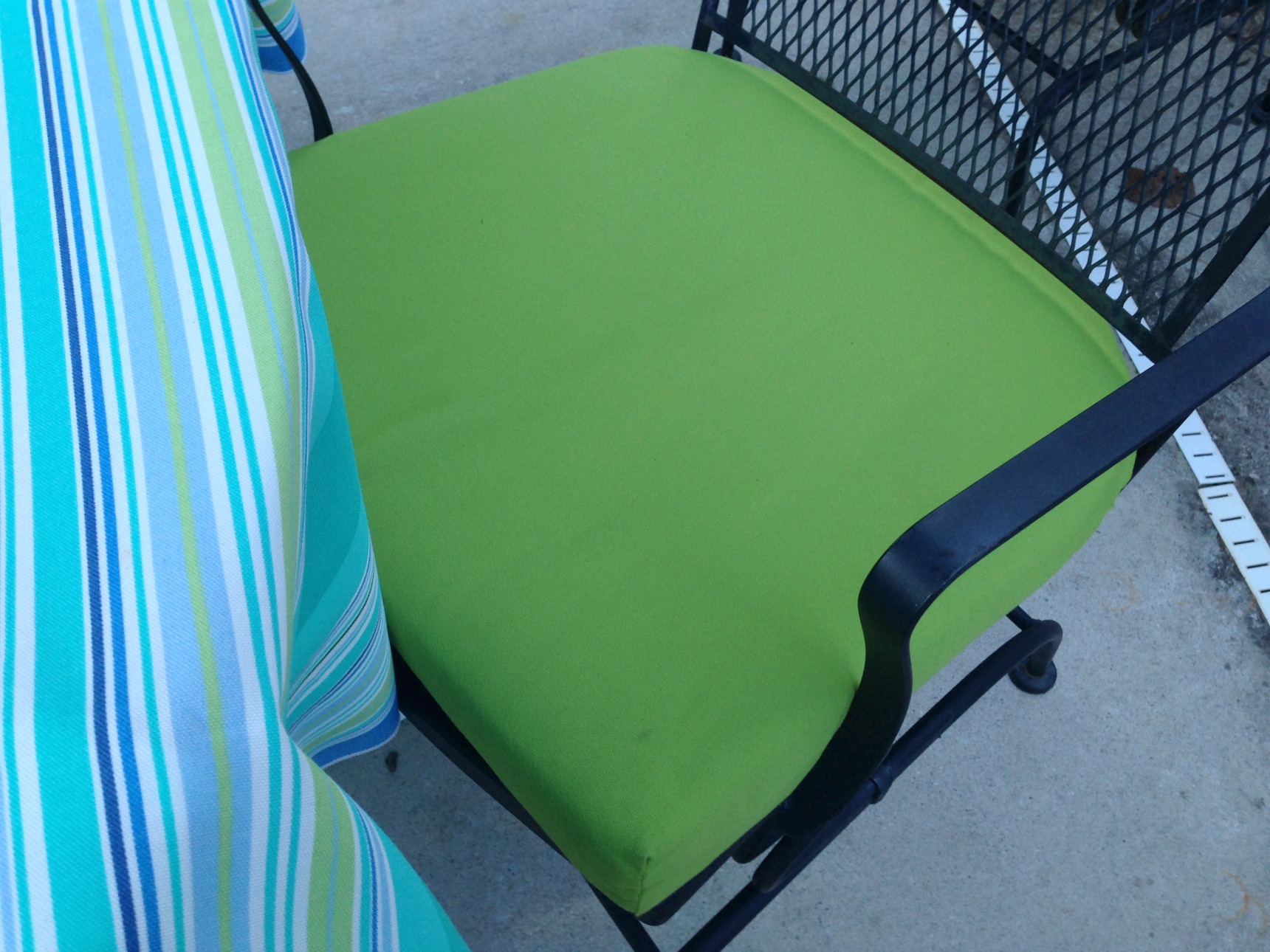 Fade Resistant
These cushions are fade-resistant because the color is permanently sealed into the fibers. 
Stain Resistant
The fabric is protected with a soil and stain resistant finish for easy cleaning. Water or spills sit like bubbles on the top of the fabric.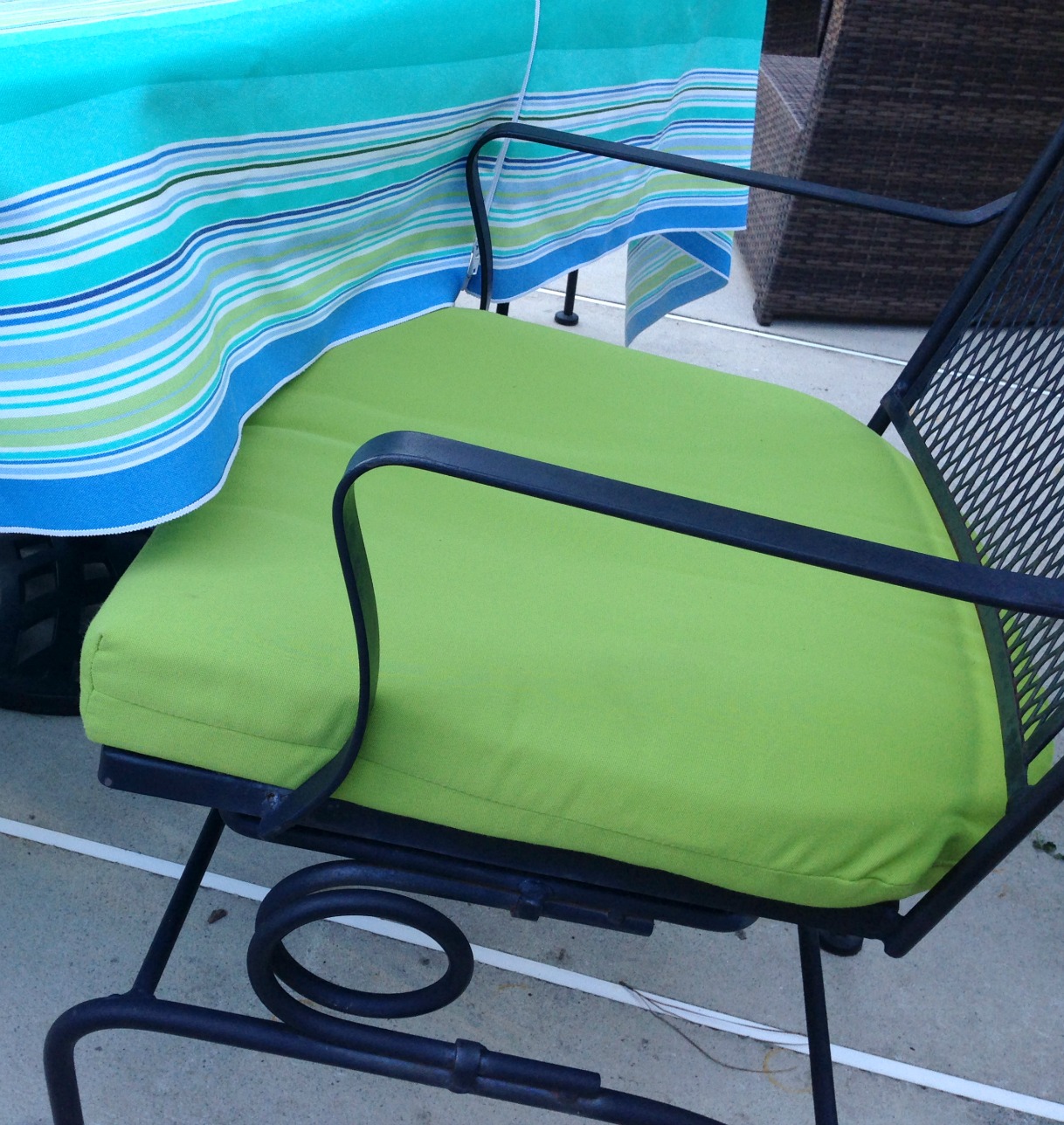 Mildew Resistant

Keep your cushions outside and even if it rains frequently they will not develop mold.
Dry Quickly
We leave our cushions out all summer. Lately we have had afternoon showers come in almost every day - the cushions get wet but they do indeed dry quickly.
Fabric Breathes
Unlike the Sunbrella awning or marine fabric, the fabric they use for outside chair cushions is porous, allowing it to breathe so that you are comfortable even in hot and humid weather.
Soft, not Stiff
Of course the fabric that is used for Sunbrella chair cushions has a softer feel than the stiff marine fabrics.  When you are shopping for your patio and pool furniture, check to see if the cushions come with the purchase, and if they are Sunbrella cushions - well, then you may just have a found yourself a good deal.
Outdoor furniture stores or on-line stores will carry not only outdoor cushions made from Sunbrella fabric but other outdoor weather resistant fabric as well. The Sunbrella cushions cost more, but they have a better warranty against fading and staining. Their colors are vibrant and stay that way.  Check out this set of 4 cushions from Amazon here:
Set of 4 Outdoor Chair Cushions 20 x 36 x 3 H-19 in Sunbrella Fabric Peridot by Comfort Classics
Sunbrella Chair Cushions Shapes and Styles
Square Shape
Square shaped with a bullnose is one of the most common types of outdoor chair cushions used for outdoor dining chairs.
This one from Amazon comes in two sizes:
2"High and 18" Square
2"High and 20" Square
It also has over 30 options of different colors in solids, stripes or designs. Not only is the fabric mildew resistant it is also filled with mildew-resistant polyester.
Bullnose Square Outdoor Chair Cushion
Trapezoid Shape
The trapezoid shape cushion is slightly wider in the front. Available in two sizes:
2"Hx18.5"Wx17"D 2"Hx20.5Wx18'D
Also available in over 30 different colors and styles. These use ties to secure the cushions.
Bullnose Trapezoid Outdoor Chair Cushion
Boxed Edge
The boxed edge is my favorite - 4" thick rather than 2" thick like the above cushions which translates into more comfort.
It also has cording around the top and the bottom edge which gives it a more finished look.
Two sizes are available through Amazon:
4"Hx18.5"Wx17"D 4"Hx20.5"Wx18"D
Box Edge Trapezoid Outdoor Sunbrella Chair Cushion
Highback and Seat Chair Cushions
I don't know why we didn't replace our old cushions with high back ones ...but we didn't.
Instead we grab a cushion from another chair and put it on our back.  When it comes time to replace we will get ones for the seat and back like this one pictured from Amazon:
Squared Corners Chair Cushion with Melon Sunbrella Fabric
Sunbrella is an ideal fabric for your outside chair cushions. Most of them have a 5 year warranty with normal exposure to sun and rain. We chose solid apple green Sunbrella cushions to replace our old faded ones. We leave them out all spring, summer and fall. The colors are as bright as the first day we got it with no signs of any mildew or stains.
Go from Sunbrella Chair Cushions to Outdoor Furniture Cushions

Return to Pool Fun for Everyone Home Page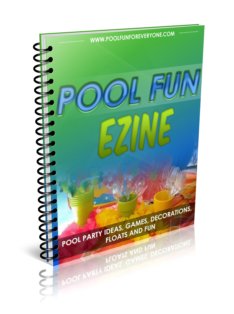 Looking for ideas to have fun with friends and family out by the pool? Get free tips on:
Pool Party Themes, Invitations, Games and Decorations
Outdoor Patio Umbrellas - Frame, Fabric and the Best Size
Swimming Pool Floats for Infants, Kids and Adults

Pool Party Food from Summer Appetizers to Cold Desserts
Outdoor Party Lights
- Patio Umbrella Lights to Solar Torches

Sign up here:
© Copyright 2011 - 2019 www.PoolFunforEveryone.com
All rights reserved. This DMCA site is protected under U.S. and International copyright laws. Do Not Copy and Content or Images. No use is permitted without written permission.