Swimming Pool Noodles

Swimming pool noodles provide the "biggest bang" for literally a buck. Everyone loves them. Our 3 and 5 year old granddaughters love to swim with them and our adult friends love to sit on them and use the noodles as swimming pool floats.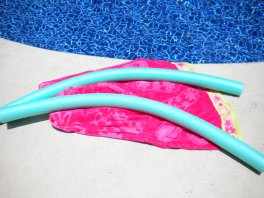 Pool noodles can be bought for $1 at your local Dollar Store.
If you are having a kids pool party, buy one for everyone. Use them for your swimming pool games and then give them to each of the guests as a take home gift.
At our annual Fourth of July party there will be several kids 8 years old and younger. Fortunately, we have enough noodles for every child.
As with so many seasonal items, you need to buy them in late spring or early summer. I bought the last 2 pool noodles from our local store in the middle of June.
 Pool Noodle Races

For fun relay games, wrap a foam animal visor around the pool noodle - a monkey and a parrot visor were used for our jungle pool party. The monkey team raced the parrot team.
One at a time a team member from each team sat on the noodle and raced across the pool and back and gave the noodle to the next team member. The team than finished first won.
Pool Noodle Games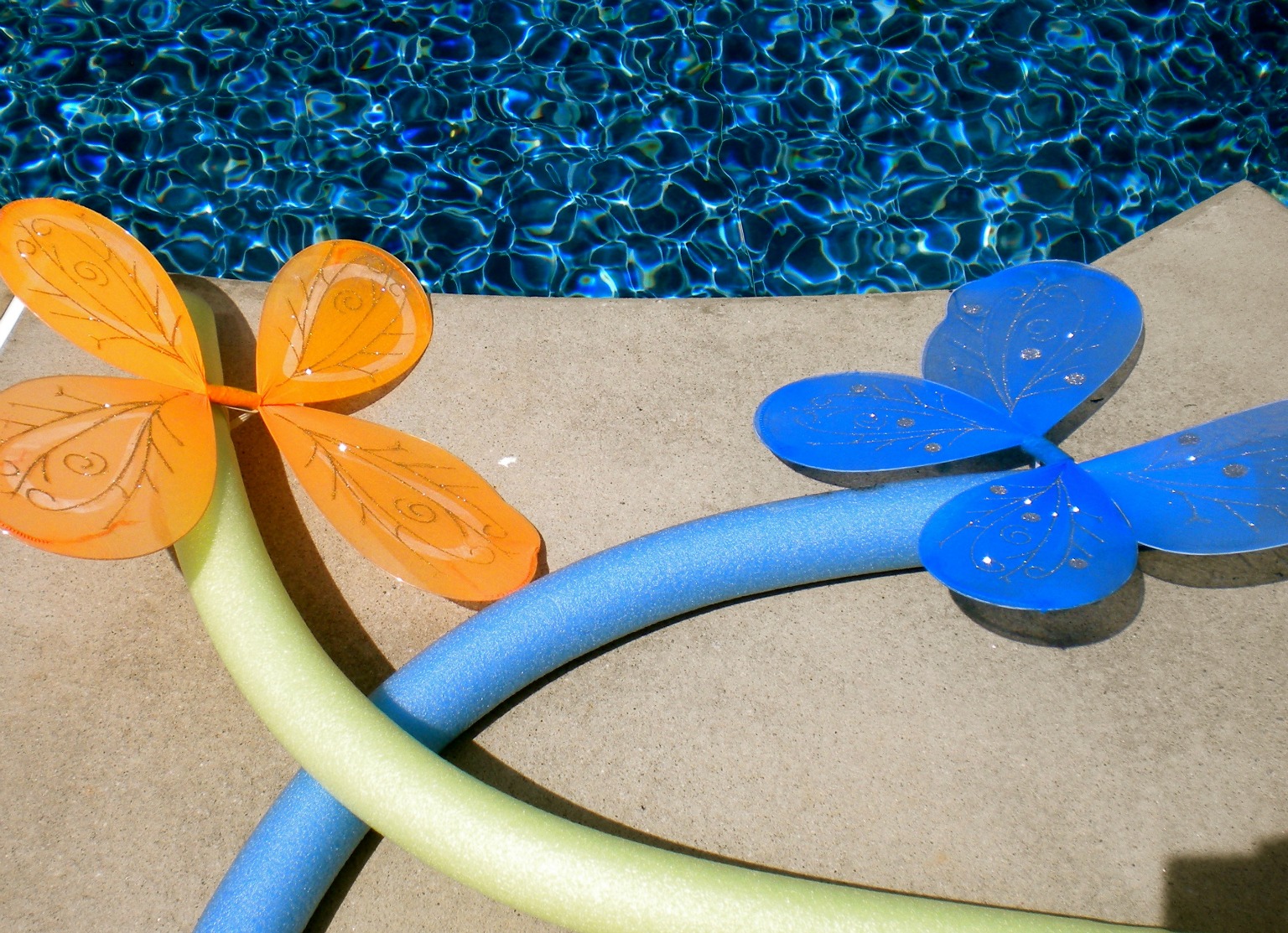 For our butterfly and fairy pool party, we used two different color noodles with wings attached  - one for the blue fairy team and the other for the orange fairy team.  One girl from each team raced across the pool sitting on their "butterfly" and moving as fast as they can using their arms and legs.

Noodle Chair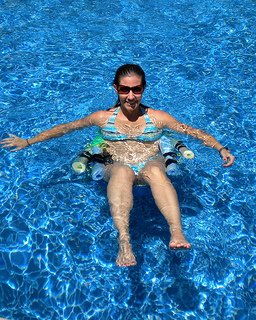 Unless you like sitting really low in the water, I wouldn't recommend getting the noodle chair accessory. It just doesn't keep you a'float.
My niece is petite and not overweight, and all that was above the water was her head.  There are lots better pool chair floats than this one.

My niece and I had quite a good laugh when we saw that the beverage holder was about 6 inches under the water.
Swimming Pool Noodle Games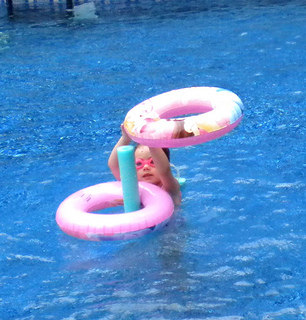 There are lots of fun swimming pool games to play with the use of swimming pool noodles. At our Little Mermaid pool party each swimmer took a turn swimming out to the floating noodle (just stick it inside a swim ring) and place another swim ring on top of it.  Then take it off and swim back to your team and have the next team member repeat it.

However these pool floats do have lots of other fun uses and we wouldn't be without a couple of new ones every summer.
Go from Swimming Pool Noodles to Swimming Pool Toys

Return to Pool Fun for Everyone Home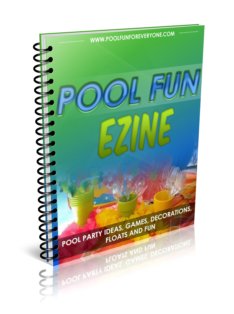 Looking for ideas to have fun with friends and family out by the pool? Get free tips on:
Pool Party Themes, Invitations, Games and Decorations
Outdoor Patio Umbrellas - Frame, Fabric and the Best Size
Swimming Pool Floats for Infants, Kids and Adults

Pool Party Food from Summer Appetizers to Cold Desserts
Outdoor Party Lights
- Patio Umbrella Lights to Solar Torches

Sign up here:
© Copyright 2011 - 2016 www.PoolFunforEveryone.com
All rights reserved. This DMCA site is protected under U.S. and International copyright laws. Do Not Copy and Content or Images. No use is permitted without written permission.