Teenage Pool Party Games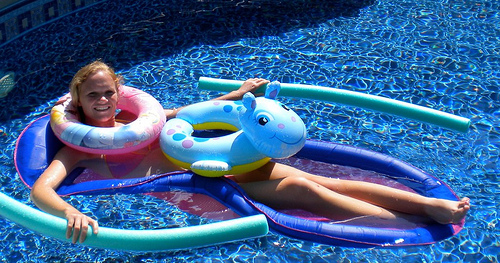 Teenage pool party games can include the typical swimming pool volleyball game or swimming pool football game, but there's a lot more you can do to make your teen pool party fun for everyone.
One is to simply provide lots of floats - spring floats, chair floats, and a couple of noodles. Often teens can create their own fun with a few pool toys.
Teen Pool Party Game
Our teenage niece loved this beach ball game icebreaker she played at a friend's pool party.
Buy enough 24" beach balls
so that each guest gets one beach ball. If you will be playing games with teams, buy half of the balls in one design and the other half of the balls in another design or color.
Write the name of the guest using a permanent marking pen on the beach ball - do one for everyone. Throw the balls in the pool just before the guests come.
After every one arrives, everyone jumps into the pool to find their beach ball. The ones with the orange, green and yellow designs are one team and those that have the other colored beach balls will be on the other team.
Cool Pool Toys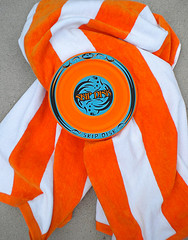 Looking for some cool pool toys for your next teen pool party?
Get a Skip Disk
.
It is like a thick foam frisbee that skips across the water - it's easy and fun for anyone to do.
There is no need for an organized pool game - just take turns skipping the disk to each other. Our teenage niece loves this game.


Swimming Pool Volleyball Game
A swimming pool volleyball game
is a fun teen pool party game. This set is for those who like to play often as it is more expensive, yet more durable.
A less expensive option for those who want an easy set up for a party is this pool volleyball net.
The price is around $35 and it does not come with a volleyball. Which is a great price if you have a volleyball or if you like playing with a light-up beach ball.
Beachball Games
If your party is in the evening, you can't go wrong with this light-up beach ball.
Use it in place of a volleyball for night time fun.
Pool Basketball Game
A great teenage pool party game is playing basketball in the swimming pool.
This affordable pool basketball game
will provide hours of fun for kids, teens and adults. The water basketball is more like the size of a large beach ball. The basket floats in the middle of the pool so it can be played anywhere in your pool.
Easy to put up and easy to put away.
Water Jousting
This is a fun competitive game that's different than your typical pool volleyball or basketball.
Staying on the Log Flume Float
is easier if you somewhat under inflate it. Have fun just watching people try to get on and stay on.
Whoever gets "knocked" off first loses. The winner plays the next person. The person who is able to stay on the float for the most rounds wins.
Skip Golf in the Pool
Looking for swimming pool games to play at your party?Skip Golf
is a fun game for a pool party.
The pool game involves skipping the disk across the pool trying to get it into the net. The height of the net can be adjusted for different kinds of challenges. It can by played by kids, teens and adults.
Four disks of two different colors comes with the game. Break up into two teams and the team with the highest score wins.
Diving Games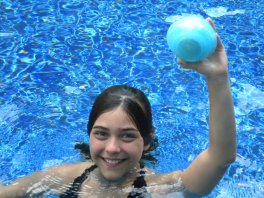 Our 13 year old niece loves diving games - using diving sticks or rings. But her favorite is Submergency
.
Our niece who has been visiting us this summer loves this game and we play it almost everyday. Set the timer from anywhere from 15 seconds to 90 seconds.
Throw the ball and try to get to it to deactivate it before the timer goes off.
It has an LED light so that you can see the seconds that are left and there is a beeping signal as well that goes off when the button is pressed.
You can also set the ball to float, sink or to just sink a little bit in the water.
It requires 4 AAA batteries and after each use it is important to drain any water that is in the ball or the batteries are ruined - we know from experience :)
Do not leave this ball in the water when you are done playing.
Water Jarts
Water Jarts
is a fun team game - especially for those who may not want to get completely wet or are not great swimmers.
It's just like lawn Jarts - only in the pool. Simply take turns tossing the soft-grip darts at the target ring. The bright-colored flags make it easy to see in the water.
Includes 4 pool darts, target ring, and storage bag. Preparation and forethought is important for a successful pool party.
So get a couple of games or floats from your local pool supply store and as the party planner, get everyone in the pool to make the event fun and memorable.


Go from Teenage Pool Party Games to Teen Pool Party

Go from Teenage Pool Party Games to Pool Fun for Everyone Home