Adult Pool Party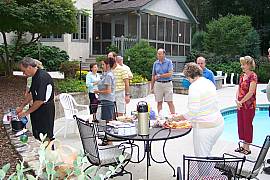 An adult pool party can be every bit as fun as one for kids.
The most fun is when we have guests who enjoy being in the pool as much as we do.
But, we've also had some gala affairs and birthday BBQ's with tables set up all around the pool.
Pool Party Themes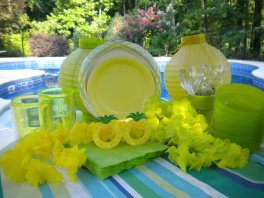 Pool party themes are not just for kids. We've hosted many adult pool parties with themes - like a beach party, flip flop party and a Hawaiian or Luau theme.
Having a theme makes planning easier - from the invitations to the pool party decorations.
A theme also adds to a more festive atmosphere and for opportunities to to be more creative with games, food and party favors. Pool Party Themes
Garden Party Ideas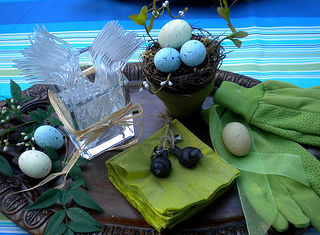 Looking for an idea for a pool party theme?
A summer garden party makes for a great pool party theme, especially if your landscaping includes lots of colorful perennials or annuals.
Our neighborhood ladies loved the perennial exchange and the colorful bouquets of hydrangeas that adorned the party tables.
Here are some garden party ideas and tips for hosting your own garden party. Garden Party Ideas
Big Girls Pool Party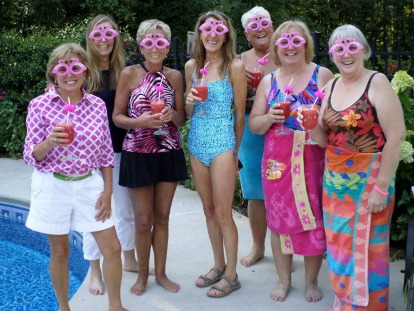 Get out the pink - fuschia pink that is and have fun with this flamingo themed girls pool party.
Pink watermelon coolers, pink beach balls, flamingo straws, foam glasses, and flamingo floats made for lots of fun as this group of friends got together to flamingle. Big Girls Pool Party
Adult Pool Party Invitations
Adult pool party invitations set the tone and theme for your party.
Many of our party invites are made simply by phone or by sending an e-mail.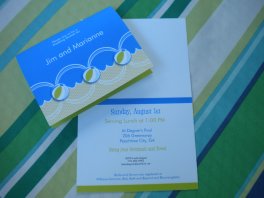 The website I have used most to send out free, fun e-vites is www.evite.com.
But there are times and events where you will want to select and send out invitations - such as a birthday party event, a 4th of July Pool Party, or a neighborhood get together.
The invitation needs to match the tone of the party - is it a more formal event with dinner and candle lights or a relaxed, casual theme asking everyone to wear their favorite flip flops.
It also needs to match the gender of those invited - I've had parties out by the pool with just girl friends. Everything, including the invitations were pink and green. Pool Party Invitations
Adult Pool Party Games
Adult pool party games can be in or out of the pool. For those who enjoy getting wet, a simple form of entertainment is pool volleyball or, in our case, we love to play pool badminton.
We set up a volleyball net across the shallow end of the pool and buy a badmitton set. Usually we buy an inexpensive set since it usually only lasts a season since we get the rackets wet.
Four people (two on each team) can play at a time and we rotate out the two who have lost the last game.
A limbo game is great to play out by the pool. Put on some limbo music and start the fun. Everyone takes a turn going under the limbo stick without touching it - if he does, he is out. Keep playing until there is only one person left who should be rewarded with a grand prize.
Swimming Pool Chairs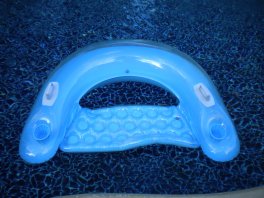 The best swimming pool floats for adults are swimming pool chairs with a beverage holder.
Of course you need more than one - we always have two of them.
While lying flat on an air mattress is good for relaxing, it's not great for catching up with the other guests.
A pool chair float makes it easier to have a conversation with another adult.
Pool Decorations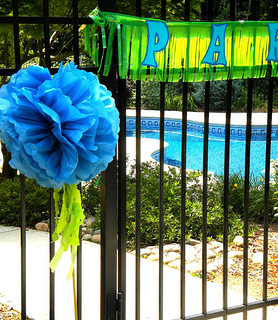 Whether you use fun floats or lighted pool fountains, pool decorations can set the tone for a fun party time.
Start at the pool gate, add floats to the pool and decorate the the party tables with a coordinated color scheme. Pool Decorations



Frozen Alcohol Drinks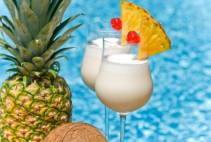 Frozen alcohol drinks with a tropical theme like a pina colada topped with a fresh slice of pineapple or strawberry makes for a refreshing beverage.
Many of these drinks can be made without the alcohol for a frozen virgin drink.
For more ideas and recipes for frozen mixed drinks click here: Frozen Alcohol Drinks
iPod Portable Speakers (and floating ones too)
What's a pool party or pool fun without music? And thanks to the Pandora app any kind of music is easy to find and play.
Whether it's a battery operated or one with rechargeable batteries - be sure to have some kind of portable speaker sitting out near the party table.
Get one that is water resistant or water proof so that some splashing or dripping water wont' destroy it. This one provides great sound for a little price.
G-Go Portable Wireless Bluetooth Speaker


Go from Adult Pool Party to Pool Fun for Everyone Home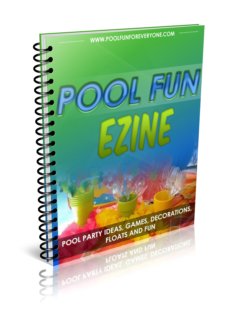 Looking for ideas to have fun with friends and family out by the pool? Get free tips on:
Pool Party Themes, Invitations, Games and Decorations
Outdoor Patio Umbrellas - Frame, Fabric and the Best Size
Swimming Pool Floats for Infants, Kids and Adults

Pool Party Food from Summer Appetizers to Cold Desserts
Outdoor Party Lights - Patio Umbrella Lights to Solar Torches

Sign up here: