Pool Party Decorations

Pool party decorations can reflect the theme of your pool party or simply provide splashes of color with inflatable floats, a pool full of beach balls, and bouquets of flowers or potted plants.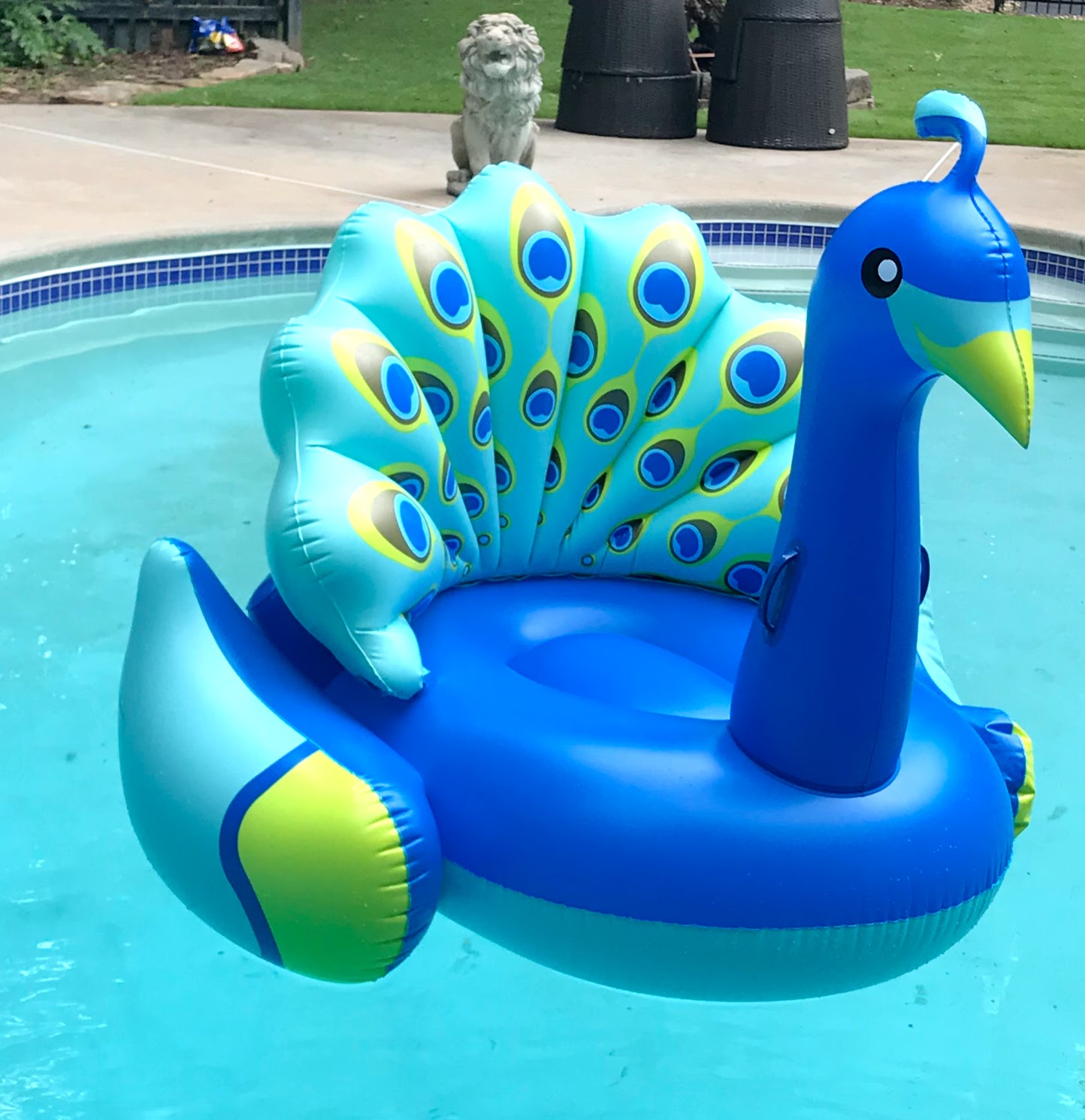 Pool party decorations can be simple and inexpensive, yet they can turn an ordinary party into an extraordinary, memorable event.

The most important tip for decorating around your pool is to use color.

Colorful potted plants of geraniums, blooming gardenias, or bouquets of store bought flowers should surround your guests with color and fragrance.

Pool Party Decorations for the Gate
Start your party by greeting your guests with a decoration at the pool gate.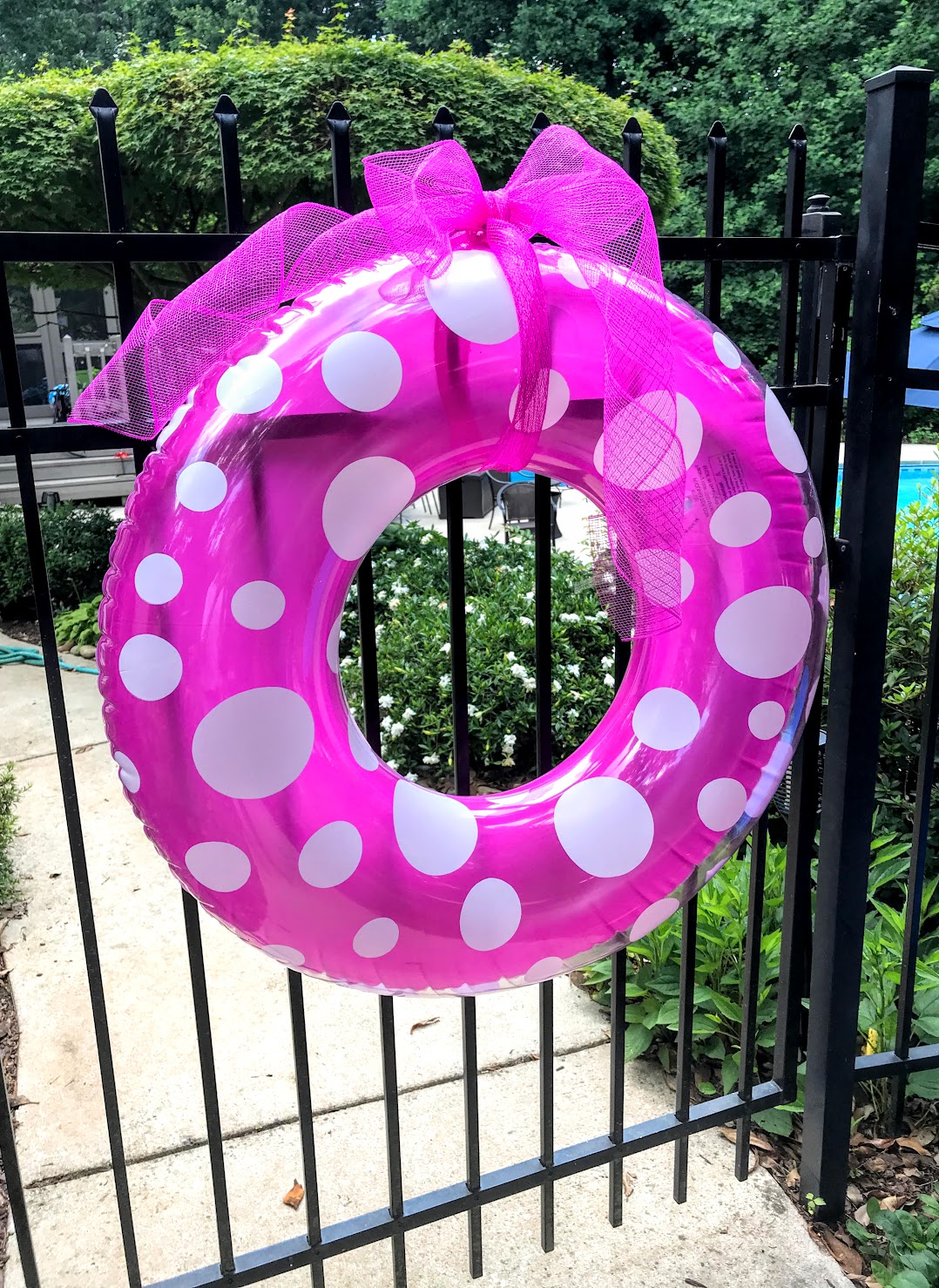 Garden flowers or a colorful swim ring let your guests know the party is ready to begin.
Pool Party Decorations for the  Pool

Pool decorations for the pool can be as simple as having several themed or colored beach balls floating around.

Colored Paper Lanterns

Colored paper lanterns add a festive touch as swimming pool decorations.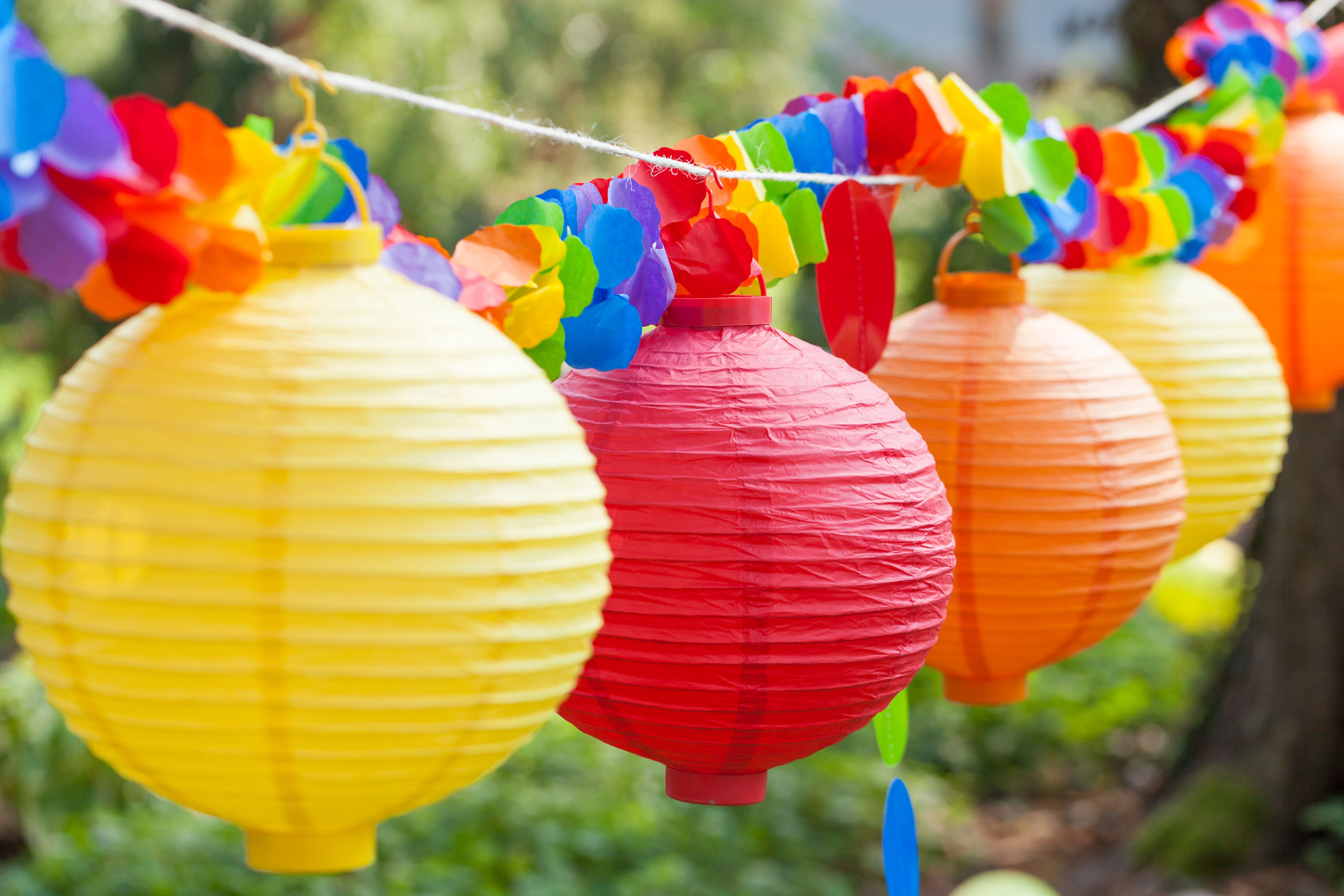 Keep a consistent color combination - using the same colors for your invites, paper goods, flowers and pool decorations.

Hang colored paper lanterns on the garden arbor, on tree branches, or from the ribs of the outdoor umbrella. 

Choose a color theme and repeat it in the table setting, the paper lanterns, and any other swimming pool decorations that you use.

It if is an evening party, use battery operated paper or nylon lanterns.

Lighted colored lanterns provide lots of color while the sun is up and great pool party lights for when the sun goes down.

Party Hanging Paper Lanterns
Decorate Based On A Theme

Consider using a pool party theme, like a Hawaiian Luau for your next swimming pool party. 

The theme will give direction to your invitations, food, the color theme and the decorations.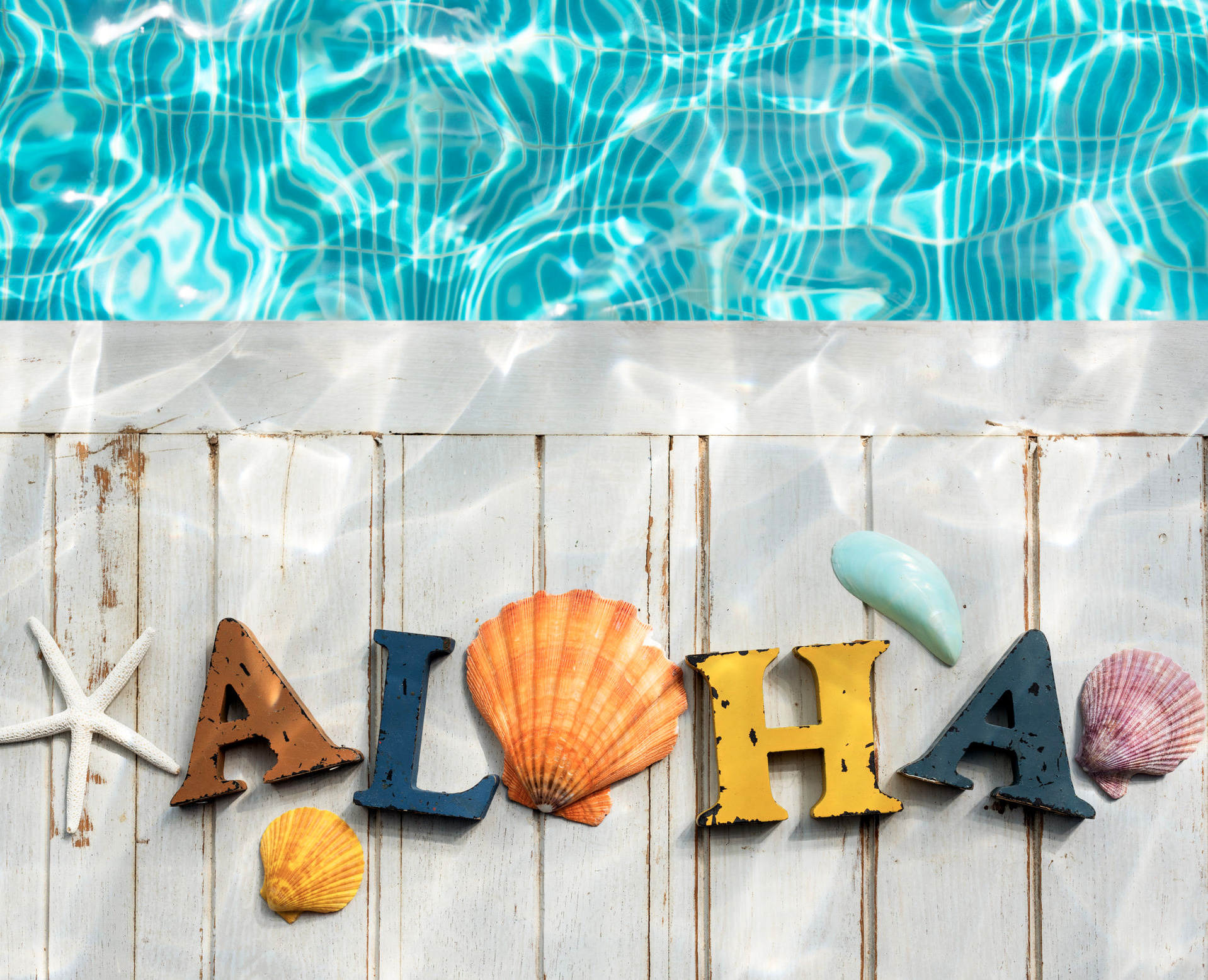 This summer we had a dolphin pool party.  Floating dolphins greeted  guests by the gate and in the swimming pool.

Pool Party Theme Ideas

Inflatable Decorations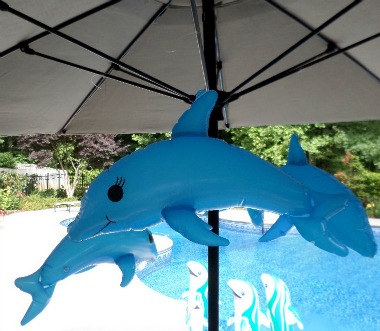 I love plastic inflatable decorations. They can be set out early in the day and unlike paper decorations you don't need to worry about "iffy" weather.  They love to get wet and often move from decoration to pool party toy :)
They come in just about every shape - from dolphins and dinosaurs to whales and palm trees.

Inflatable Toys for Party Decorations
Lots of Pool Party Lighting
For an evening party set out lots of lights -  floating lights in the pool, on the path to the pool, on any steps, and around the perimeter of the pool.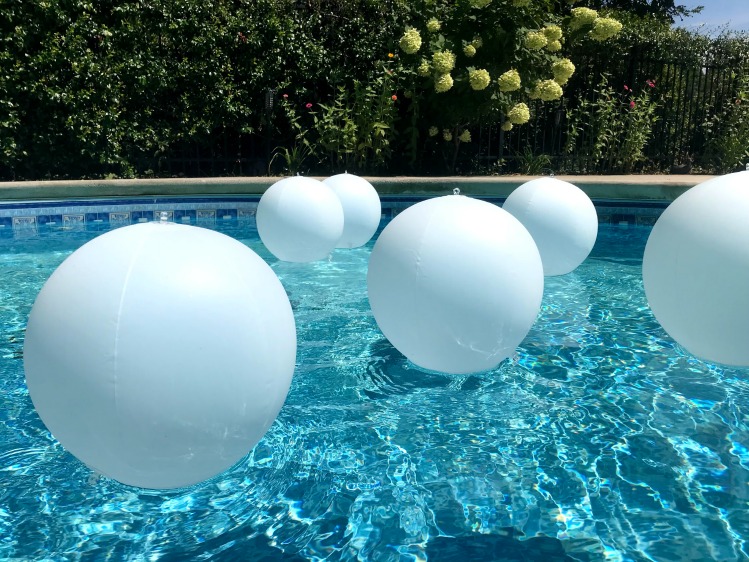 Outdoor party lights are an inexpensive way to make sure that there are no dark areas. 

Swimming Pool Fountains

Swimming pool fountains provide a source of a refreshing visual delight and a calming sound of splashing water.

They can be easily installed and removed.

We use a floating pool fountain that sits in the middle of our pool.
They are great pool decorations for daytime parties or get a lighted fountain for evening entertainment.

The soothing splashing sound and the refreshing site adds to any pool party ambience.


Flowers, Flowers and More Flowers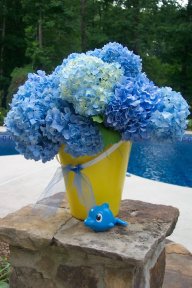 Bouquets of blue hydrangeas look fabulous in these yellow buckets.

I put large bouquets of them on the steps to the pool with a touch of blue netting tied on the handle.

Sitting alongside the bouquet is a blue dolphin pool toy.

More bouquets were placed by the pool gate and at the tables.

When decorating for a pool party not only should repeat the same  color scheme - but repeat the same flowers as well.

The flowers on each of the tables or wherever you use them should be similar in style and color.

Go from Pool Decorations to Pool Fun for Everyone Home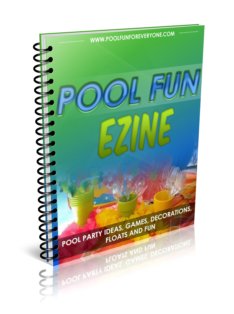 Looking for ideas to have fun with friends and family out by the pool? Get free tips on:
Pool Party Themes, Invitations, Games and Decorations
Outdoor Patio Umbrellas - Frame, Fabric and the Best Size
Swimming Pool Floats for Infants, Kids and Adults

Pool Party Food from Summer Appetizers to Cold Desserts
Outdoor Party Lights - Patio Umbrella Lights to Solar Torches


Sign up here:
© Copyright 2011 - 2022 www.PoolFunforEveryone.com
All rights reserved. This DMCA site is protected under U.S. and International copyright laws. Do Not Copy any Content or Images. No use is permitted without written permission.