Cold Salad Recipes

Looking for some cold salad recipes to serve at your next pool party? Cold salads can be used as a side dish or as your main meal.
However, it is important not only for taste but safety to serve them cold. And you don't need an outdoor refrigerator to keep your salads cold.
If you love outdoor entertaining in the summer, invest in salad bowls that will keep your food cold like a Doublewall Salad Bowl or an insulated salad bowl that sits in ice like this one ...
Prodyne IC-30 Iced Salad with Dome Lid
Easy Taco Salad Recipe

This easy taco salad recipe is good for you too! Filled with fresh and natural ingredients like black beans, avocados, orange peppers and tomatoes. When I can, I try to buy locally grown produce and if possible organic greens and vegetables.
Instead of buying taco season packets to season my meat, I use Mexican seasonings such as fresh pressed garlic, cumin, onions and a little chili pepper.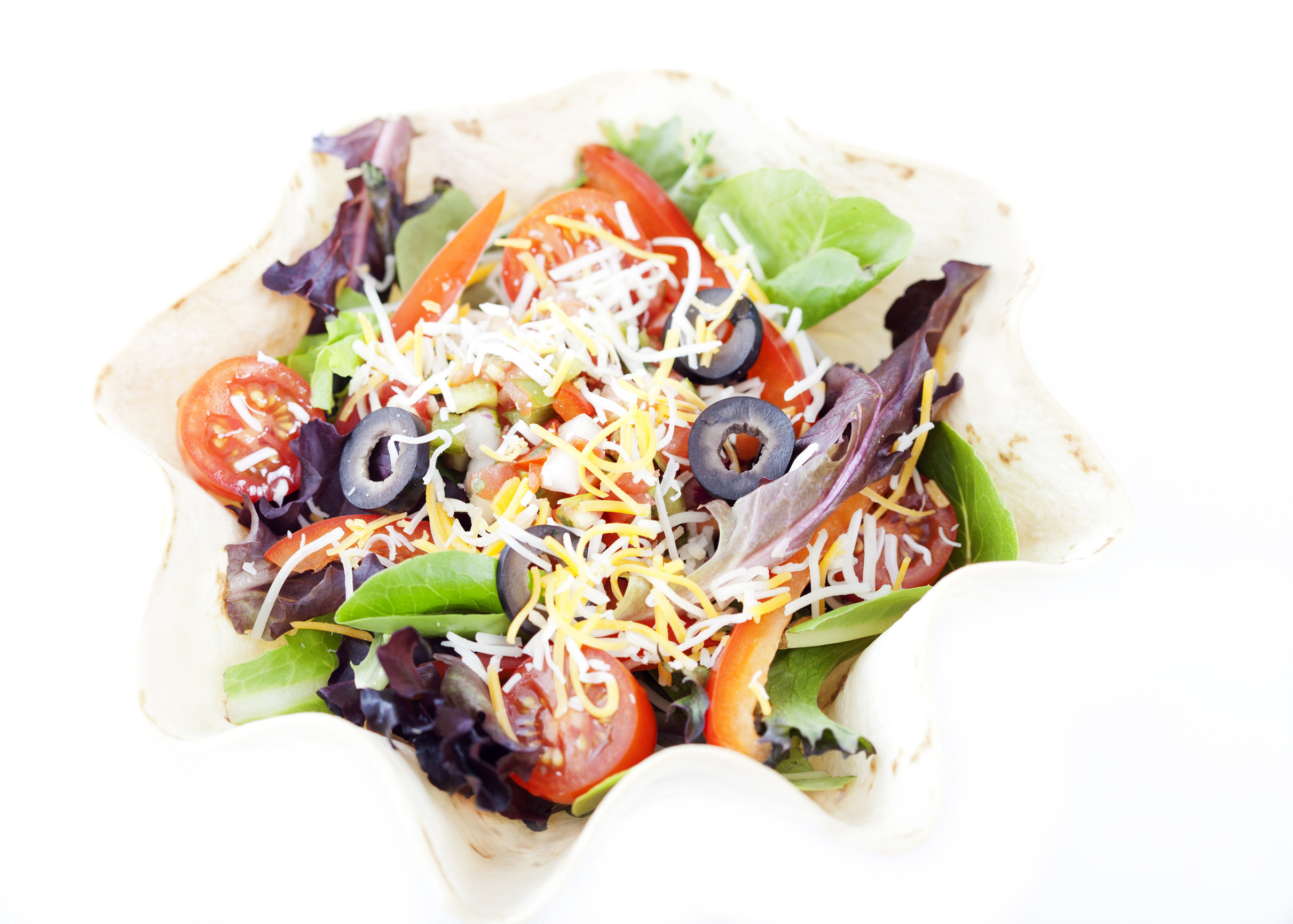 Ingredients:
Head of fresh Romaine
2 Cups of Organic Baby Spring Mix
1 Can of Black Beans
1 Ripe Avocado Diced
1 Orange Pepper Diced
2 Small Tomatoes Diced
1 lb of hamburger browned with pressed garlic, onions, and seasoned with cumin, sea salt and chili pepper.
Rather than adding the cheddar cheese into the salad mix, serve it in a side dish for guests to add their own.
The best salad dressing (and healthy too) is your favorite salsa. Serve it with organic blue corn chips and you have a hearty meal.
Strawberry Spinach Salad Recipe

With fresh strawberries in abundance in the summer, use them in this cold salad recipe.  The romaine lettuce provides a burst of freshness that is really appealing.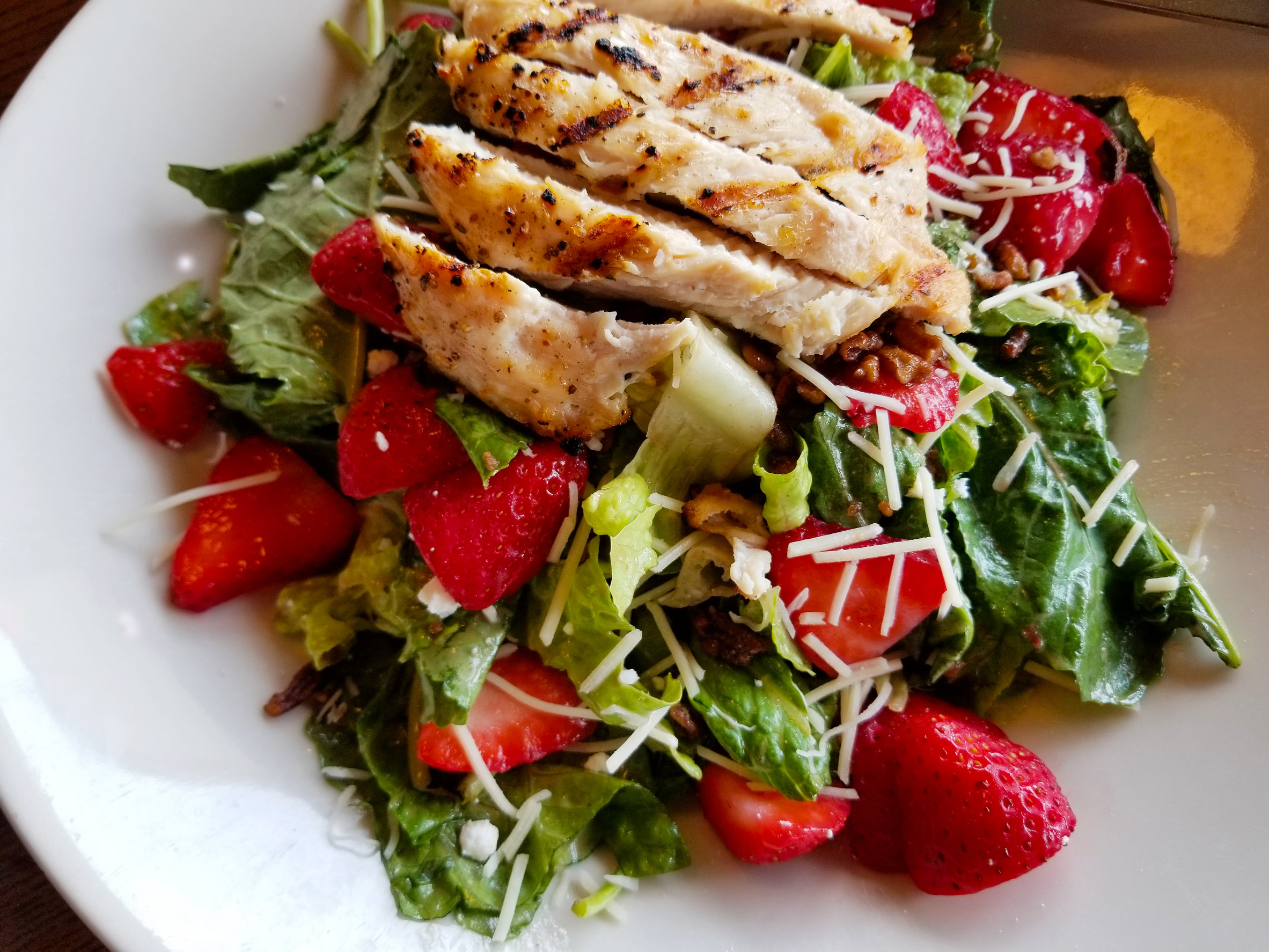 3 Cups of Cut Up Romaine Lettuce 
1 Cup of Toasted Almonds (put raw almonds in the oven at 300 degrees for about 10 minutes). Add the toasted almonds just before serving.

1 Cup of Feta or Goat Cheese
1/4 Cup of Cut Up Green Onions
2 Cups of Sliced Fresh Strawberries
Add Grilled Chicken for a complete meal
Poppy Seed Dressing - I do not put it on the salad, but rather in a bowl with a ladle and let the guests put on their own dressing.
To save time so that you can spend more time at the pool buy your poppy seed dressing. The Naturally Fresh brand can be found in the refrigerated section of the grocery store and tastes great.
This is such a nice light salad to serve for any pool party. It looks pretty and is easy to make.
Make the salad big because everyone will want seconds.
Strawberries, Spinach and Cucumbers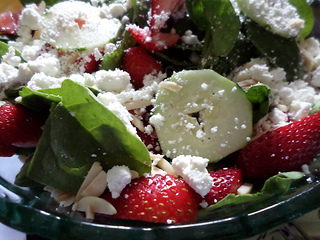 We served this at a recent pool party with out of town company. Hardly a piece of spinach was left.
1 Bag of Organic Spinach (around 10 oz)
2 Cups of sliced strawberries
1 Cup of toasted sliced almonds
1 Cucumber Sliced
1/2 Cup of crumbled goat cheese
Serve with poppy seed dressing. We used the Poppy Seed Dressing by Fresh Market.
Keep Your Salads Cold

Place cubed or crush ice in the bottom of the bowl and place the vented grate over the ice.
Fill the rest of the bowl with your salad and place the lid on top for an attractive way to keep your salads from wilting.  The high quality acrylic looks classy but is shatterproof making it a great salad bowl to use out by the pool.

Salad On Ice with Dome Lid - Acrylic Salad Bowl and Servers
Wild Rice Salad Recipe

Last weekend we had friends coming over for dinner by the pool, but I needed to serve something that I could prepare for in advance. I was going to be gone all afternoon and getting in just about the time our guests were coming.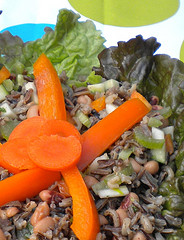 I needed to serve something cold as it was quite warm out and the salad had to be substantial enough to be the main dish. My friend Heather shared this wild rice salad recipe with me and it now one of our favorites. 2 Cups of Cooked Wild Rice
1 Can of rinsed Black Eyed Peas
2 Tablespoons Chopped up Fresh Parsley
1/2 Cup Cut up Red Peppers
1/2 Cup Cherry Tomatoes - cut in half
1/2 Cup Cut up Zucchini
Mix the above in one bowl with the dressing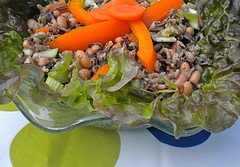 Dressing:
3 Tablespoons of Olive Oil
1 Tablespoon Red Wine Vinegar
1 Tablespoon of Dijon Mustard
1/2 Teaspoon fresh garlic
1/2 Teaspoon of Rosemary
3 Tablespoons of Lemon Juice
Mix the above and pour over the wild rice salad.
I made the salad and added cut up grilled chicken and served it as the main dish with a cold bean salad and whole grain crusty bread and olive oil.
Easy Fruit Salad Recipes

Do you need some easy fruit salad recipes? For entertaining adults and kids, fresh fruit salads are always a big hit. Make it with your favorite flavored yogurt - I used Stoneybrooks's organic strawberry cheesecake flavor.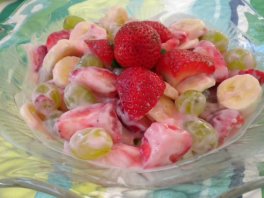 This recipe went over big at our latest pool party with lots of kids and adults.
2 Cups of Fresh Sliced Strawberries
2 Cups of Fresh Green Grapes
3 Sliced Bananas
Mix with your favorite strawberry yogurt. I used Stoneybrooks organic strawberry cheese cake. Garnish with fresh strawberries.
Cold Salad Recipes with Vegetables

Healthy ingredients like broccoli, celery, and sunflower seeds make this summer salad a favorite at our house. I try to buy as many ingredients as I can organic for extra nutrition.
Have you forgotten how easy and good tasting a Seven Layer Salad is? I did until my husband made a request and I wondered why I didn't make this salad more often. So easy - just layer your ingredients.
Find out my easy tip for the dressing that eliminates one step.
Another favorite cold vegetable salad is made with cucumbers and onions - crisp thin bites of cucumber make for a great side that can be served at any meal.
Do you grow your own basil? Sprinkle it on some fresh cut tomatoes and sprinkle on balsamic vinegar and olive oil with fresh mozzarella and everyone will think you are some kind of chef :)  Get your recipes here:
Broccoli Cranberry Salad and More Cold Vegetable Salads
Easy Coleslaw Recipe

The key to making an easy coleslaw recipe is to buy shredded cabbage and shredded carrots.
But make your own dressing - this one is super easy and has a surprise ingredient that tastes great and is good for you :)
Ingredients:
1 Bag of Shredded Cabbage and Carrots

Mix together 1/4 cup of olive oil, 1/4 cup of white wine vinegar and 1 tablespoon of honey. Salt and pepper to taste.
This is the first time I've used honey instead of sugar, and it tastes great.
Coleslaw Broccoli Salad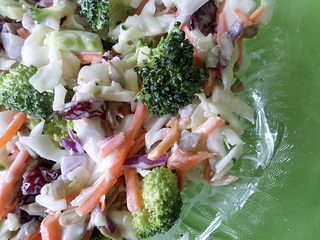 Ingredients
1 Bag of Shredded Cabbage
1 Bag of Shredded Carrots
1 Bag of Broccoli Florets
1/2 Cup of Dried Cranberries
1/2 Cup of Roasted Sunflower Seeds
1/3 Cup Chopped Red Onion
Dressing:
1 cup mayonnaise
2 Tablespoons of Sugar (I use 2 tablespoons of agave nectar)
1/4 cup red wine vinegar
1/4 teaspoon salt
Mix dressing with the salad ingredients.
Tabouli Salad Recipe

Instead of a cold pasta salad, try serving a tabouli salad. It is much better for you as the bulgar is whole wheat. It is a complex carbohydrate which means it won't spike your insulin.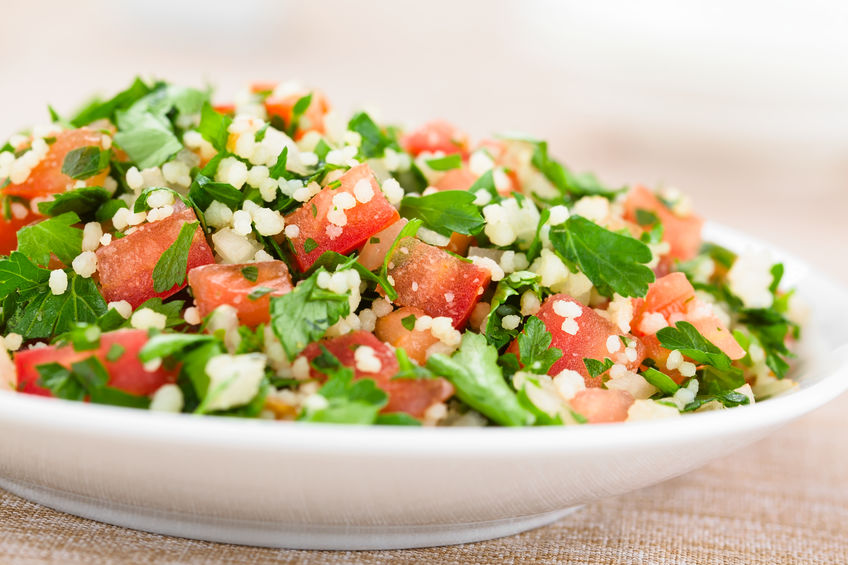 Make 1 cup of bulgur according to package directions ( I like Bob's Red Mill Light Bulgur)
Stir in 1/4 cup of olive oil and 3 Tablespoons of lemon juice. Salt and Pepper to Taste.
Add:
1/2 Cup of Feta Cheese
1/2 Cup of Chopped Kalamato Olives
1/2 Cup of Red Onion
1 Cup of Chopped Cucumbers (about one whole seedless cucumber)
1/2 Cup of Chopped Red Tomatoes

1/2 Cup of Chopped Spinach
3 Tablespoons of Fresh Parsley (I put a bunch in my food processor as I like the parsley really small)
Mix all of the above ingredients and chill.
Cold Salad Recipes with Beans

Bean salad recipes offer a hearty side salad that can be prepared ahead of time. For you vegetarians this cold salad can be served as your main meal.  Bean salad recipes make a hearty side salad or main dish for you vegetarians. They need to be made ahead of time so that the flavors can mix. Which means if you have guests you don't have to make a fresh salad at the last minute. As a registered nurse, bean salads offer more nutritional value than pasta salads.
Try the traditional Three Bean Salad Recipe or the Black Bean and Corn Salad.
Black Beans and Cilantro
Mix:
3 Cans of Black Beans Rinsed and Drained
1 Cup of Cut Up Red Onion
2 Tomatoes Seeded and Chopped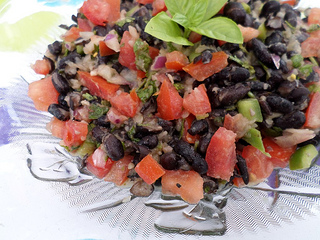 Dressing:

1/2 Cup Chopped Fresh Cilantro
3 Crushed Garlic Cloves
2 Tablespoons of Lime Juice
1 1/2 Teaspoon of Cumin
1 Tablespoon of Red Wine Vinegar
1/2 Cup of Olive Oil
Mix the dressing ingredients and pour over the bean mixture. Make the day before so that the flavors are all enhanced.
Salt and Pepper to Taste
Three Bean Salad
2 15 oz can red kidney beans
1 14 oz can cut green beans
1 14 oz can yellow wax beans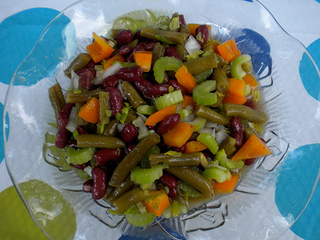 1 Green Bell Pepper seeded and chopped
1 Medium Onion Chopped
4 Ribs of Celery sliced
3/4 Cup of organic apple cider vinegar
1 Tablespoon Red Wine Vinegar
1/2 Cup of extra virgin olive oil
1/3 Cup of Sugar (or 2 teaspoons of Stevia)
Rinse and drain each can of beans. Combine beans, bell pepper, onion and celery in a large bowl. Whisk together vinegar, olive oil and sugar.  Pour vinegar mix over the vegetables and toss lightly. Cover and refrigerate for several hours or overnight.
Add 1/4 cup orange pepper for color and variation. Season with salt and pepper to taste. It can it can keep in the refrigerator up to one week.
This is a good make ahead salad.
Black Bean and Corn Salad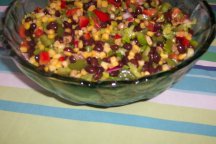 Black bean and corn salad is a hearty salad that can be prepared in advance. 
Ingredients
2 Cups of frozen corn kernels thawed
1/2 Cup of Finely Chopped Red Onion
2 Cans of Black Beans drained
1 Red Bell Pepper seeded and diced
1/3 Cup of Cilantro finely chopped
2 Tablespoons of Balsamic Vinegar
1 Tablespoon of Extra-virgin Olive Oil
1 Tablespoon of Lime Juice
1/4 Teaspoon of Sea Salt
1/2 Teaspoon of Ground Black Pepper
Whisk together the vinegar, oil and lime juice and salt and pepper in a large bowel. Add the corn, red pepper, black beans and onion and toss. Cover and chill for 2 hours. Add the cilantro just before serving.
Couscous Salad Recipe
I love using a variety of different grains for summer salads. Couscous is one of them. This easy to make salad comes in a box with the seasonings already included.
Add a few simple ingredients and you have an easy to make, but delicious salad.
t's a perfect side dish to serve with grilled hamburgers, brats or salmon.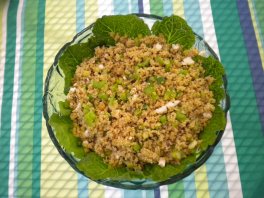 Here are the ingredients for this cold salad:
1 Box of Wild Mushroom and Herb Couscous - Prepare according to box directions
2 Teaspoons of Lemon
1 Tablespoon of Red Wine Vinegar
1 Tablespoon of Extra Virgin Olive Oil
1/4 Cup of Feta Cheese
2-3 Green Onions Diced
1/4 Cup of Celery
Refrigerate for 2-3 hours before serving. Line the bowl with fresh Romaine leaves and then add the couscous salad.

Add these cold salad recipes to your pool party food favorites.

Go from Cold Salad Recipes to Pool Fun for Everyone Home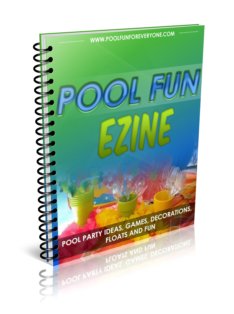 Looking for ideas to have fun with friends and family out by the pool? Get free tips on:
Pool Party Themes, Invitations, Games and Decorations
Outdoor Patio Umbrellas - Frame, Fabric and the Best Size
Swimming Pool Floats for Infants, Kids and Adults

Pool Party Food from Summer Appetizers to Cold Desserts
Outdoor Party Lights - Patio Umbrella Lights to Solar Torches


Sign up here:
© Copyright 2011 - 2023 www.PoolFunforEveryone.com
All rights reserved. This DMCA site is protected under U.S. and International copyright laws. Do Not Copy any Content or Images. No use is permitted without written permission.