Pool Party Games

It's the pool party games that make a pool party fun and memorable. We like action at our pool and it's often the games that kids, especially, fondly remember. There are games for all ages and for all swimming abilities. 

Many of our swimming pool games are geared toward the theme of the pool party. Dive for sunken treasure at a pirate pool party or Feed the Lion at a Lion King party. Toss frog splash balls at a frog themed party.
Perform a mermaid rescue or swim through Nemo hoops at an Under the Sea Pool Party. However we have lots of pool games ready to play for a casual afternoon of pool fun.
Which swimming pool games to play depends on the age of the players and their ability to swim. However there are games that don't require the guests to get completely submerged in the water - like Jarts or Skip'n Sink Disk Toss game.
Get your kids, teens and adult guests into the pool with these pool fun ideas.
Pool Games for Kids

Pool games for kids need to accommodate the age and skill level of the child. Gear your games toward the theme of the party - like a pirate ship game for a Pirate Pool Party or finding Nemo games for an Under the Sea celebration.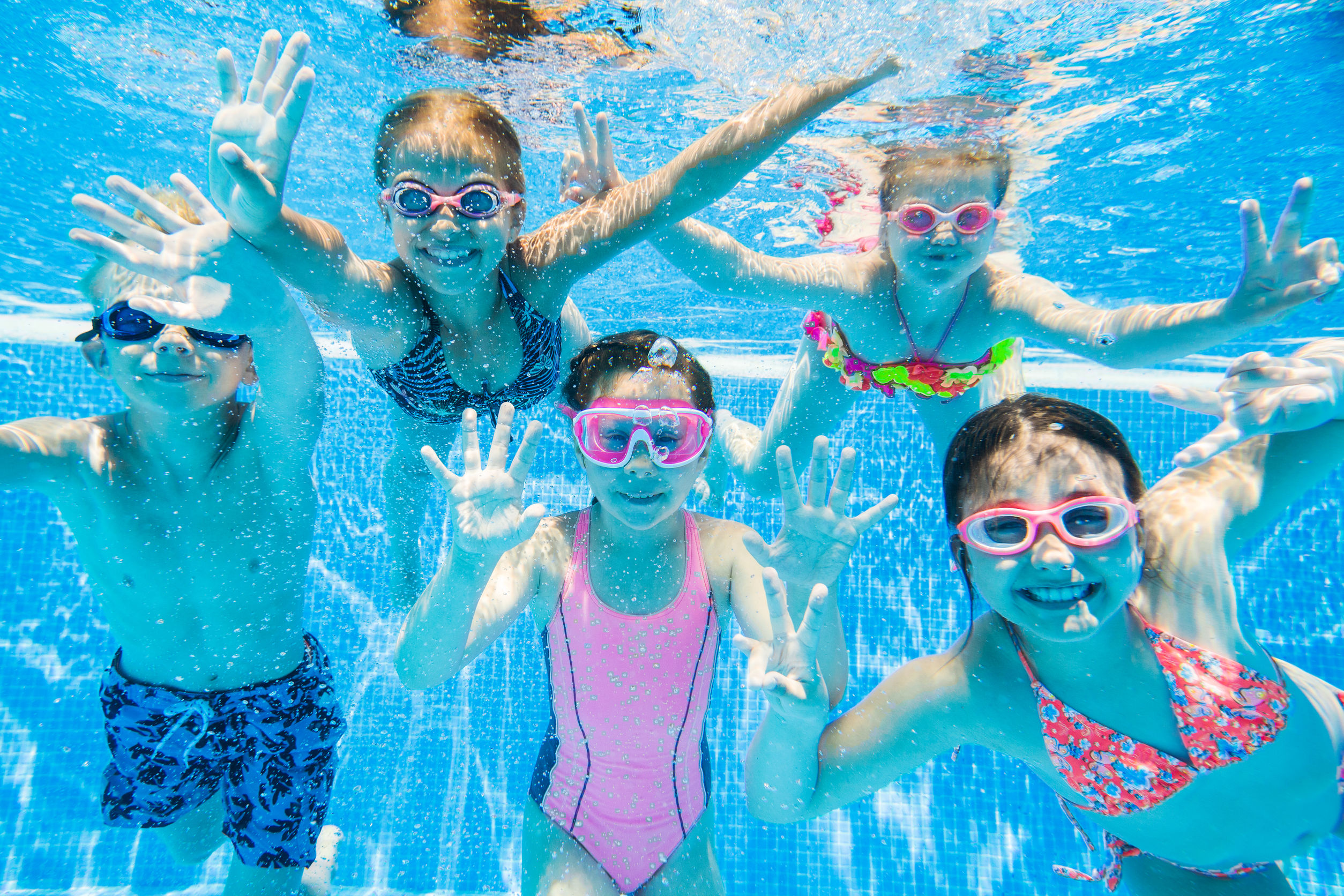 Simple props like swim rings, foam noodles, splash balls or pool floats add creativity and energy to swim races and activities.

Find some fun ideas to entertain kids with children's pool party games:
Diving Pool Party Games 

Swimming pool diving games provide lots of fun and excitement - gathering lost coins or treasures for your pirate party games or finding Ariel's favorite trinkets at the "bottom of the sea."
We found butterfly dive rings for our Bullfrogs and Butterflies pool party and these sea creature dive sticks for our Under the Sea pool party.
Swim through dive rings combined with pool dive toys provide an extra element of fun. 
Play on teams or individually, you can add different challenges to adjust to the kids ages and skill level.
Check out other great ideas for diving games:
Teen Pool Party Games
Looking for some fun pool games for your teens? Here are some swimming pool games that we have enjoyed in our backyard pool.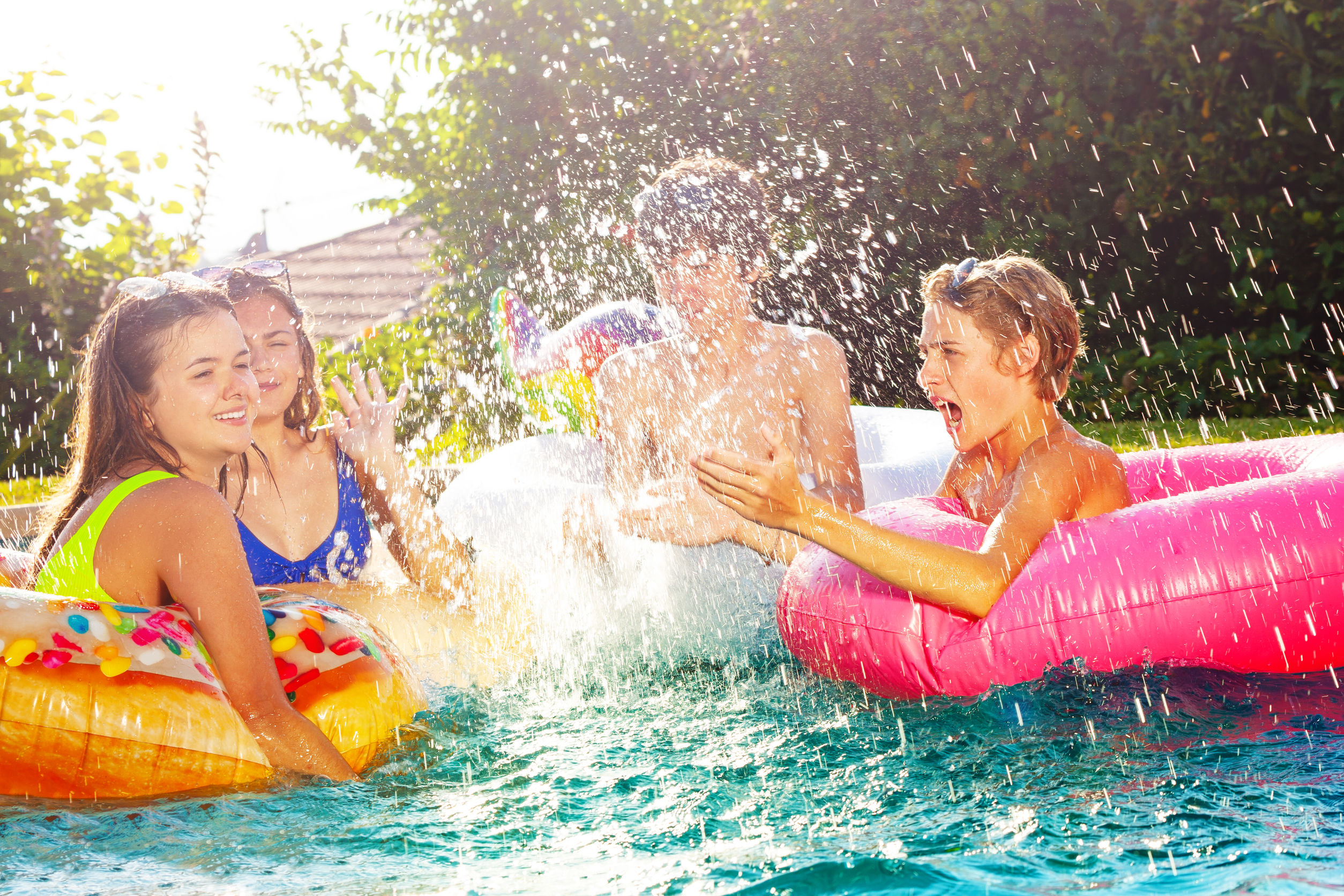 Teenage pool party games include your typical volleyball, football or basketball game, or some fun themed relays.
Consider the age and the gender of the guests and if your friends plan on getting wet or just want to keep cool in the pool.
Here are some tips and ideas for your "cool" friends to have some cool pool time:
Pool Party Games for Boys

With 5 boys all around the age of 11 I don't think I've seen more fun than with this inflatable pool basketball game.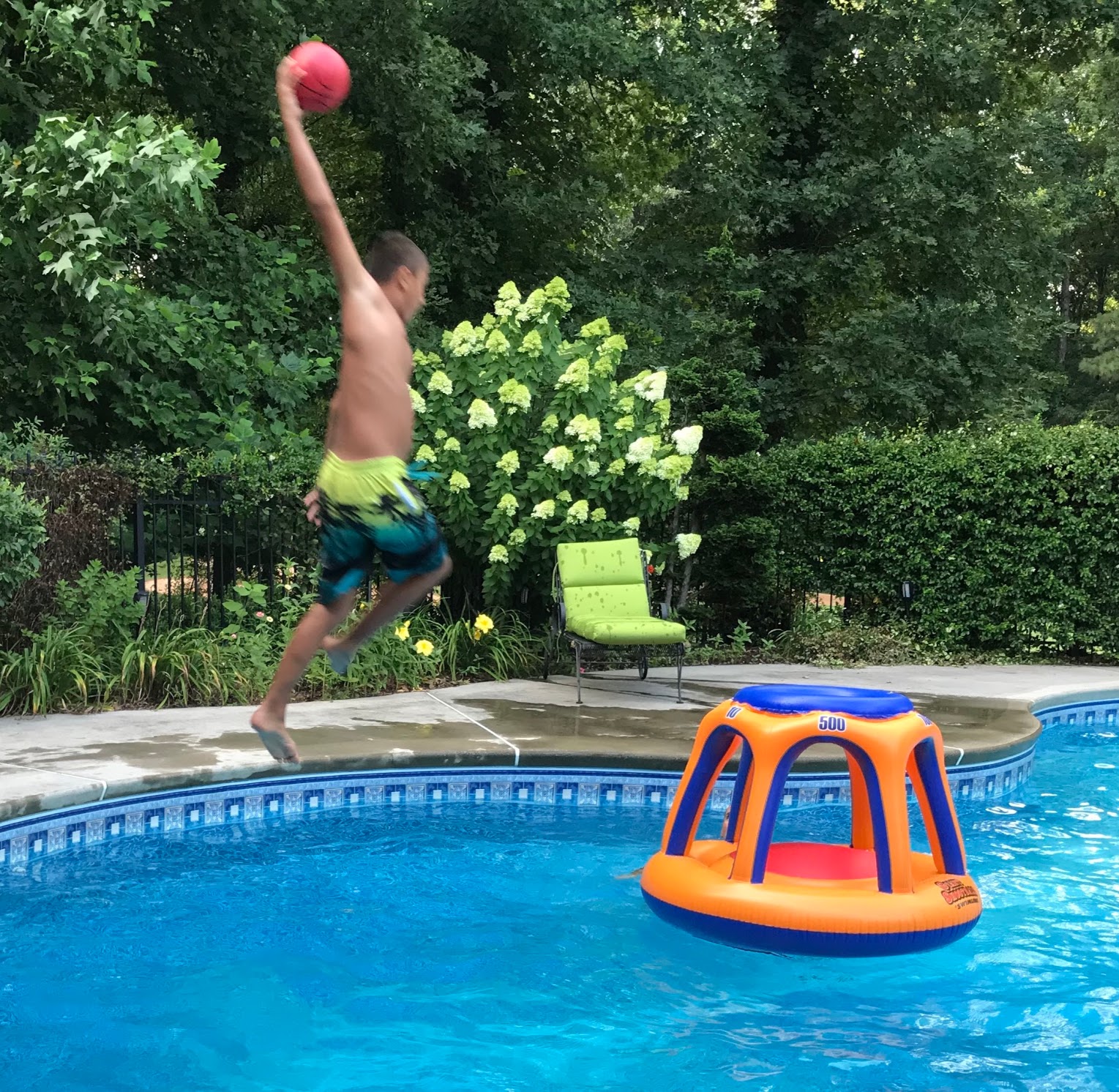 Epic shots from the diving board, more than just the basketball landed on this pool toy.  Inspite of tons of abuse this tough guy never lost any air and kept the pool party fun all evening.  
Swimline Giant Pool Basketball
We also got an extra pair of pool basketballs which gave the opportunity for more boys to play at the same time. 
Pool Volleyball
We intentionally designed our swimming pool with a large shallow end so that we and our family and friends could play pool volleyball.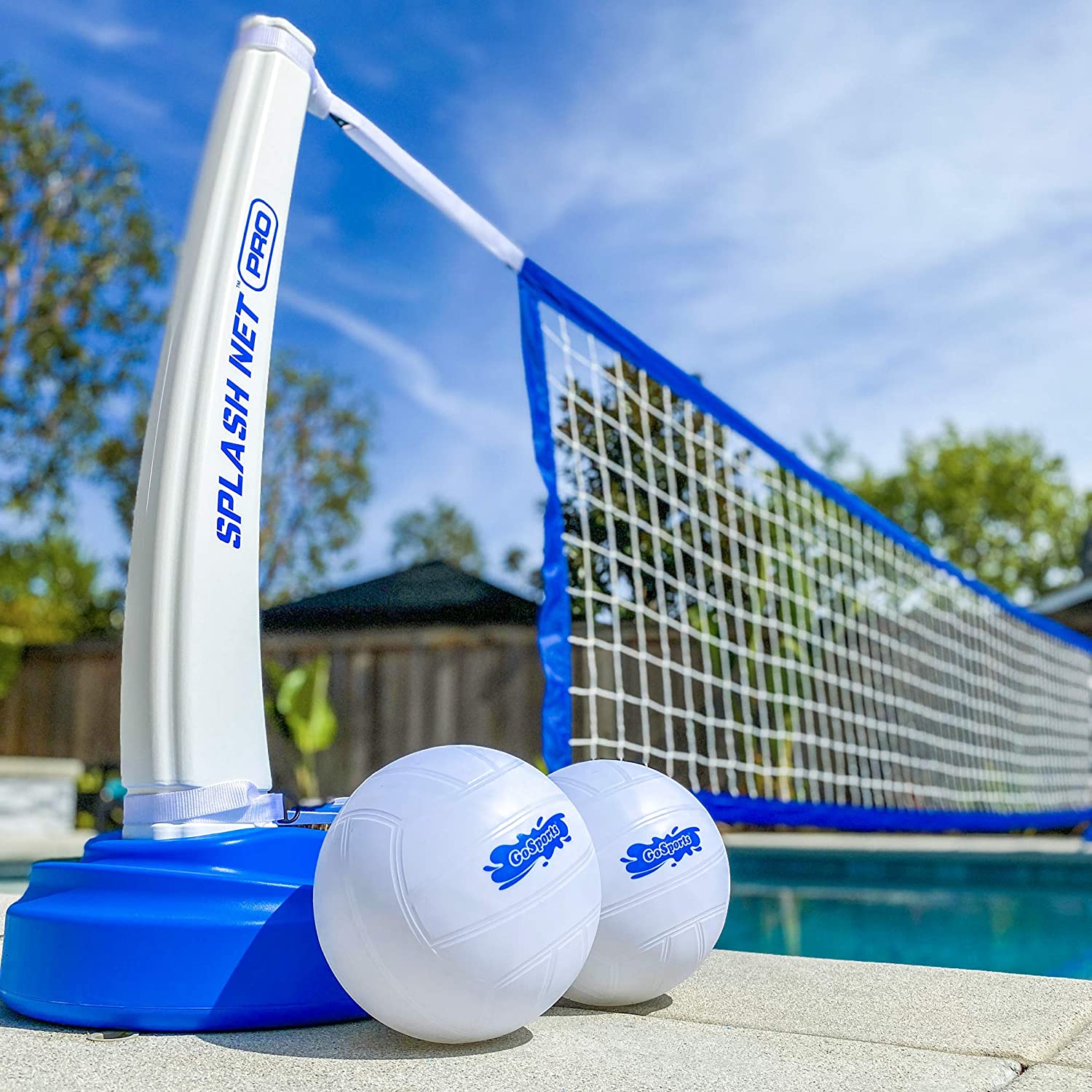 The basic rules and setup of pool volleyball are similar to traditional volleyball, but there are a few key differences when played in the water. Here's a general overview of how the game is typically played:
Equipment: Pool volleyball requires a volleyball and a net specially designed for pool use. The net is usually placed across the width of the pool and secured at each end.
Teams: The game is typically played with two teams, each consisting of several players. The number of players on each team may vary depending on the size of the pool and the players' preference.
Objective: The objective of pool volleyball is to score points by hitting the ball over the net and into the opponent's side of the pool without the opposing team being able to return it.
Gameplay: The game starts with a serve, where one player from the serving team throws or hits the ball over the net to the opposing team. The receiving team must then return the ball over the net within three hits or fewer.
Scoring: Points are scored when a team successfully lands the ball in the opponent's pool area. A point is awarded to the serving team if the receiving team fails to return the ball or commits a rule violation.
Pool volleyball is a great way to cool off, have fun, and engage in friendly competition in the water.
Decorating Flip Flops

Decorate your own flip flops using inexpensive material like balloons, ribbons and fabric. This flip flop craft can be enjoyed by girls of all ages. If you send out an e-vite ask your guests to reply with what size flip flop they wear.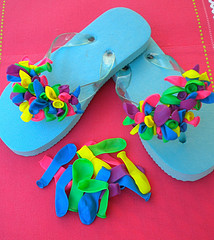 Get a supply of water balloons and flip flops from your local dollar store.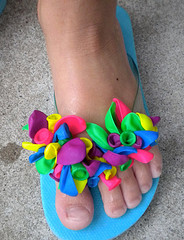 Double tie water balloons along the strap of the flip flop.


You can decorate the entire strap or just half way down the strap like these pictured.
Alternate colors using a random color combination or try using just two or three colors if you'd like a color theme.
As you can see, the results are great with so few supplies. No gluing, no cutting, just simply tying.
With a little planning and a few props your guests will have fun in and out of the pool and wonder when they'll be invited to your next pool party.

Go from Pool Party Games to Pool Fun for Everyone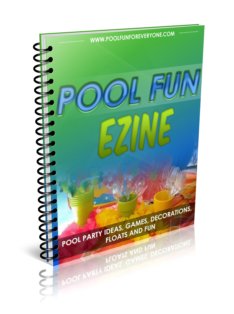 Looking for ideas to have fun with friends and family out by the pool? Get free tips on:
Pool Party Themes, Invitations, Games and Decorations
Outdoor Patio Umbrellas - Frame, Fabric and the Best Size
Swimming Pool Floats for Infants, Kids and Adults

Pool Party Food from Summer Appetizers to Cold Desserts
Outdoor Party Lights - Patio Umbrella Lights to Solar Torches


Sign up here:
© Copyright 2011 - 2023 www.PoolFunforEveryone.com
All rights reserved. This DMCA site is protected under U.S. and International copyright laws. Do Not Copy any Content or Images. No use is permitted without written permission.