Pirate Pool Party
A pirate pool party will take your mates into the "deep" seas of your swimming pool to discover sunken treasure and more.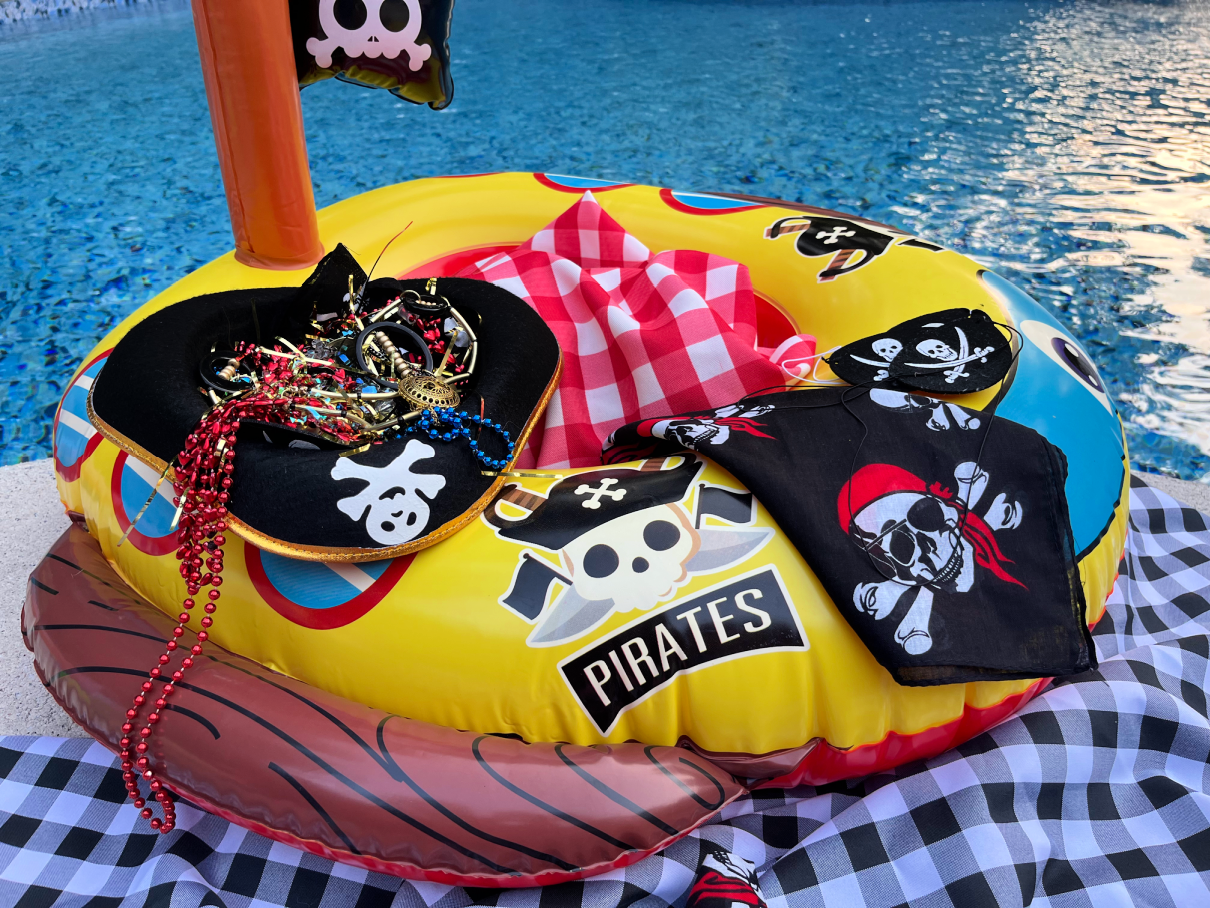 Pirate Pool Party Supplies
Looking for pirate pool party ideas that will take your mates into the "deep" seas of your swimming pool? Furnish your mateys with pirate names and a pirate ward robe of eye patches, swords, and pirate hats.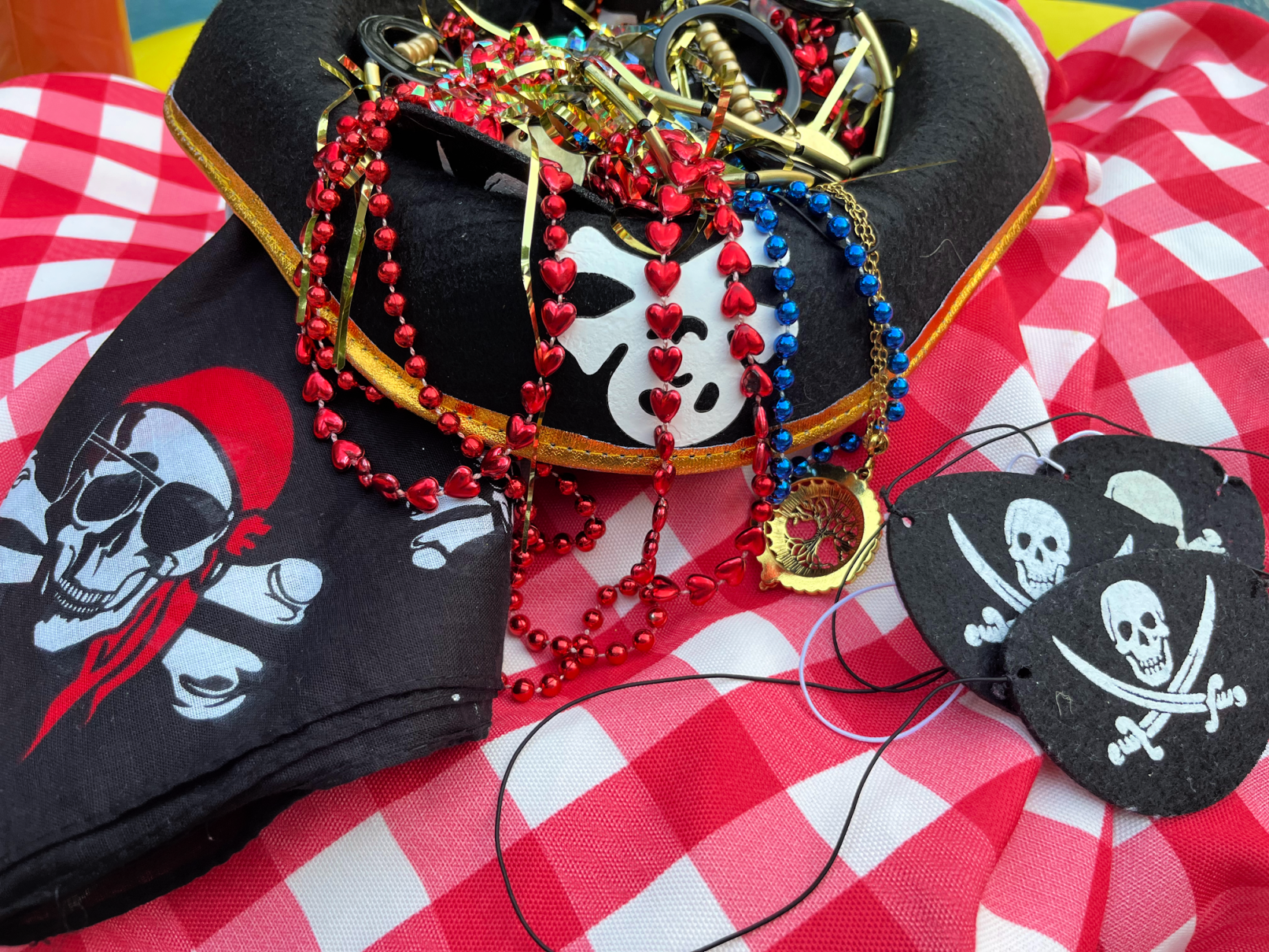 There are pirate birthday supplies for every age pirate...from pirate flags to pirate treasure maps and gold coins to treasure chests.
This is one of my favorite kids pool party ideas ...probably because the kids had sooo much fun (and so did I).
Here are lots of pirate pool party ideas that will turn every guest into Jack Sparrow.
Invitations do a lot more than just tell a person the time and place, they set the tone for the party and help build excitement and anticipation for the big event.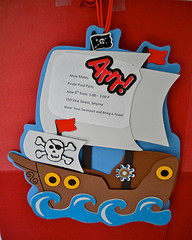 By sending an invite that's more than just a piece of paper, it lets your guests know that this is not going to be an ordinary party. Place the invitation - such as pirate treasure map for the invite showing "X marks the spot" for the party location in a black pirate pouch with a couple of cold coins.

Use pirate sayings in your invite such as:

Ahoy Mates
Aye
Heave Ho

Shiver me timbers
Thar she blows
Sail on Over to the Pirate Den
Blimey
---
Some links in the following sections are eBay or Amazon affiliate links, which means that if you purchase a product through them I receive a small commission. There is no extra cost to you. Find more details on this page.
---
The big hit were the blow up pirate swords. The kids played with them in and out of the pool and then brought them home as party favors. They were very durable and just the right size for 3-8 year olds.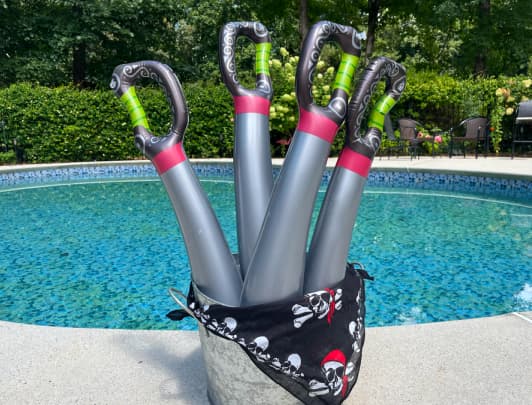 What's a pirate without an eye patch?
For very little cost you can turn your guests into authentic pirates with pirate eye patches for everyone.
Be sure to get the soft ones and not the hard plastic as they could injure someone's eye. The adults enjoyed having their own as much as the kids.  These buccaneers kept their eye patches on during the entire party and wanted them left on when they got home.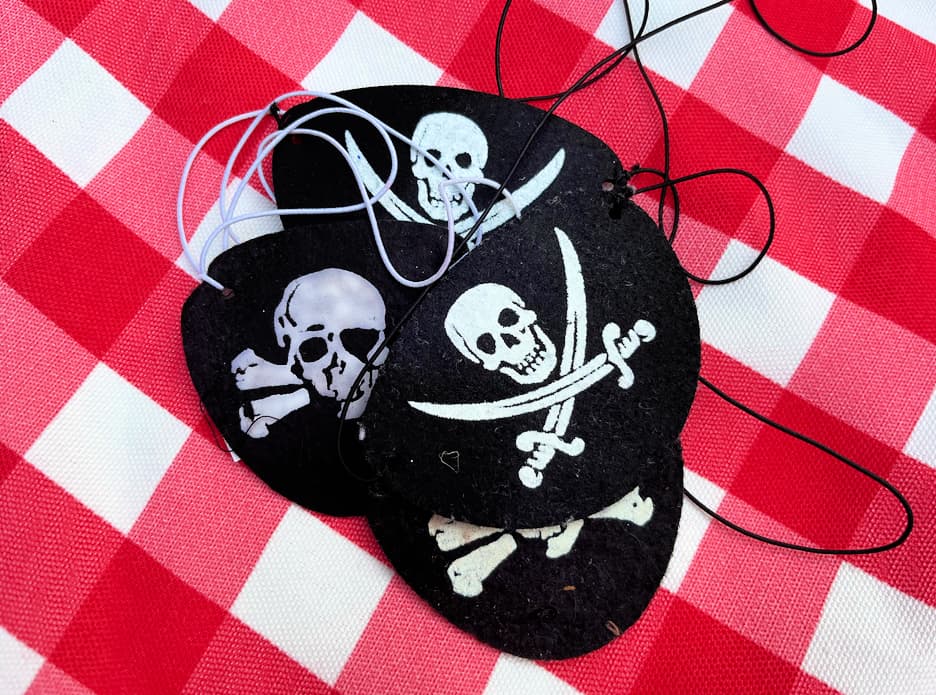 The felt pirate eye patches, plastic swords, and pirate hats were given out when the guests first arrived for photo ops and then taken home as party favors. 
Pirate temporary tattoos were a big hit. While waiting for the guests to all arrive, let each child and adult pick out their favorite tattoo.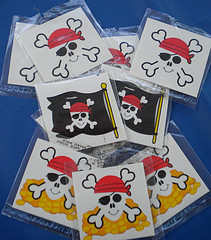 Have a bowl of water and a washcloth ready. Remove the plastic protective shield, place the tattoo on the arm and then apply a wet washcloth.

Hold it for a few seconds and you are done.
The tattoos stay on really well even when swimming in the pool.
You can get a pack of 36 at Amazon here. Use the extras to put in the party bags:
Pirate Pool Party Ideas for Decorations
I loved the bold colors of black, white and red on these 9" Pirate Dinner Plates and used them for our party.
Simply use red, white or black napkins. Disposable plastic tablecloths from the Dollar Store work great.
But I had a red and white checked umbrella tablecloth that I use all summer so it worked great.
Have pirate themed beach balls floating in the pool and Beware signs posted by the pool gate.
Hang pirate flags and skull bones on the party table.

Scatter coins on the path to the party and have pirate music playing.

From pirate flags to scattered coins, get your decorating ideas here...

Start your pirate decorations at the pool gate. This let's the guests know that they are entering pirate territory.
Scatter gold coins or foam stickers of coins and jewels along the path or sidewalk to the pool area. We could hear the kids excitement as they "found"  and picked up their treasures.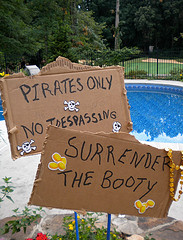 Make signs on ripped pieces of cardboard attached to a wooden dowel and put them in the ground. Signs can say things like "Surrender the Booty" or "Pirates Only: NO Trespassing."
Pirate Pool Party Ideas for
Pool Games 
Send your pirates on a race to get their hidden treasures. Provide one inner tube for each team. Each team member takes a turn and while sitting on the inner tube kicks and splashes to get to the other side of the pool where there is a pile of necklaces waiting for them. After grabbing one necklace the player returns to his team where he tags the next team mate to do the same.
Pirates "Walk the Plank" and "Swab the Deck" with these pirate party games.
Pirate Foam Visor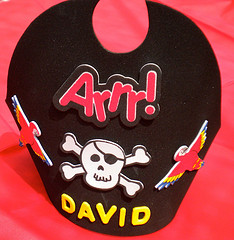 When guests first arrive they can decorate their own pirate hat with this kit that includes the foam hat, tons of stickers and a coil band. 
I put some of the extra stickers in their party bags - but there was still lots of them left over.  The self adhesive back made it easy for every one to put on their own stickers.  
These foam hats worked great out by the pool, since it didn't matter if they got wet. Although I wouldn't suggest swimming with them.
The pirate hat kit is enough for 12 hats and is available at Amazon 

12 Foam Pirate Hats with Stickers
Pirate Pool Floats
Pirate pool floats greet guests as they arrive and can be used as pool party decorations and later for pool party games.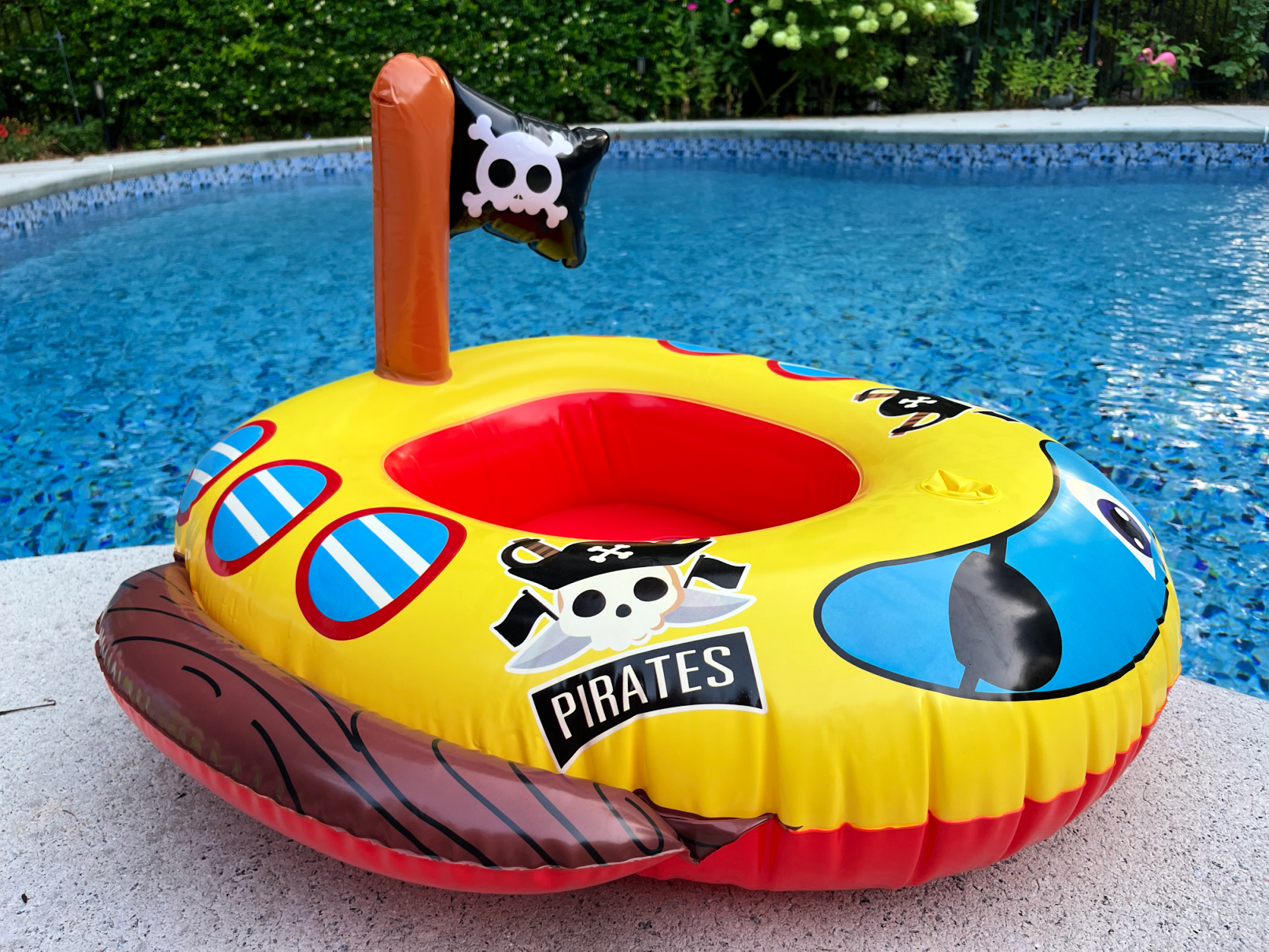 From pirate swim rings to pirate ship pool floats, there's a pool toy that's right for the ages and swimming ability of your pirate mateys. 
Pirate Party Food

Turn ordinary food into pirate party food just by how it is presented. Serve chips in an upside down Pirate hat lined with a red napkin.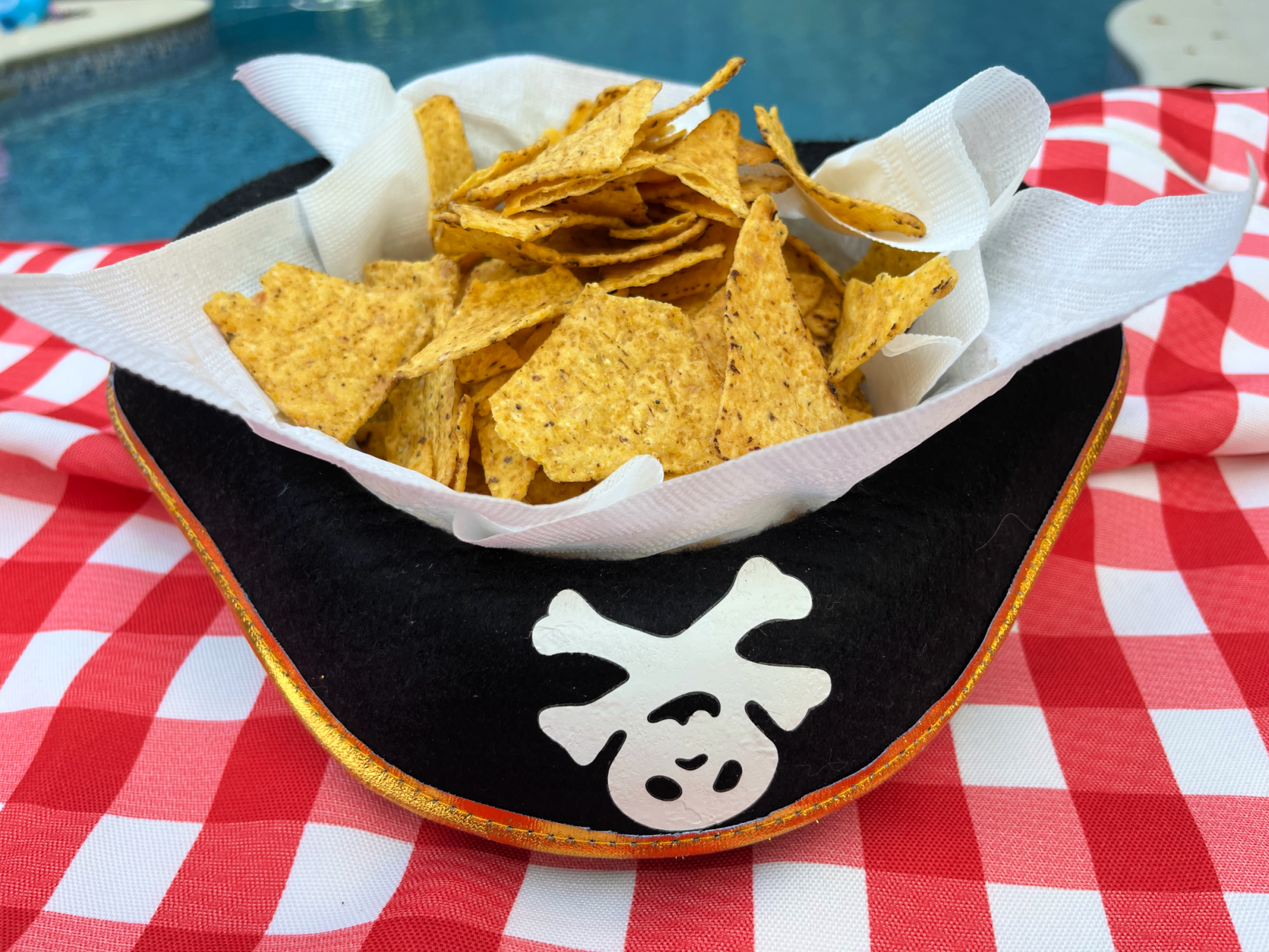 Serve chips, Chex Mix, Gold Fish or a nut and raisin mix in Pirate themed paper cups.
Sword food picks inserted into cut up pieces of fruit or cheese are simple ways to decorate the food and yet simple to do.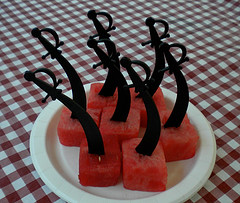 Cut up watermelon pieces are served on a plate using plastic sword picks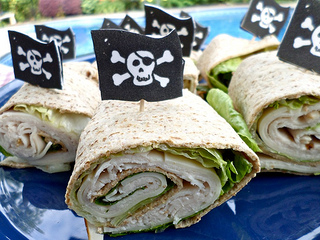 Whole grain wraps are made with a little mayo, deli turkey, provolone cheese and romaine lettuce. Get a set of 24 Pirate Flag Pix for under $5 at Amazon here:Wilton Pirate Flag Pix, 24 Count

Keep Your Pirate Party Food Cold with a Treasure Chest Cooler
An inflatable treasure chest can be used to keep drinks or food cold or as a decorative prop.  It measure 26" long, 16" tall and 14 1/2" deep when it is fully inflated.  It holds about 60 cans.
Inflatable Treasure Chest Cooler

These gold coins are pirate themed and can be used in the party bags, to decorate the party table or for treats during the party.

Gold Chocolate Pirate Coins x25

Pirate Birthday Cake
Cupcakes make the perfect pirate birthday cake when topped with cupcake toppers.
A pirate birthday cake is made easy by making cupcakes. If you are like me, you want to make something that's fun for the kids and easy to make.  Finger puppets and rubber pirate rings all make great toppers for cupcakes.  

Display the cupcakes in a Cupcake Stand and set the cupcake tower on the food table as the centerpiece.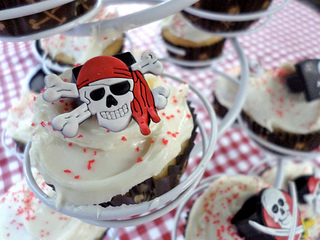 Pirate themed cupcake liners and pirate rings turn ordinary cupcakes into something fun and creative, and most important, easy and inexpensive.
Use these colorful rubber rings to top your cupcakes. The kids love them as much as they do the cupcakes.
Ordinary food becomes extra-ordinary by just using pirate themed serving pieces, swords and finger puppets. 

Pirate Pool Party Ideas for Favors
These pirate party bags were made from blue lunch bags that I had bought at Target and a simple craft kit from Oriental Trading.
The craft kit was actually for a Vacation Bible School program in their clearance section. I thought how perfect for our party bags. I often use crafts, kits or items for other things that what they were intended for.
Plastic finger puppets become cupcake toppers and craft kits are used for invitations, party bags or decorations.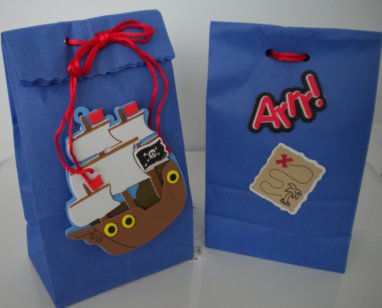 Our little Mates will be going home with some good "loot."
Pirate stickers, tattoos and finger puppets will go into the party bags.
So treat your kids to hidden treasures, the deep seas, and sword fights with a pirate pool party theme. 
Go from Pirate Pool Party to Kids Pool Party Ideas

Go from Pirate Pool Party to Pool Fun for Everyone Home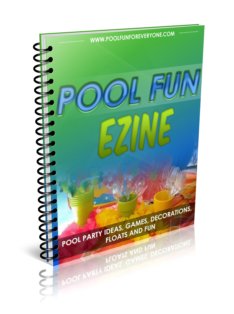 Looking for ideas to have fun with friends and family out by the pool? Get free tips on:
Pool Party Themes, Invitations, Games and Decorations
Outdoor Patio Umbrellas - Frame, Fabric and the Best Size
Swimming Pool Floats for Infants, Kids and Adults

Pool Party Food from Summer Appetizers to Cold Desserts
Outdoor Party Lights - Patio Umbrella Lights to Solar Torches


Sign up here:
© Copyright 2011 - 2023 www.PoolFunforEveryone.com
All rights reserved. This DMCA site is protected under U.S. and International copyright laws. Do Not Copy any Content or Images. No use is permitted without written permission.