Inground Pool Cover

An inground pool cover keeps your pool clean from leaves and debris and helps to reduce your pool maintenance. After owning a pool for 10 years we decided it was time to put on a pool cover. We live in Georgia so we previously kept our pool open year round.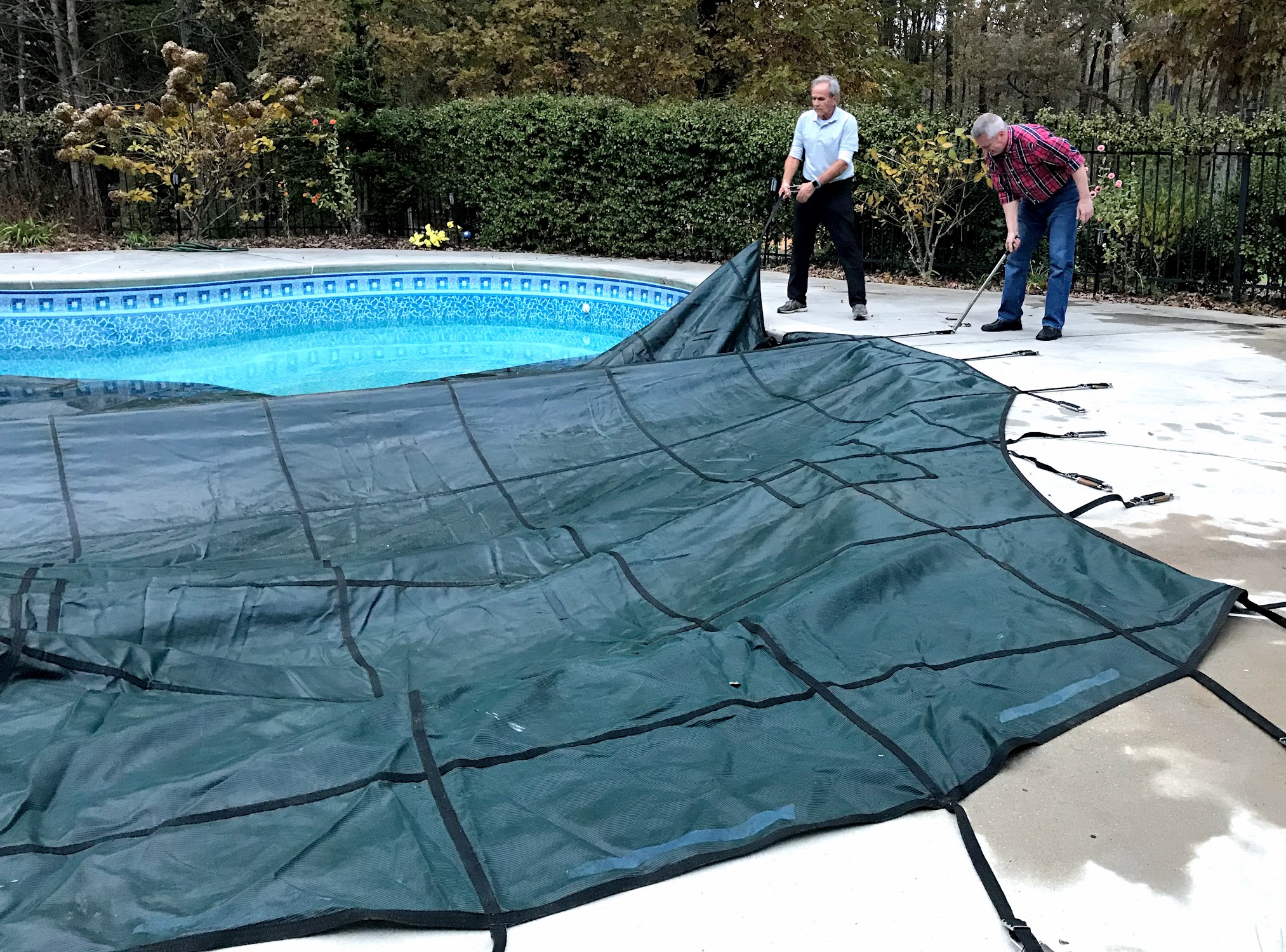 Purpose of Your Inground Pool Cover

To help decide what is the the best pool cover for your inground pool, it is important to first identify the purpose of the pool cover. Determining the purpose will help direct you in selecting the type of cover that is best for you.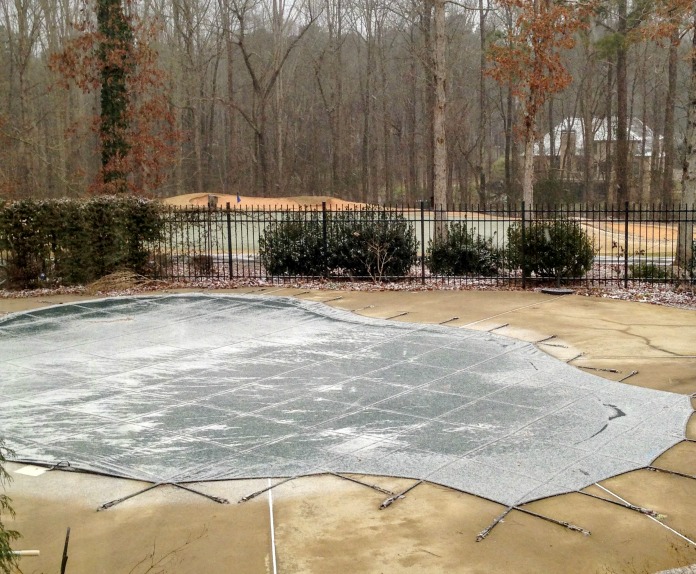 Here are the general reasons why people use an inground pool cover:
(1) Keep out children and pets,

(2) Provide winter protection, 
(3) Protect pool while away
(4) Keep leaves, branches and debris out of pool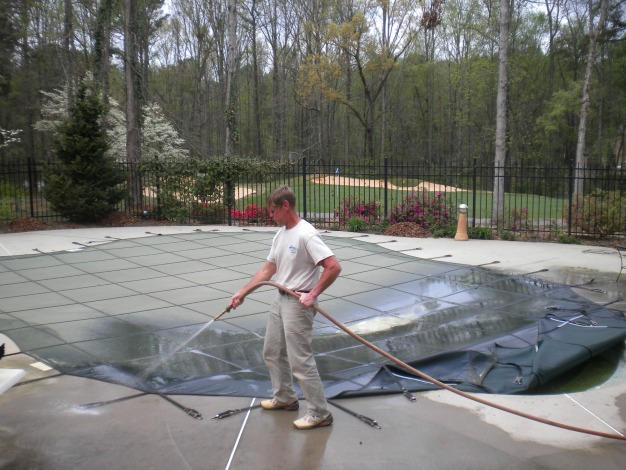 There are lots of advantages to covering your pool during the winter. Winter swimming pool covers allow pool owners to close down the pool and cover it up for a few months of pool free maintenance. We live in Georgia so we have kept our pool open for many years, using a freeze protector mechanism that would kick on when temperatures dropped below freezing.

Fortunately we never experienced any power outages even though there have been several ice storms. If the freeze protector didn't kick on for whatever reason, there could be some serious damage to the pool.
Inground Swimming Pool Cover Guide

Frankly, I just didn't like the idea of looking out to our backyard and seeing a big tarp over the pool. Even though we continue to take down trees, we still get lots of leaves and pine needles.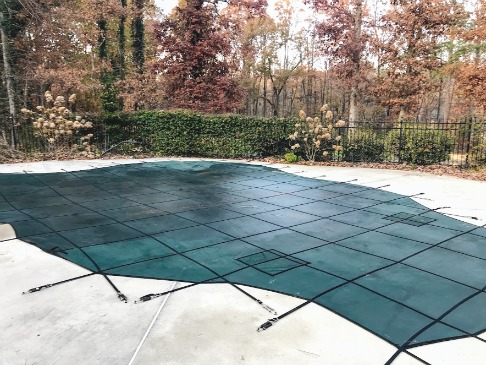 Every fall and winter we have to almost daily check the baskets because they are so full.
My husband finally said, either we get a pool cover or it's my job to keep the pool clean. Guess what I decided?
To read about our experience in getting a pool cover and to see pictures of the install process click here:
Inground Swimming Pool Cover Guide
Swimming Pool Safety Cover

Not all inground or solid pool covers are considered a swimming pool safety cover. Safety covers protect small children and animals from accessing the pool or from drowning in accumulated water that sits on the top of the cover.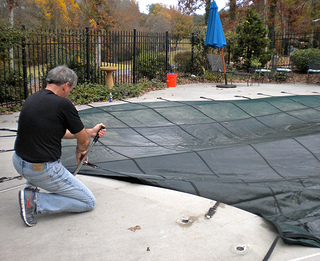 This type of cover prevents any water from accumulating on the top of the cover through the use of a swimming pool cover pump.
These covers must meet the American Society for Testing and Materials (ASTM) criteria to be called a safety cover.
The F1346-91 standard (1996) requires that a pool cover must hold a minimum of 485 pounds per five square feet to qualify as a pool safety cover. Be sure and ask the installer about it when you get your estimates.
These covers are installed by drilling holes into the cement and then using straps to pull the cover taught across the pool. Because these covers are made to withstand the weight of a person they are heavier than the non-safety covers.
To learn more about these covers click here:
Solid or Mesh Inground Pool Cover

I've found out that mesh swimming pool covers have come along way in the last 6-7 years.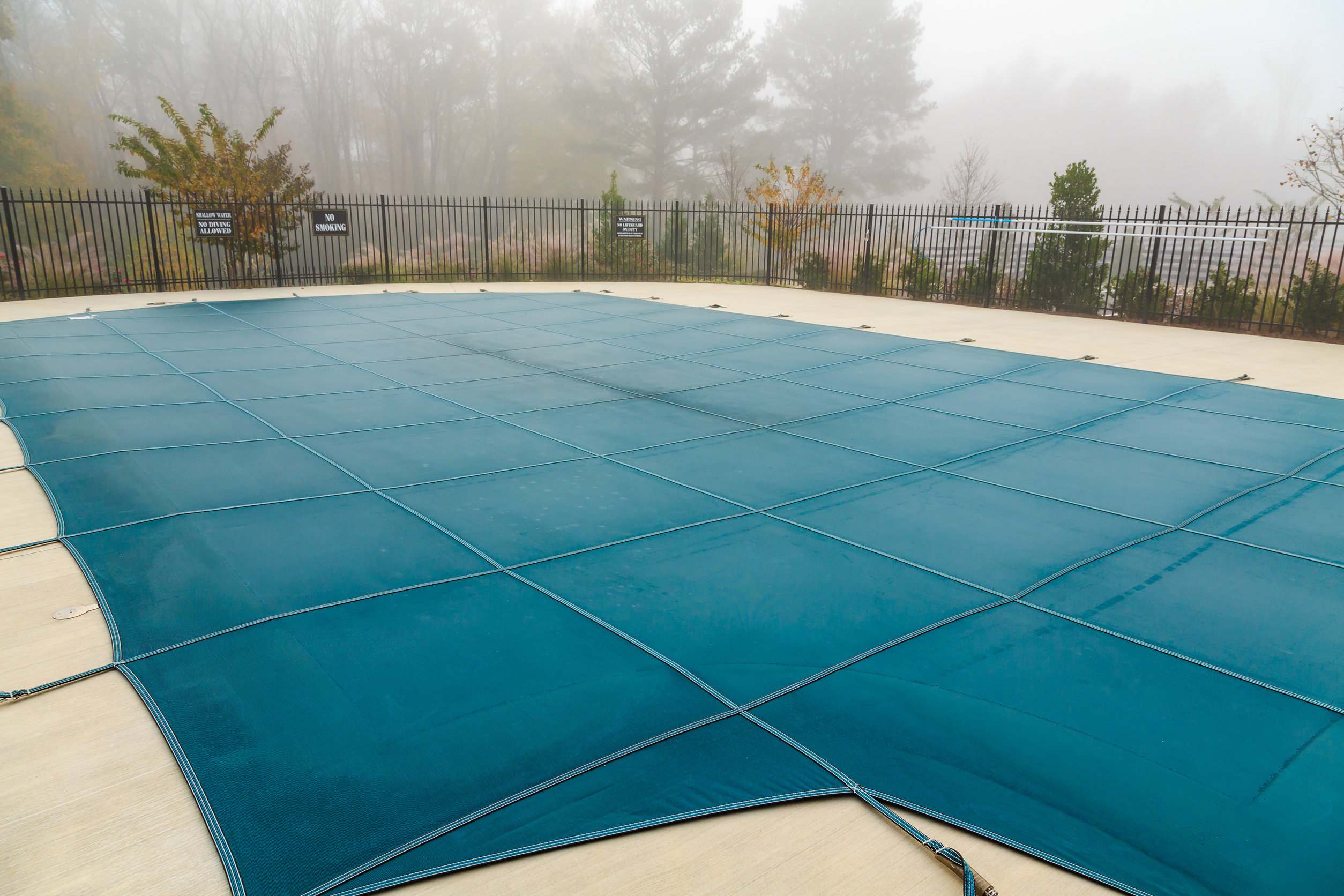 Years ago, one of the disadvantages of a mesh pool cover was that it allowed sunlight to come through, while solid pool covers did not, which meant that when it was time to open the pool, there was a lot of algae to contend with.

That's not true anymore for many mesh covers. They have developed a tighter weave that depending on the manufacturer, can block over 90% of sunlight - which means a sparkling pool when the cover is removed.
To find out whether you should choose a solid or mesh pool cover go to:
Swimming Pool Leaf Covers
Swimming pool leaf covers can include mesh or solid inground pool covers or some pool owners will use a pool net alone or over their solid pool cover.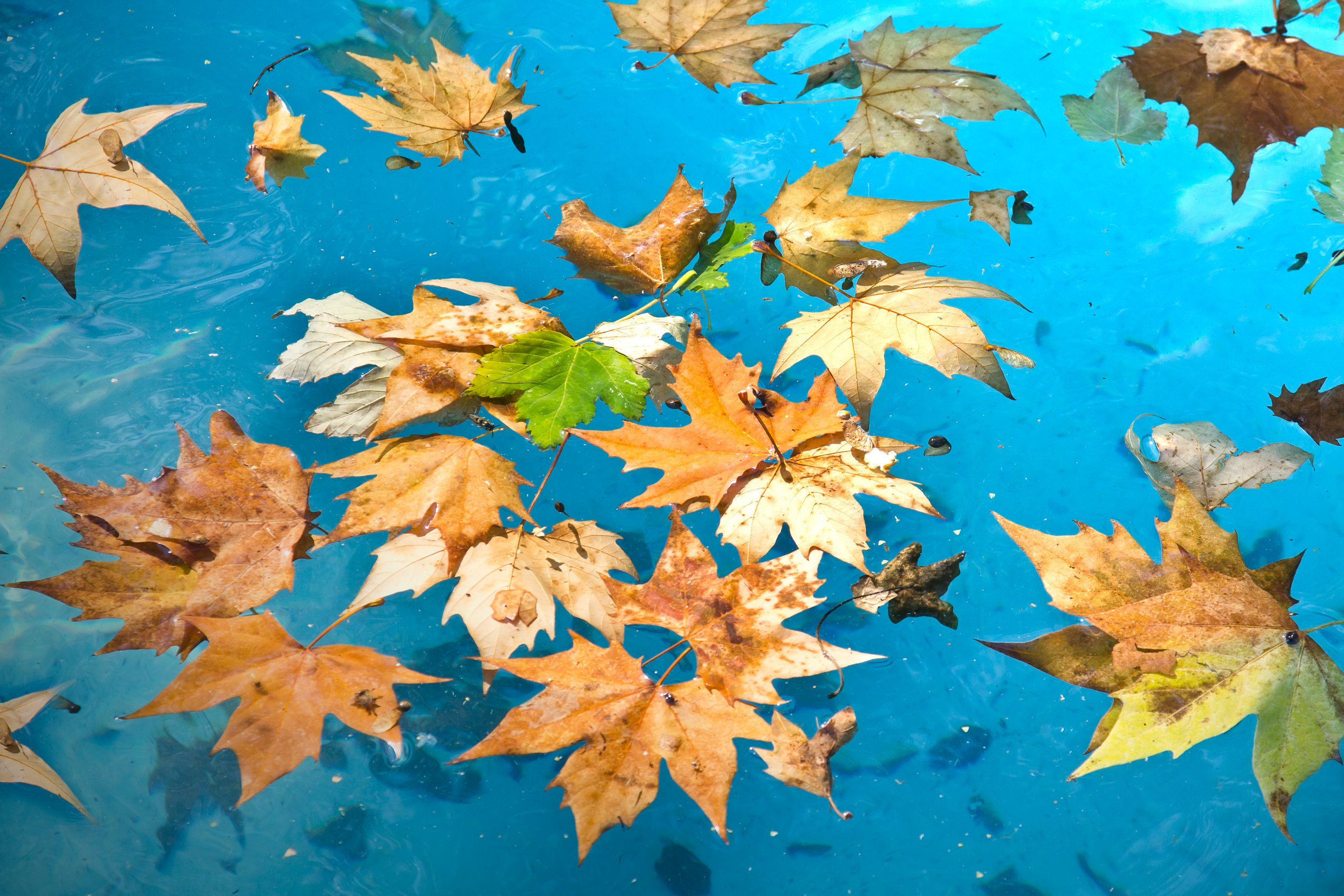 For those who don't close their pool but want to protect it from falling leaves and simplify their pool maintenance routine, a pool net cover is a great option. 
Other in-ground pool owners use it over their winter cover.
Different sizes are available for rectangular shaped pools.
Harris Pool Products Professional Grade Leaf Nets for In-Ground Pools | Makes Clean-Ups Fast! | Lightweight and Durable | Keeps Leaves Out of Your Pool
Cheap Pool Covers
Cheap pool covers can save you some serious money. You can spend a couple hundred dollars instead of thousands of dollars for a custom cover. This type of cover works for rectangular shaped pools but not free form or lagoon shaped pools.
If you have a rectangle shaped inground pool you might be able to save some money by buying a pre-made rather than custom swimming pool safety cover.
The cover, all the hardware and the install tool comes with this order.  However you will need to drill the holes into your pool deck cement yourself.  If you don't mind doing this yourself you can save a lot of money compared to buying a custom safety pool cover.
Go from Inground Pool Cover to Pool Fun for Everyone Home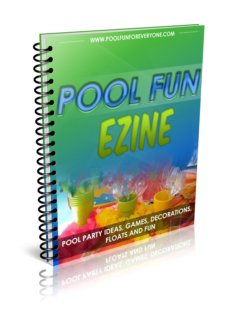 Looking for ideas to have fun with friends and family out by the pool? Get free tips on:
Pool Party Themes, Invitations, Games and Decorations
Outdoor Patio Umbrellas - Frame, Fabric and the Best Size
Swimming Pool Floats for Infants, Kids and Adults

Pool Party Food from Summer Appetizers to Cold Desserts
Outdoor Party Lights - Patio Umbrella Lights to Solar Torches


Sign up here:
© Copyright 2011 - 2023 www.PoolFunforEveryone.com
All rights reserved. This DMCA site is protected under U.S. and International copyright laws. Do Not Copy any Content or Images. No use is permitted without written permission.