Easy Swimming Pool Maintenance Guide

 Tips by a Pool Owner
This easy swimming pool maintenance guide will help you keep your pool clean and clear by utilizing some of our favorite tips and tried and true pool equipment.  As swimming pool owners for almost 20 years we've been through lots of pumps, filters, chlorinators and automatic pool cleaners.  We'll give you our best suggestions to save you time and money.
As swimming pool owners for almost 20 years we've been through lots of pumps, filters, chlorinators and automatic pool cleaners.  We'll give you our best suggestions to save you time and money.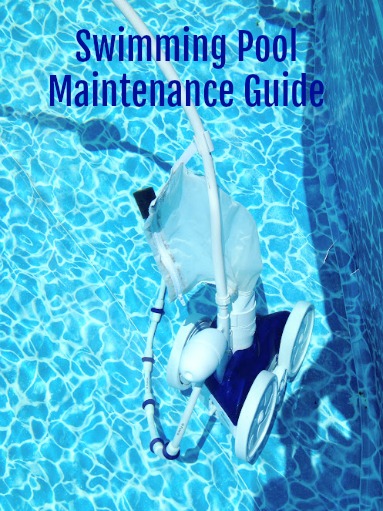 Automatic Inground Pool Cleaners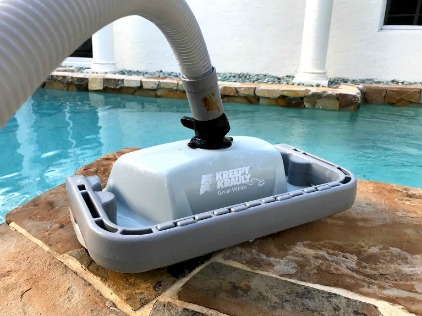 Automatic inground pool cleaners do just that, they automatically scour the bottom and sides of your pool picking up leaves and debris and suctioning them so that your pool looks nice and clean. 
Automatic Inground Pool Cleaners
Swimming Pool Cleaning Equipment
Swimming pool cleaning equipment ranges from pool leaf skimmers to simple swimming pool vinyl brushes. 
Cleaning your pool may require little effort for those who have a protective screen around their pool while those who have lots of trees will find it more important to check pump baskets and brush the pool bottom. 
Check out our recommendations and other tips for maintaining a clean pool:
Swimming Pool Cleaning Equipment
Salt Water Pool Guide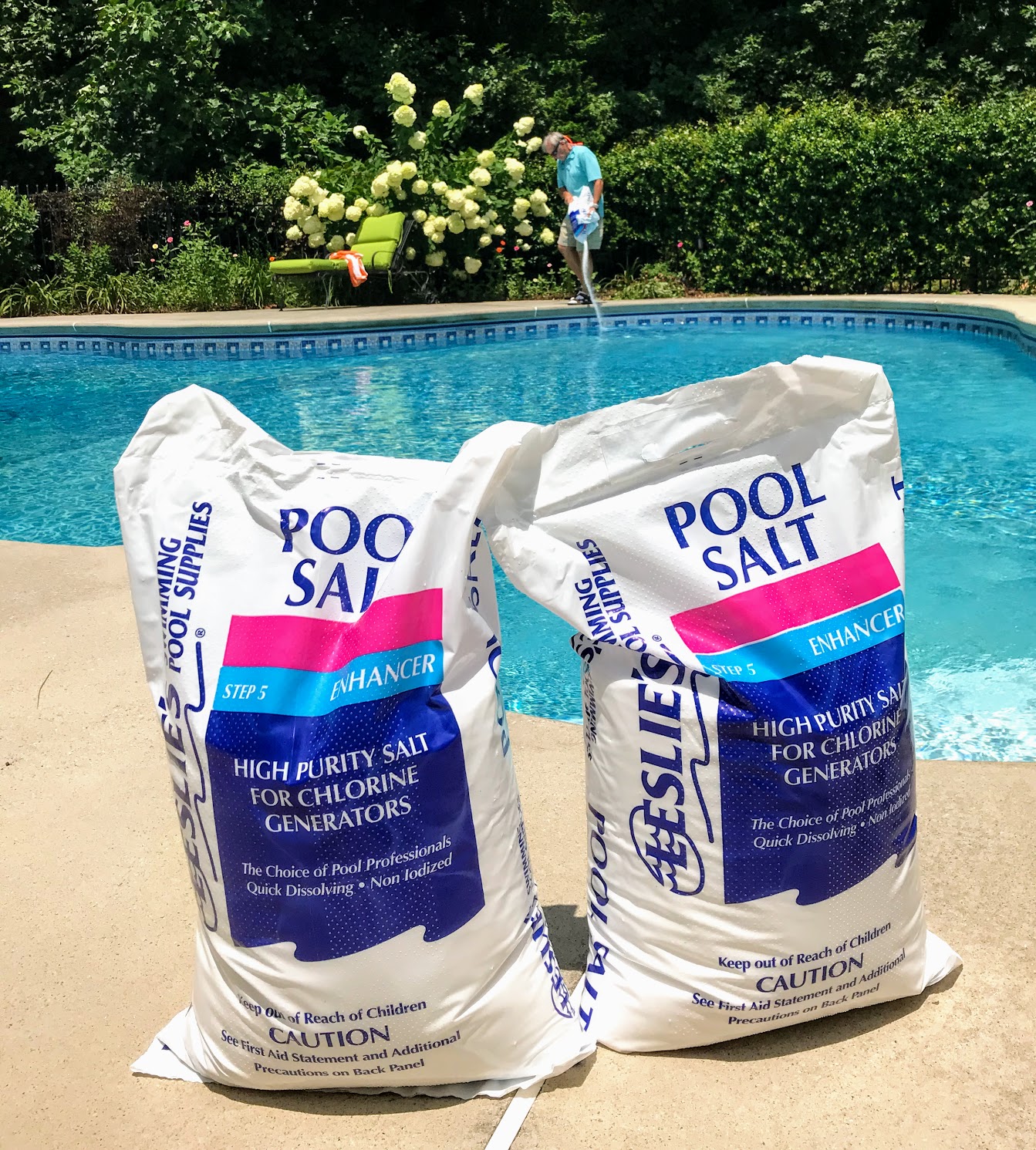 The switch to a salt water pool was one of our best pool owner decisions.  The correct chemical balance has been easier to control and maintain protecting not only our pool liner and equipment, but easier on our skin and hair. 
Learn more about the benefits of a salt water pool or if you already have one some tips we've learned on how to best monitor and use your salt generator system.
Swimming Pool Water Pump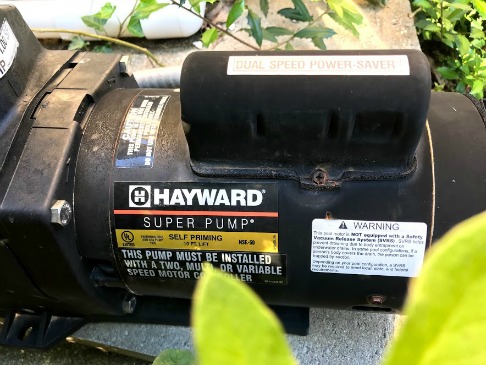 Hayward in-ground pumps are self-priming centrifugal pumps. We got the dual speed one for our 30,000 gallon pool and found it to be quieter than our old pump and more efficient.  After 4 years of use it is still running strong.  How many hours should you run your swimming pool water pump?  It depends .... on the size of your pool, how hot the weather is, and how many swimmers use your pool. Cooler weather and cooler weather it's generally recommended that you run your pump for 4-6 hours while during the hottest part of the summer it may need to run 10-12 hours to keep the pool water circulating and clean. 
A Guide to Swimming Pool Water Pumps
Swimming Pool Maintenance Guide for Maintaining Pool Water Levels
Maintaining optimal pool water levels is important for keeping your pool clean.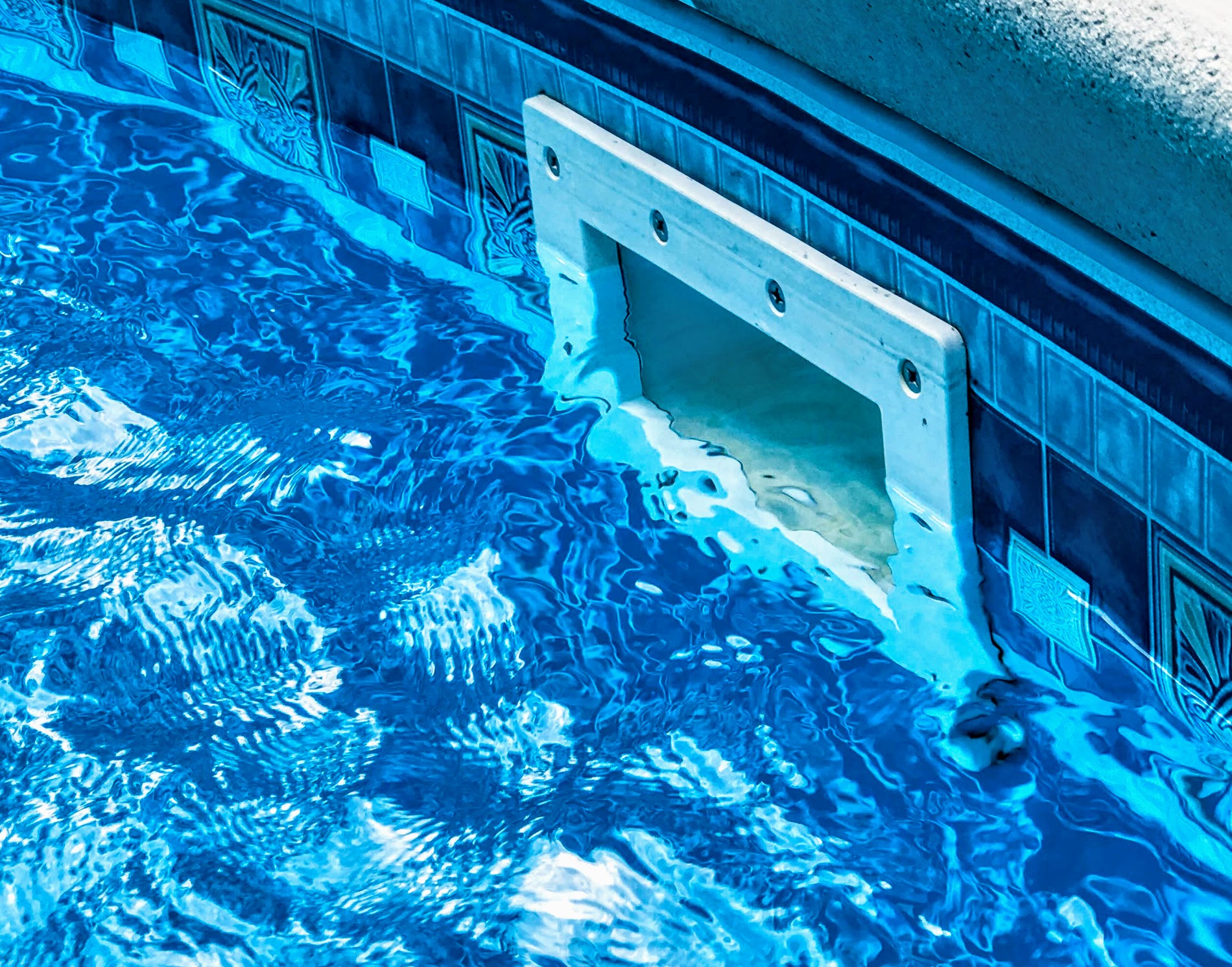 If the water is too high it's difficult for water to get pulled in to be cleaned and filtered and if the water level is too low of course water can't flow through the skimmer which can actually cause air to get sucked into your pool maintenance system and/or cause harm to your pool filter pump motor.  What water level is just right? At about 1/2 way up the skimmer just like the picture above.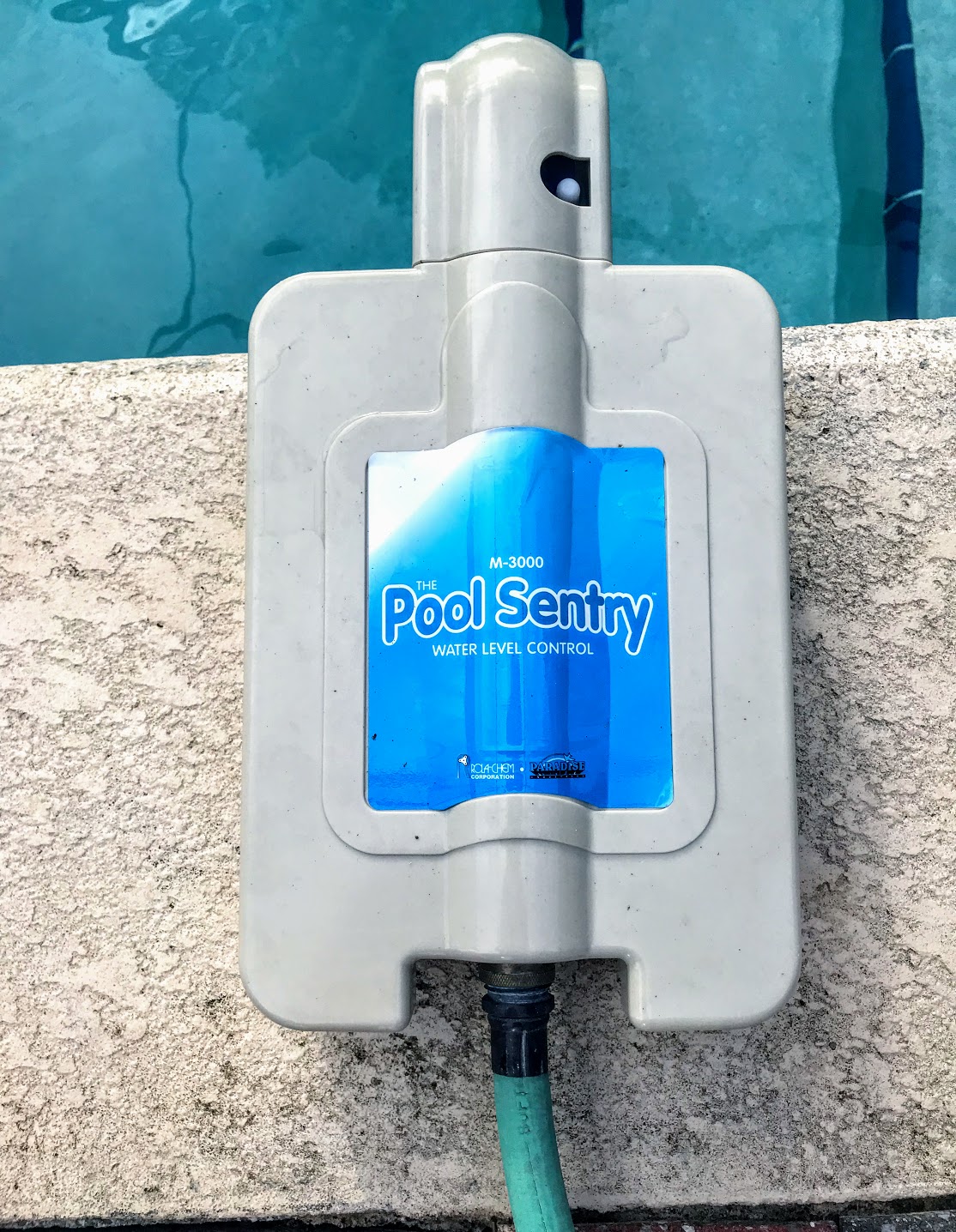 If you live in an area where there is lots of evaporation, little rain or you are out of town and want to maintain optimal water levels, invest in a water level sensor and filler like this one by Sentry.

New M-3000 Sentry Automatic Water Leveler Swimming Pool Filler
Swimming Pool Maintenance Guide to Pool Chemicals
Most pool owners have to deal with algae growing in their pool especially when the temperatures start to warm up.  Before adding your algaecide brush it from the bottom and the sides of the pool so the chemicals can "attack" it better.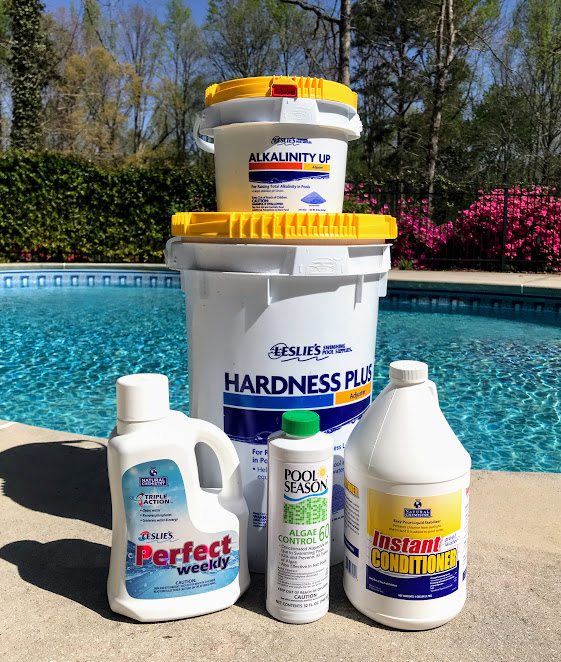 Chemicals for swimming pool balance, sanitation and protection of your liner and pool equipment requires some effort, knowledge and monitoring. 
Find out how you can keep your pool sparkling, your skin from being irritated, and your pool equipment from being damaged with correct chemical balance of chlorine, bromine, pH, and alkalinity:
Swimming Pool Maintenance Guide to Clear Water

In the southeast we have a couple of weeks of pollen that covers any outdoor surface yellow.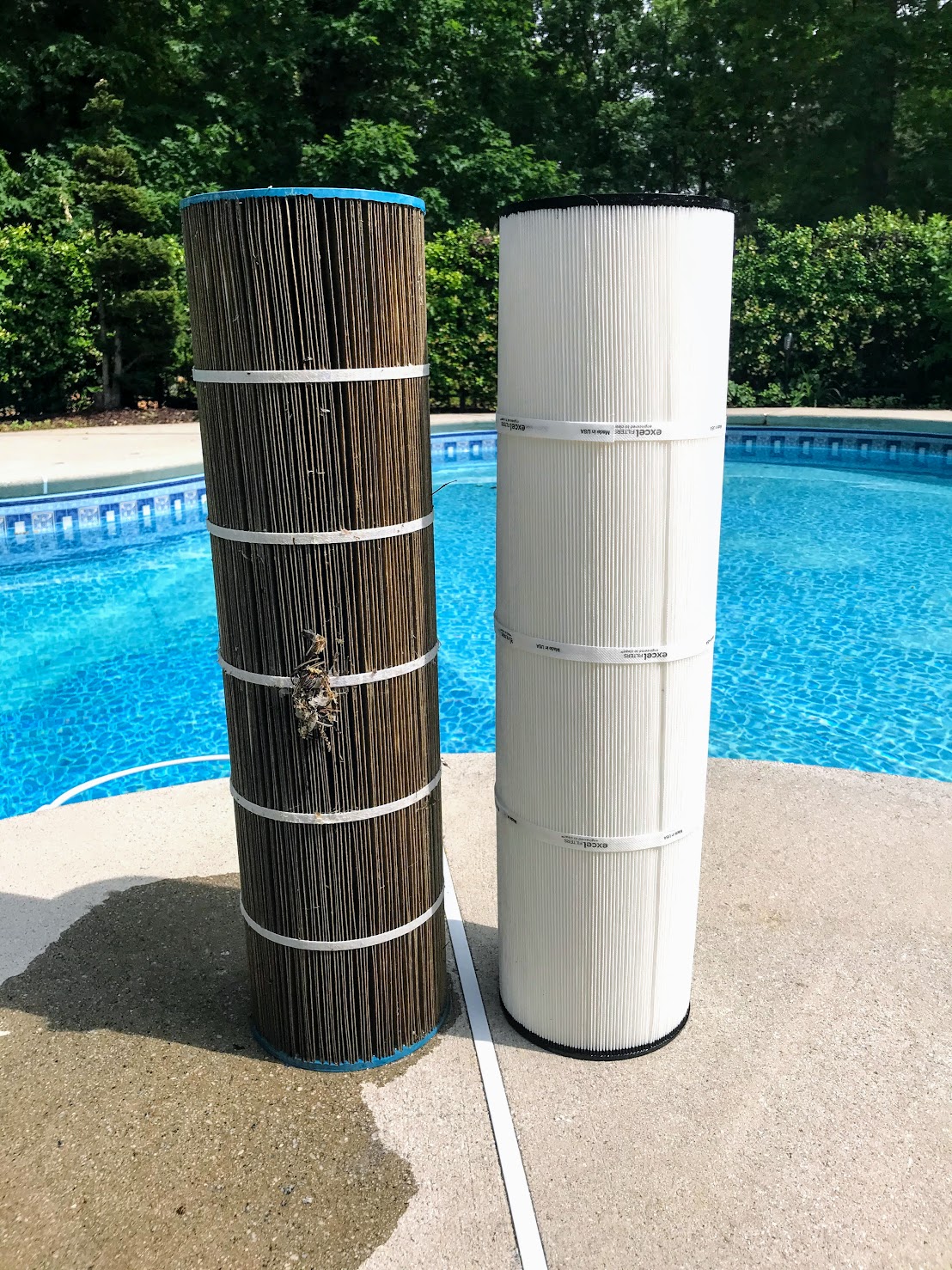 We open the pool with our old filter cartridges, run the pump for several days and then put in the new cartridges.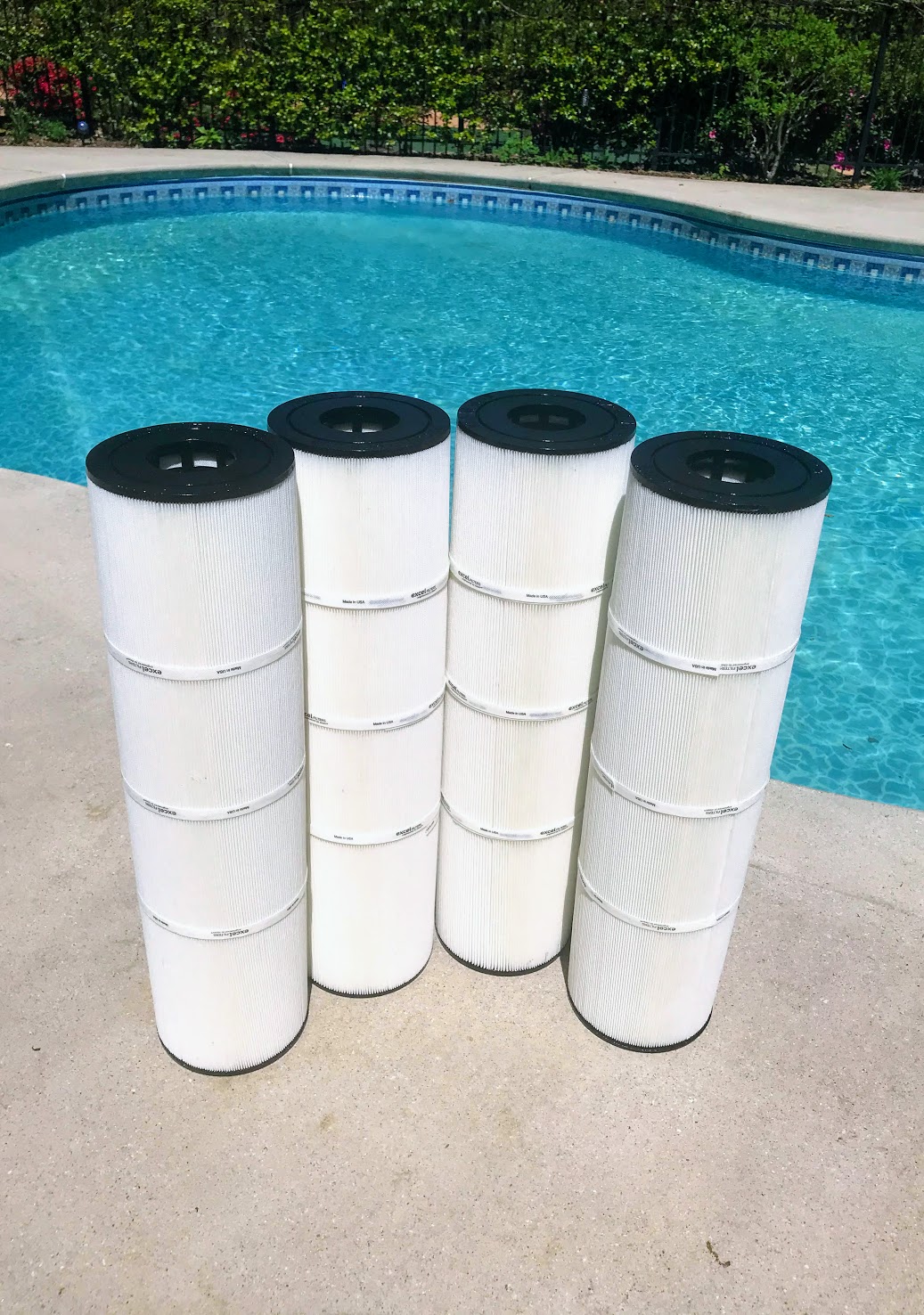 The cartridges do need to be cleaned periodically by rinsing with a hose.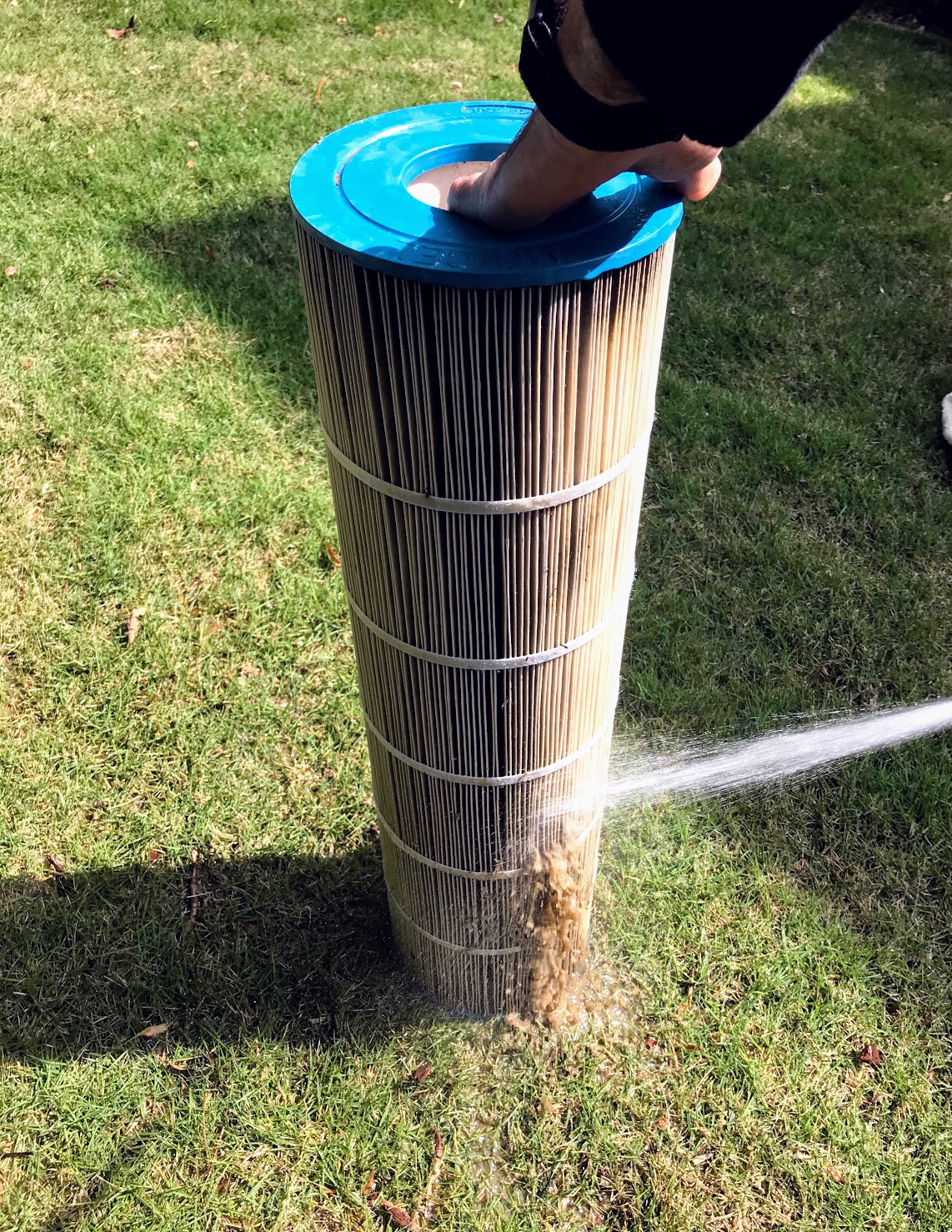 Most pool companies recommend replacing your cartridges once a year for the best filtration and for lower energy use.
Pool Filter Cartridge Replacements
Swimming Pool Maintenance Guide to Inground Pool Covers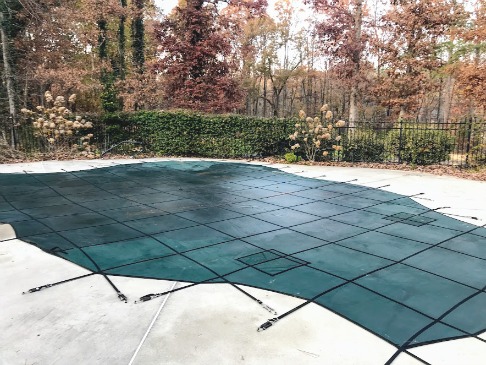 After 10 years of keeping our pool open year round we decided we wanted a break from cleaning out leaves and maintaining pool chemicals.  While an open pool sure looks better, we've been happy with our decision to install an inground swimming pool cover.  Here are some things we've learned:
Go from Swimming Pool Maintenance Guide to Pool Fun for Everyone Home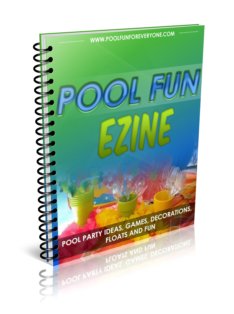 Looking for ideas to have fun with friends and family out by the pool? Get free tips on:
Pool Party Themes, Invitations, Games and Decorations
Outdoor Patio Umbrellas - Frame, Fabric and the Best Size
Swimming Pool Floats for Infants, Kids and Adults

Pool Party Food from Summer Appetizers to Cold Desserts
Outdoor Party Lights - Patio Umbrella Lights to Solar Torches


Sign up here:
© Copyright 2011 - 2023 www.PoolFunforEveryone.com
All rights reserved. This DMCA site is protected under U.S. and International copyright laws. Do Not Copy any Content or Images. No use is permitted without written permission.