Landscaping Swimming Pools

Landscaping swimming pools in a way that brings color and shade is important part of enjoying your backyard pool.
There are many other considerations to think of when you select the plants or bushes you want to include such as:
1. Low maintenance - living in Atlanta, Georgia we need plants that are heat and drought resistant.
2. Disease Resistant
3. Provide color - we have pool plants that provide color throughout the summer including hydrangeas, Knock-Out Roses, Black-eyed Susans, yellow and red day lilies, gardenias, and clematis.
4. Provide Fragrance - Confederate Jasmine, Ligustrum and Gardenias provide fragrance at different times
Swimming Pool Landscaping Ideas Using Color

Landscaping with color is an important consideration as you choose plants, bushes or perennials for around your pool.
Our bushes and perennials provide color all through the summer when we are out by the pool.
Find perennials that blossom at different times. We use the blossoms for bouquets for parties and for our personal enjoyment.

The blossoms of this perennial hibiscus are not just large - they are huge. 

For more ideas on getting some color around your pool click here:
Swimming Pool Landscaping Ideas for Privacy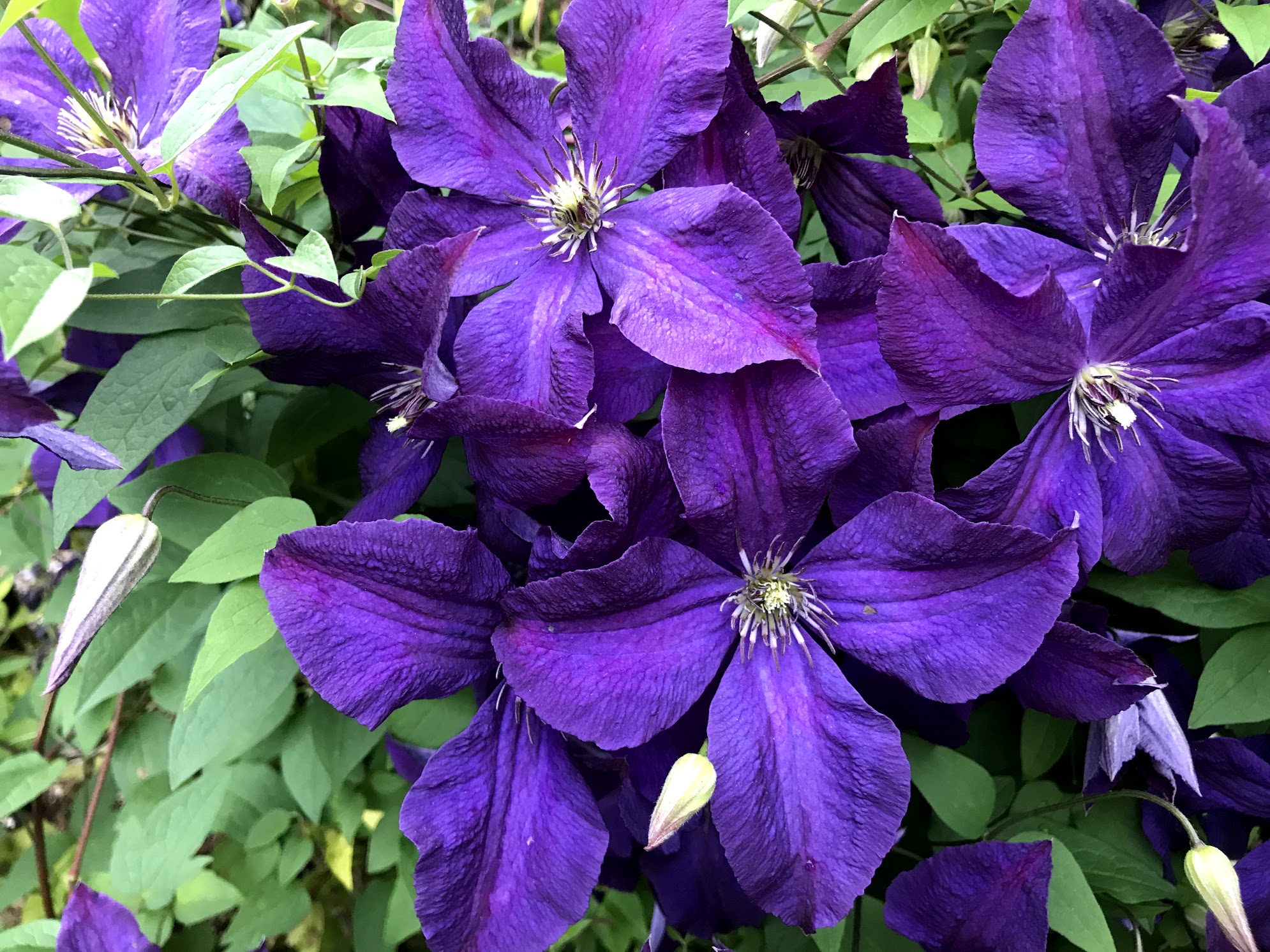 Pool landscaping should provide some privacy. We did not want a wooden privacy fence around our pool, but we do want some privacy since we back up to a golf course.
We have planted Evergreen Clematis, Carolina and Confederate Jasmine and would you believe some thornless blackberry vines along our pool fence.
This is a picture of a Jackmanii clematis which not only provides privacy but wonderful purple blossoms as well.
Swimming Pool Landscaping Ideas for Low Maintenance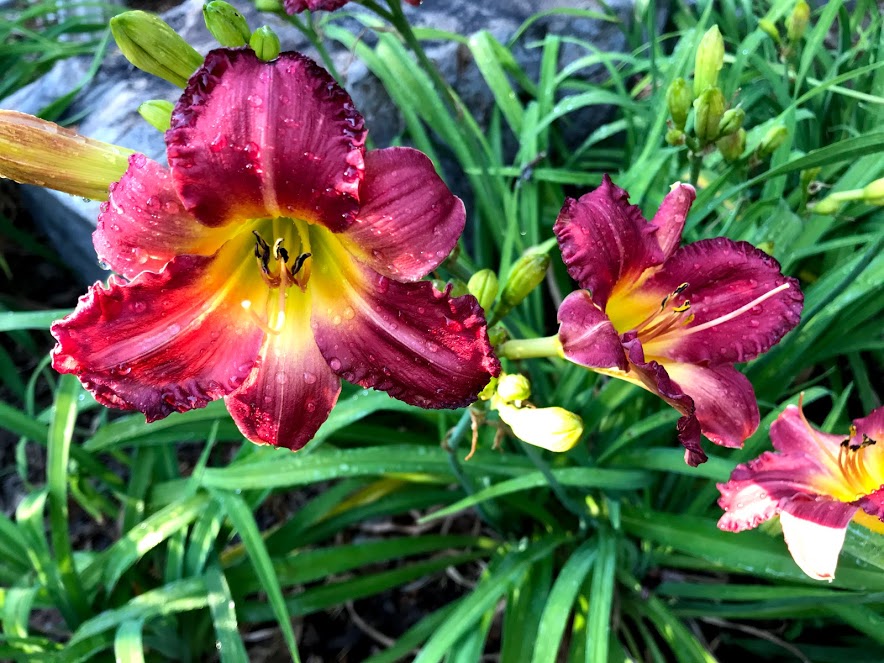 When we consider what plants we want to include around our pool they need to be low maintenance. For us, living in Atlanta, they also need to be drought, heat resistant and disease resistant.
My husband and I work full time and we don't have a lot of time to water everyday or to spray plants that catch diseases. We mostly use perennials and bushes that come back every year and thrive on neglect.
These blue hydrangeas are a favorite of mine. Not only do they provide color around the pool, but I use these perennial flowers for lots of my centerpieces and pool decorating.
Landscape for Fragrance

Ligustrum provide tiny white blossoms and a nice fragrance during the month of May.
But my favorite fragrance is from our Little Gem Magnolia. It has a really fresh citrus smell and beautiful white blossoms and shiny green leaves.
I use the blossoms from both to make fragrant flower centerpieces.
In June our gardenia's are in blossom and provide us with another month of a wonderful garden scent.
The two other plants that provide flowers and fragrance are the Confederate Jasmine and peonies.
The Confederate Jasmine vine grows along our pool fence.
Landscape for Floral Bouquets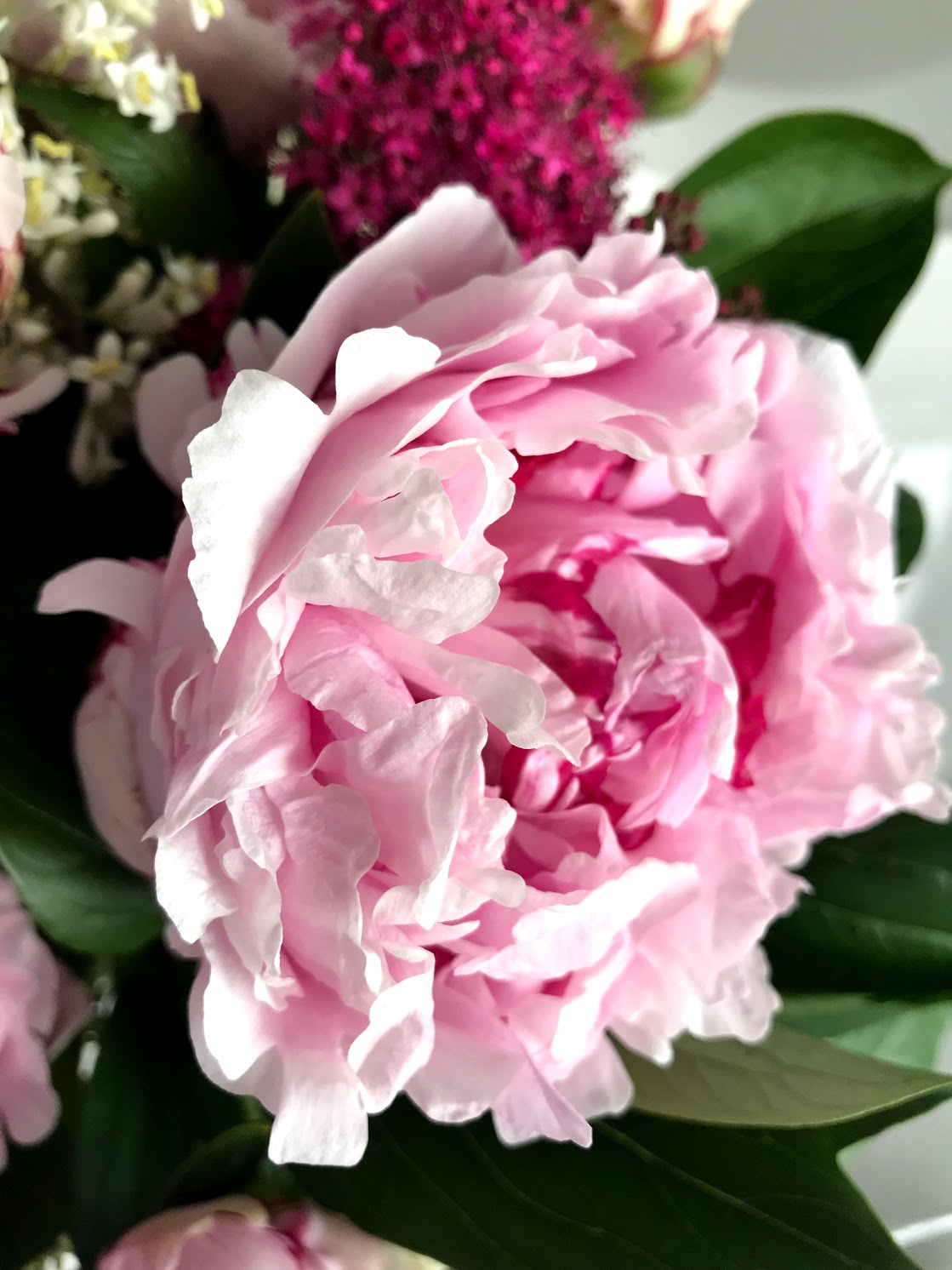 Plants around the pool need to provide flowers or fragrance. I use my perennials to make up bouquets for our pool party decorations.
In spring I made several floral centerpieces from white azaleas for a girl's night out by the pool. This weekend we had a group of friends over for an outdoor dinner and I made several floral centerpieces from my Endless Summer Hydrangeas.
My husband and I are not professional landscapers, but we do enjoy making our backyard pool a colorful and relaxing retreat. When we entertain guests out by the pool, there are always compliments and comments on how beautiful our backyard looks.
Best Garden Gloves

The best garden gloves are what's called Mud Cool Mud. They are so comfortable and fit so well, you hardly even know you've got gloves on.
Here are a couple of reasons why I love them:
1. Fit snug without getting hot
These gardening gloves are made with a breathable fabric so your hands don't get hot and sweaty - in fact the label says they were designed for gardening in warm weather - and it get's warm in "HotLanta."
2. They are comfortable
3. Infused with Aloe moisturizer
My hands don't get as dry with this great additive to the lining of the gloves.
4. Are machine washable.
5. They look nice :)
6. Come in my size
The sizes are extra-small, small, medium and large. I bought them at a little garden shop and see that they are the same price at Amazon:
MUD GLOVES 022GB/XS Cool Gloves
Go from Landscaping Swimming Pools to Pool Fun Home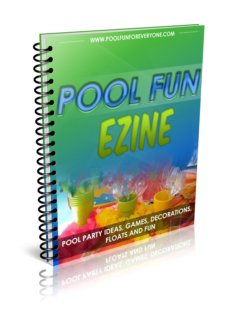 Looking for ideas to have fun with friends and family out by the pool? Get free tips on:
Pool Party Themes, Invitations, Games and Decorations
Outdoor Patio Umbrellas - Frame, Fabric and the Best Size
Swimming Pool Floats for Infants, Kids and Adults

Pool Party Food from Summer Appetizers to Cold Desserts
Outdoor Party Lights
- Patio Umbrella Lights to Solar Torches

Sign up here:
© Copyright 2011 - 2016 www.PoolFunforEveryone.com
All rights reserved. This DMCA site is protected under U.S. and International copyright laws. Do Not Copy and Content or Images. No use is permitted without written permission.