Inground Swimming Pool Liners

Inground swimming pool liners come in a wide variety of patterns. Some of the things to consider are the thickness of the liner, your color choice, the length of the warranty and the quality of the vinyl. 

The most popular inground swimming pool liners are vinyl liners. Inground pool liners can be made of vinyl or gunite.
A gunite pool is permanent and is made with concrete and plaster and is usually more expensive to build. We chose to go with vinyl for lots of reasons and after 15 years of pool ownership we are happy we did.
Vinyl Swimming Pool Liners
Vinyl swimming pool liners are the number one choice of inground swimming pool liners. 
A vinyl pool has reinforced walls and a vinyl liner. It locks the top edge, called a bead, into a track located on the bottom of the coping.
There are many benefits to choosing vinyl. They are:

1. Easier to maintain
2. Less expensive than a gunite pool
3. Softer on your feet 
4. Wide assortment of patterns and colors
5. Can replace your liner when it fades or tears and get a whole new look  
To learn more about choosing pool liners and things to consider such as thickness, patterns, color, warranty and manufacturers click here:
Vinyl pool liners come in different thicknesses, a variety of colors and patterns and with different warranties.
Thickness:
The two most common are 20 mil and 27 mil. You can also purchase a blended thickness, meaning it is 27 mil along the top where the liner is most exposed to the hot sun and 20 mil along the bottom of the pool.
Sometimes you will see gauge used instead of mil - they are different. Be sure you are comparing apples to apples.
Warranties:
Vinyl swimming pool liner warranties can range from 10-25 years. There is a warranty that comes from the manufacturer that usually covers seams separating or if the print comes off. The first couple of years, the liner may be covered at 100% and then prorated after that.
The coverage for labor will differ with each pool liner installer, so be sure to ask.
Color and Pattern:
Inground swimming pool liners come in a variety of colors and patterns. Our first inground pool liner was a light color. For different reasons we had some staining that showed on the liner. We often used a stain remover, which then caused the pattern to fade. After 10 years the light pattern was almost gone.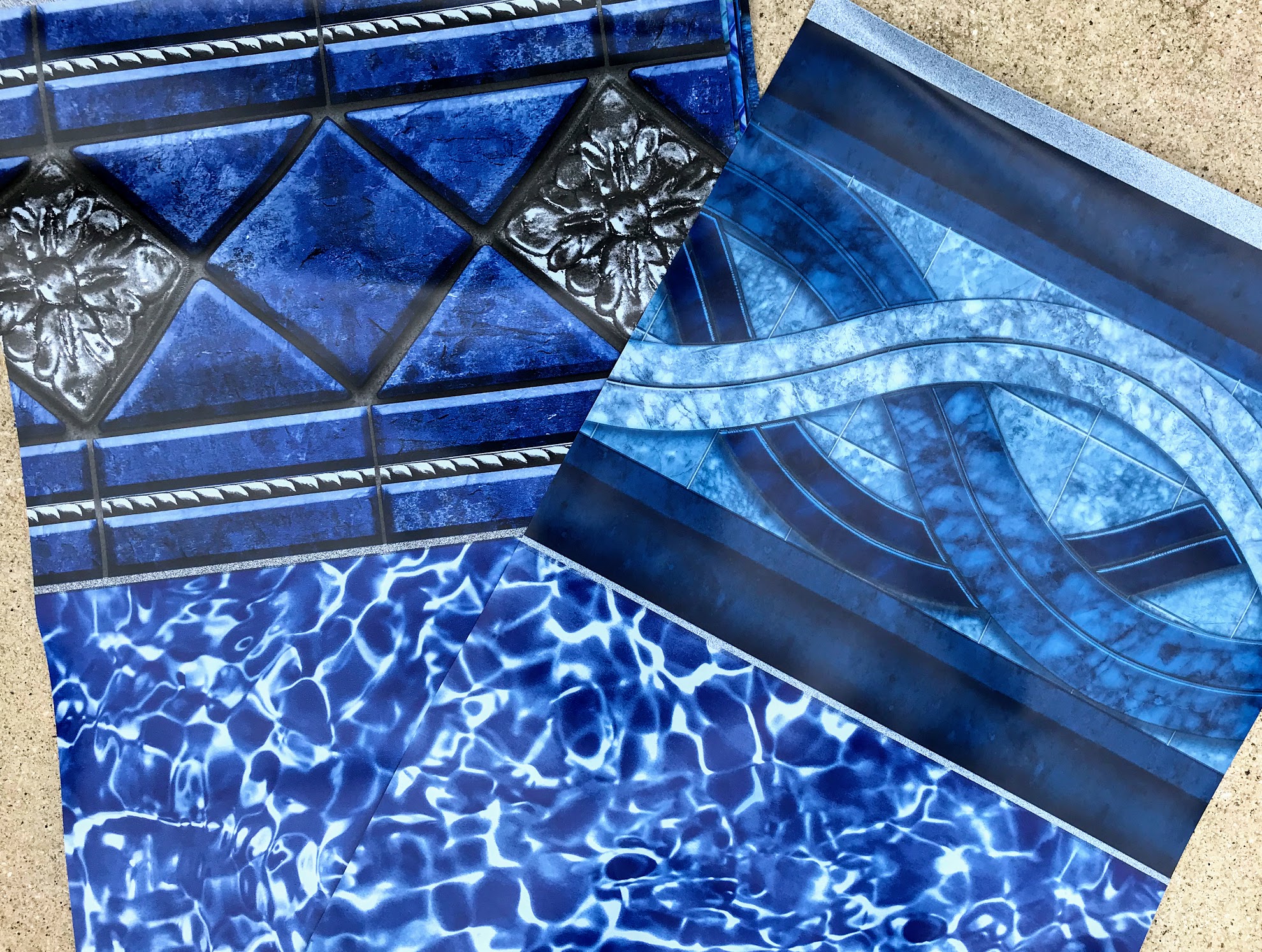 This time we chose a darker pool liner and pattern. Everyone who comes to the pool says how much better it looks. We like it much better as well. The picture at the top of the page is our new pool liner. Be sure to select a inground swimming pool liner with a pattern - do not choose a solid color liner.
Choosing Swimming Pool Liners

Choosing pool liners can be fun and sometimes confusing. Making a selection from a small swatch of vinyl is not an easy way to make such a big decision.
It really helps if you can go see someone's pool who has that same pool liner installed.
Don't be afraid to ask your installer if they have installed the liner that you like at another pool. If so get permission to go look at it.
When we first built our pool we did go with our pool builder to several other pools that he had put in. It gave us an idea of what shape we wanted and what color pool liner we liked.
What should you know to help you in your selection? Read on to learn more.
To see a picture of our first "light" colored liner and compare it to our second, darker liner click here:
Replacing Inground Swimming Pool Liners
Replacing pool liners is one of the costs of owning your own pool.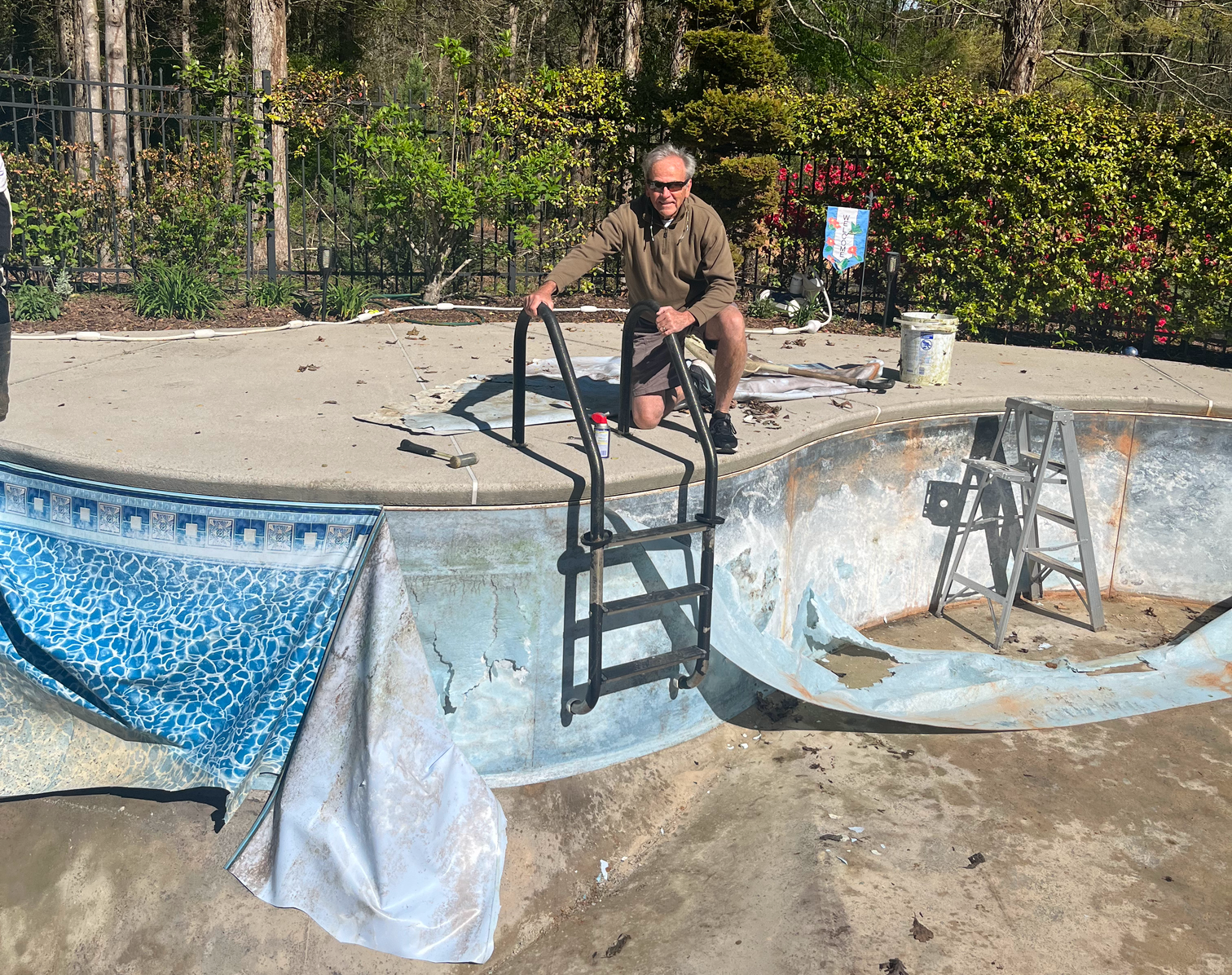 Normally, vinyl inground swimming pool liners need to be replaced every 7-10 years depending on the use of the pool, how well it is maintained and how much sun it is exposed to.
However, the time will come - like it did with us - when you've done as much repairing and patching as possible to delay the inevitable - spending lots of money to replace the darn thing.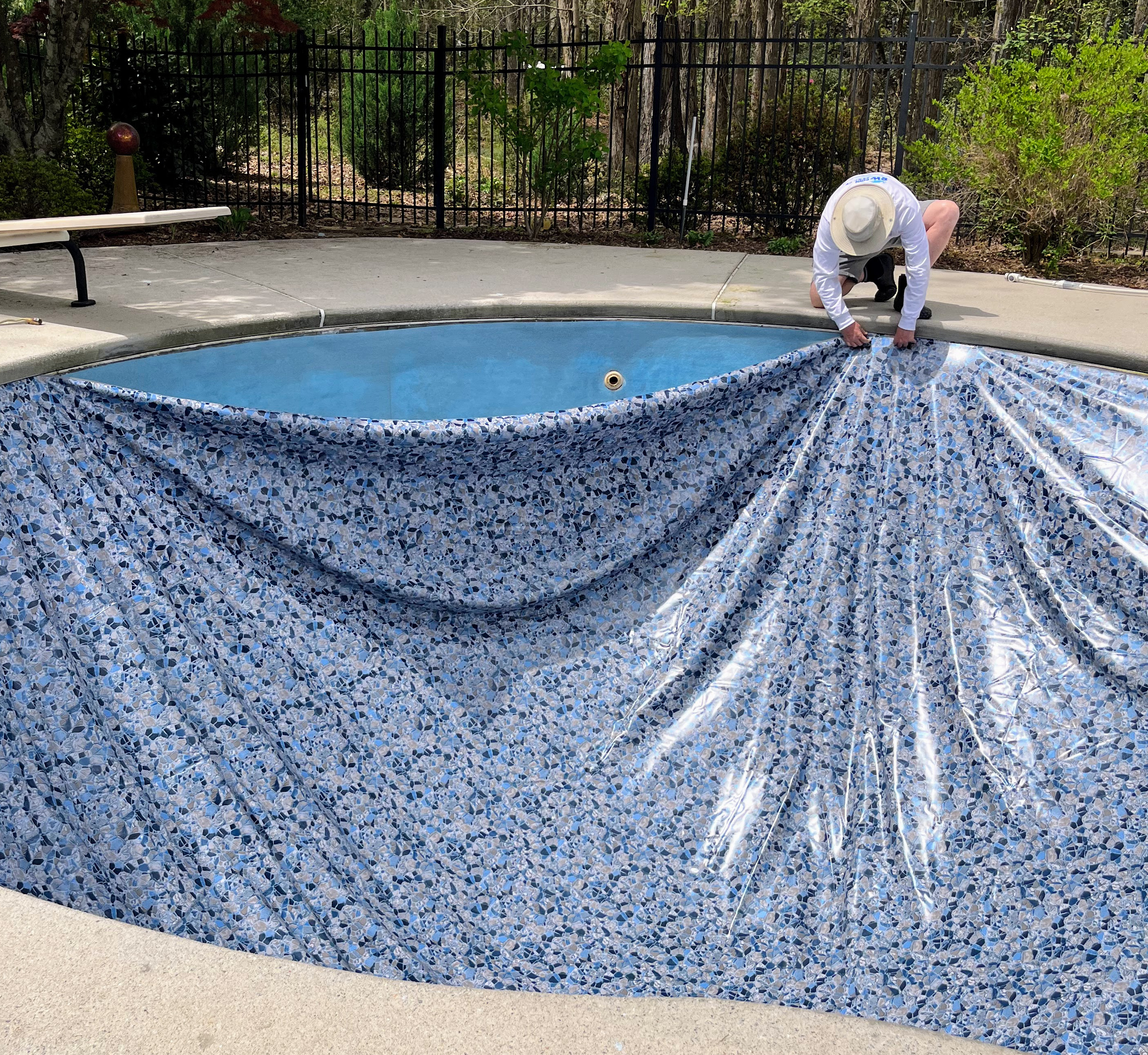 Try to repair small leaks or holes in your liner with a swimming pool liner repair kit. We did this several times and we were able to extend the life of the liner by one more season. However, this year we got a 3 foot tear just about the water line. This is the spot where the liner gets the most sun.
When it is time to replace your pool liner get at least 3-4 estimates. There has been quite a range in the prices - with a price difference of $1500 between the highest and the lowest estimate.
In order to compare apples to apples you will need to find out what is included in the estimates.
Before you make this big decision read about what you should know and questions to ask the installer by clicking here
Repairing Inground Swimming Pool Liners
A liner that leaks is inevitable and goes along with pool ownership. Swimming pool liner repair is not that hard and for a while we were able to do this for all the small leaks and tears in our 9 year old vinyl liner.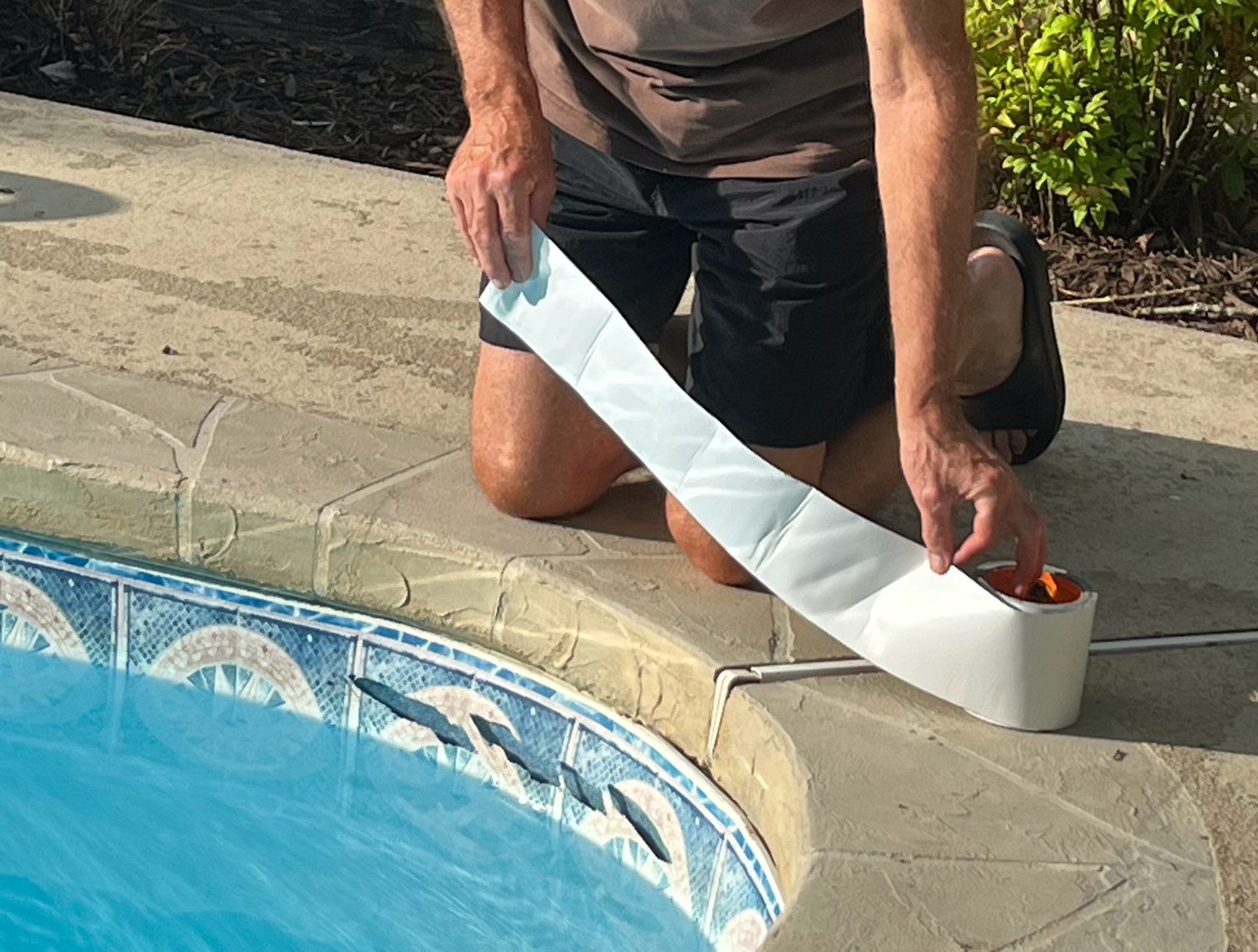 Try to repair small leaks or holes in your liner with a swimming pool liner repair kit. We did this several times and we were able to extend the life of the liner by one more season.

Some repairs we were able to do ourselves and others we turned to the pool liner repair professional, Jason. He would come to our pool, put on his wet suit and tank, and scour the bottom and sides of the pool looking for leaks like Sherlock Holmes.
Inevitably he would find them and repair them and save us from having to replace the liner for another year.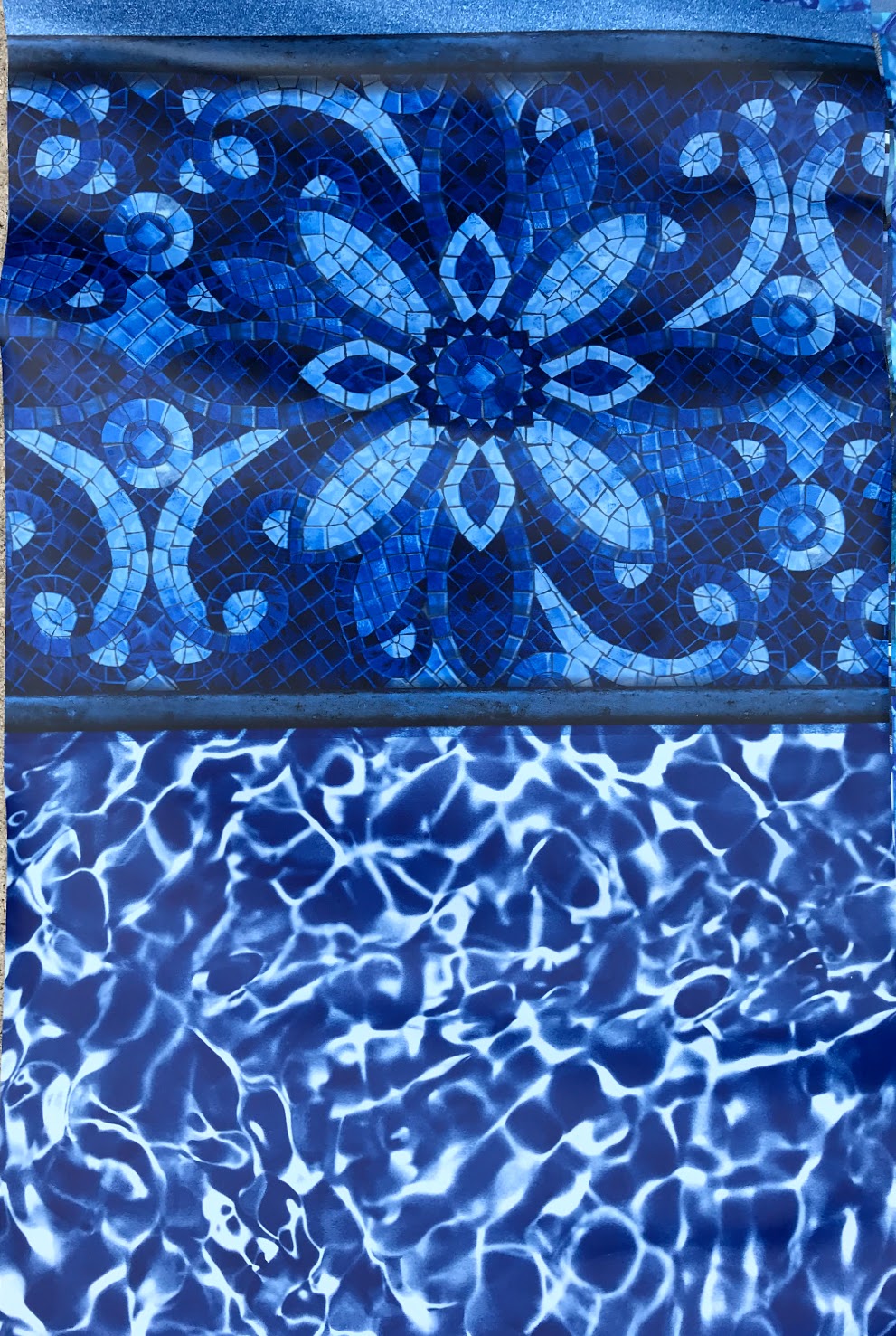 Here is what you do:
1. Find the leak :)
If you find that the water level is going down quicker than it should, you can test it by putting a bucket of water out by the pool and mark the water line. Mark the water line on the pool. After a couple of days compare the marks to see if the loss of water in the pool is comparable to the water loss in the bucket.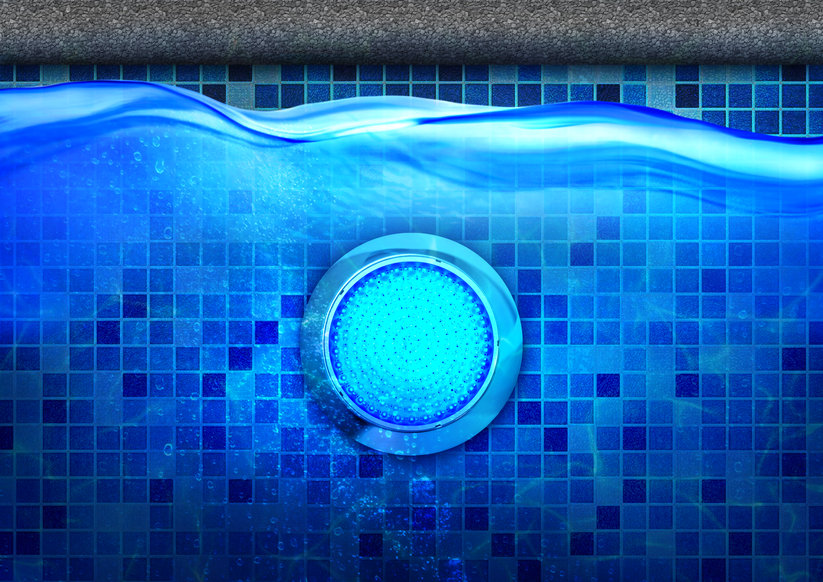 The two most common sources of pool liner leaks are the inground swimming pool lights and around the pool steps. 
"The way to determine a pool light leak is by continuing to operate the pool on main drain only (close or plug the skimmers), and allowing the pool water level to drop. If the water level seems to stabilize at the level of the light, or more precisely, just a few inches below the top of the light – you may have a conduit leak."
Inground Pool Light Leak Repair
Also check to see if you only lose water when the pool is running. Often our water loss has been from leaky plumbing. Once we corrected the plumbing, our water loss stopped.
A common place for a leak is around the stairs - so check there first.
2. Purchase a liner repair kit.
Find a repair kit that also includes some vinyl. 
We were provided with extra vinyl when we had our vinyl swimming pool liner replaced. It is good to have some extra on hand to use if and when some leaks develop.
We didn't have any extra vinyl from our first liner so we had to use a large piece of plain white vinyl which looked like a really big (ugly) bandaid.
Caring for Inground Swimming Pool Liners
Caring for inground pool liners by balancing the chemicals and chlorine will help to prevent the pool liner from fading and can help extend the life of your liner.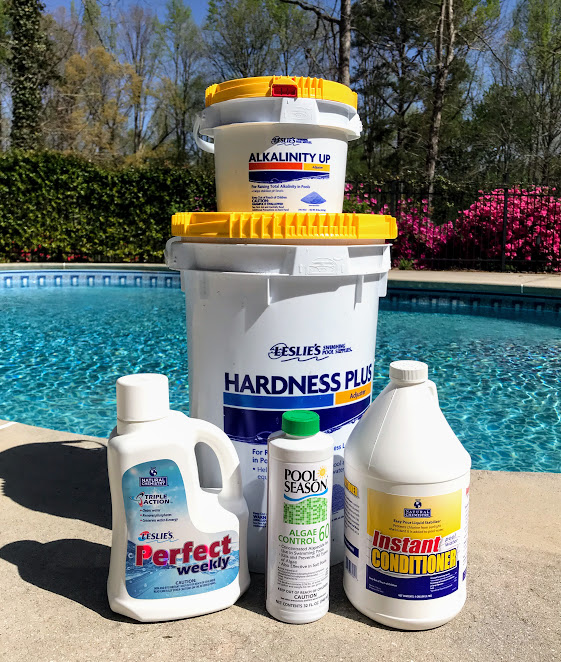 Your new pool liner will benefit from maintaining the optimal levels of pool chemicals. It is important that the chlorine levels are not too low or too high and that your pool water is in balance.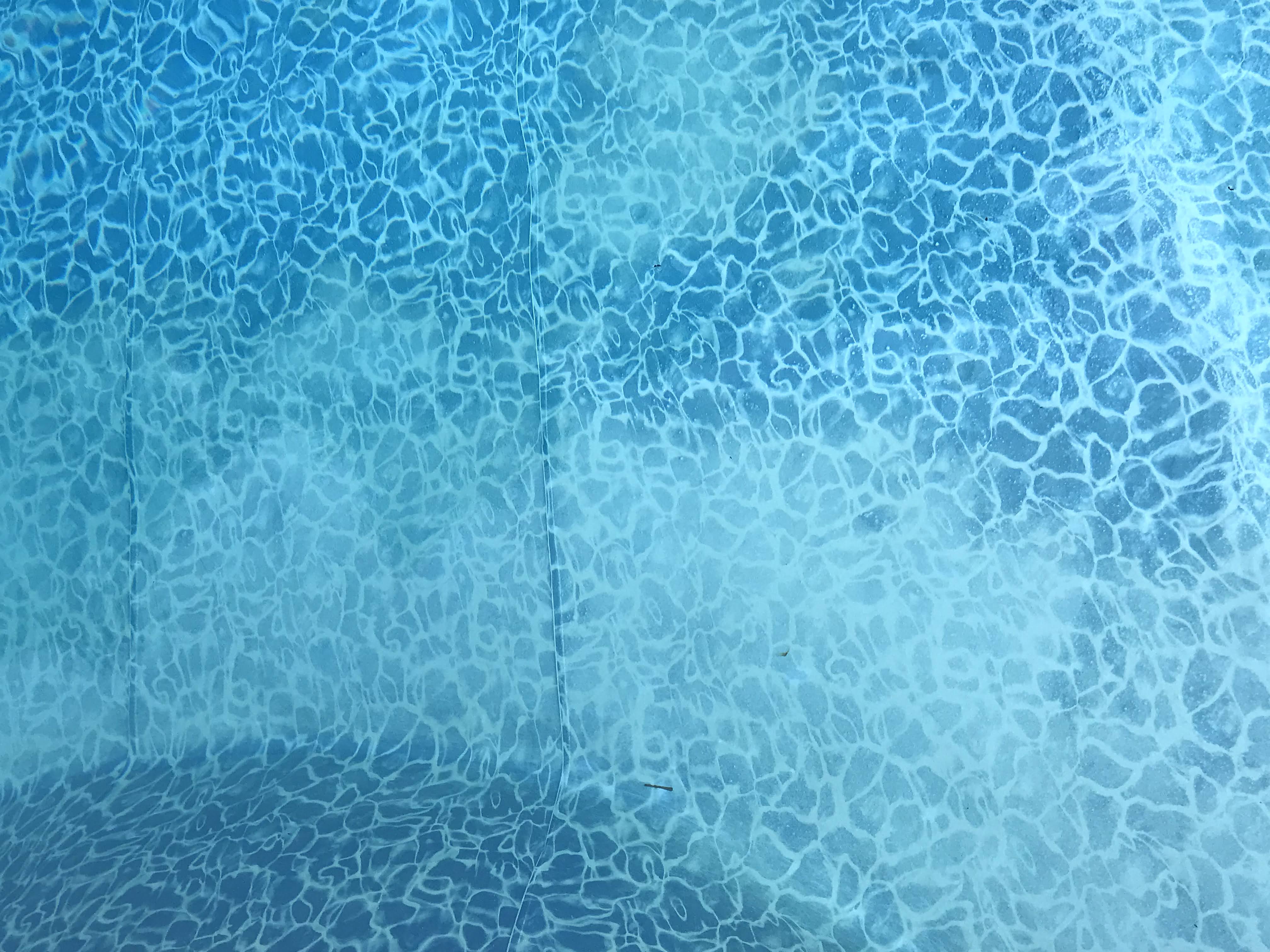 To learn more about the basics of pool ownership click here:

Your Source for Swimming Pool Information
Get your feet wet at Swimming Pools 101


Go from Inground Swimming Pool Liners to Pool Fun for Everyone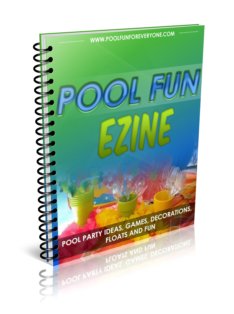 Looking for ideas to have fun with friends and family out by the pool? Get free tips on:
Pool Party Themes, Invitations, Games and Decorations
Outdoor Patio Umbrellas - Frame, Fabric and the Best Size
Swimming Pool Floats for Infants, Kids and Adults

Pool Party Food from Summer Appetizers to Cold Desserts
Outdoor Party Lights - Patio Umbrella Lights to Solar Torches


Sign up here:
© Copyright 2011 - 2023 www.PoolFunforEveryone.com
All rights reserved. This DMCA site is protected under U.S. and International copyright laws. Do Not Copy any Content or Images. No use is permitted without written permission.