Cold Vegetable Salad

A cold vegetable salad is a perfect side or main dish for any pool gathering.  No cooking, make ahead, and good for you - find a recipe you and your family are sure to enjoy here.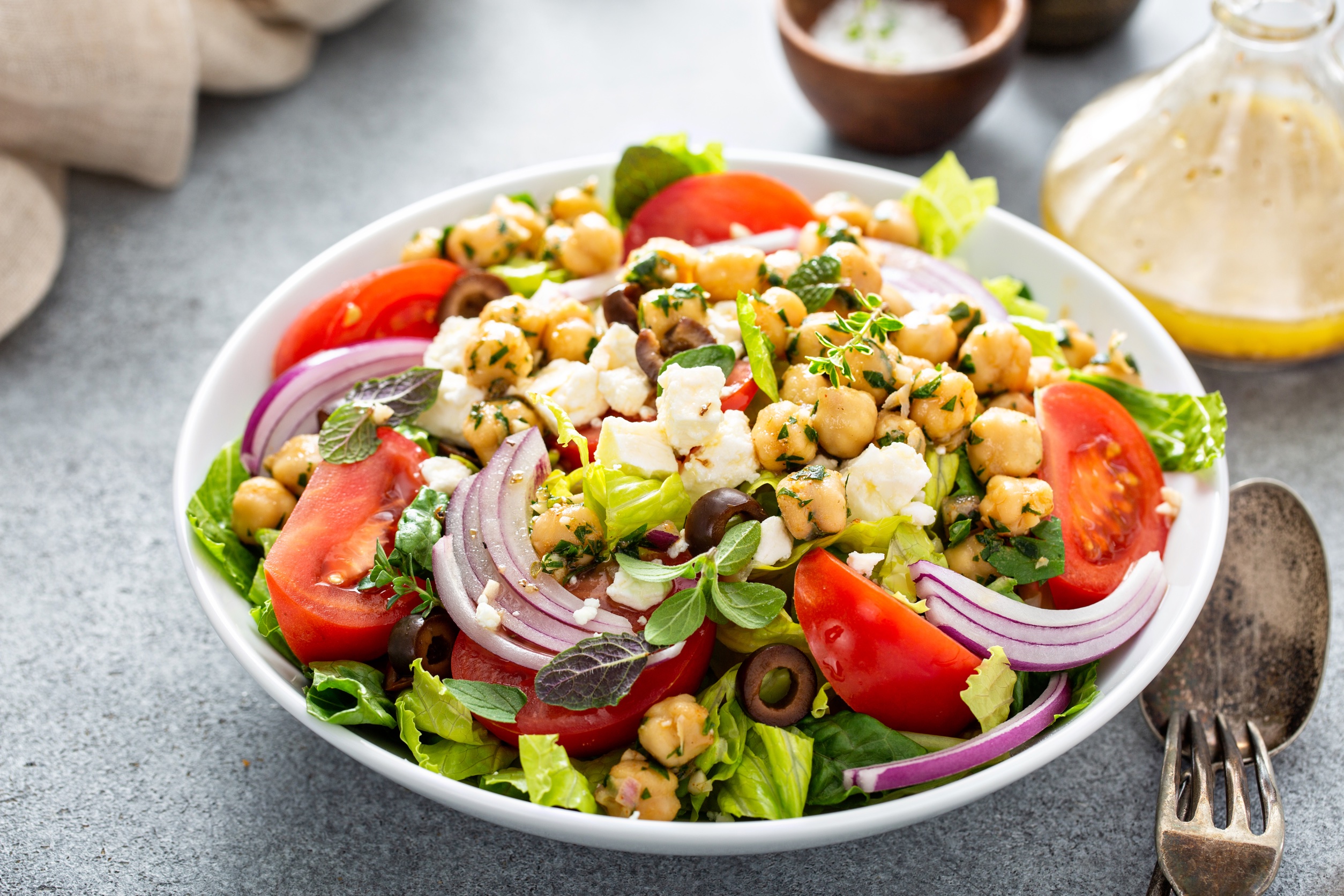 Broccoli Salad Recipes

I love broccoli salad recipes that can be made ahead of time so that when company comes I can spend my time with them - out by the pool  rather than in the kitchen.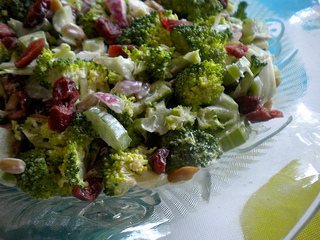 Ingredients
3 Bunches of Fresh Broccoli
1 Cup of Dried Cranberries (or you can you raisins)

1 Cup of Roasted Sunflower Seeds
1/2 Cup of Chopped Celery
1/2 Cup of Chopped Red Onion
Dressing
1 Cup of Mayonnaise - I use Hellmann's with Olive Oil
3 Tablespoons of Red Wine Vinegar
2 Tablespoons of Sugar
Directions
Cut off the large thick stems of the broccoli and toss. Cut up the broccoli flowerettes into small bite size pieces. Cut up celery & red onion. Toss all ingredients with the dressing and refrigerate for 3-4 hours.
Broccoli and Cauliflower Salad

Some friends brought this broccoli cauliflower salad recipe over for one of  our pool parties.  There was not a bite left. She told me it was called the Sunshine Salad. I made it for our annual Fourth of July pool party. Here is how my friend Shirley makes it.
Ingredients:
5 Cups Broccoli Florets
5 Cups Cauliflower Florets

2/3 Cup chopped sweet onion (I used Vidalia)
1/2 cup dried cranberries or raisins

1/2 cup shelled sunflower seeds
2 cup shredded sharp cheddar cheese
Mix

1 cup mayonaisse
1/2 cup sugar
2 Tbs. red wine vinegar
Top with

6-7 slices of bacon, cooked crisp and crumbled
Tomato Basil Salad

A tomato mozzarella salad is a favorite cold salad at our house - especially now that there is farmer's market just a couple of blocks from our house.
Every week we buy a basket of fresh, local tomatoes that have great flavor and texture.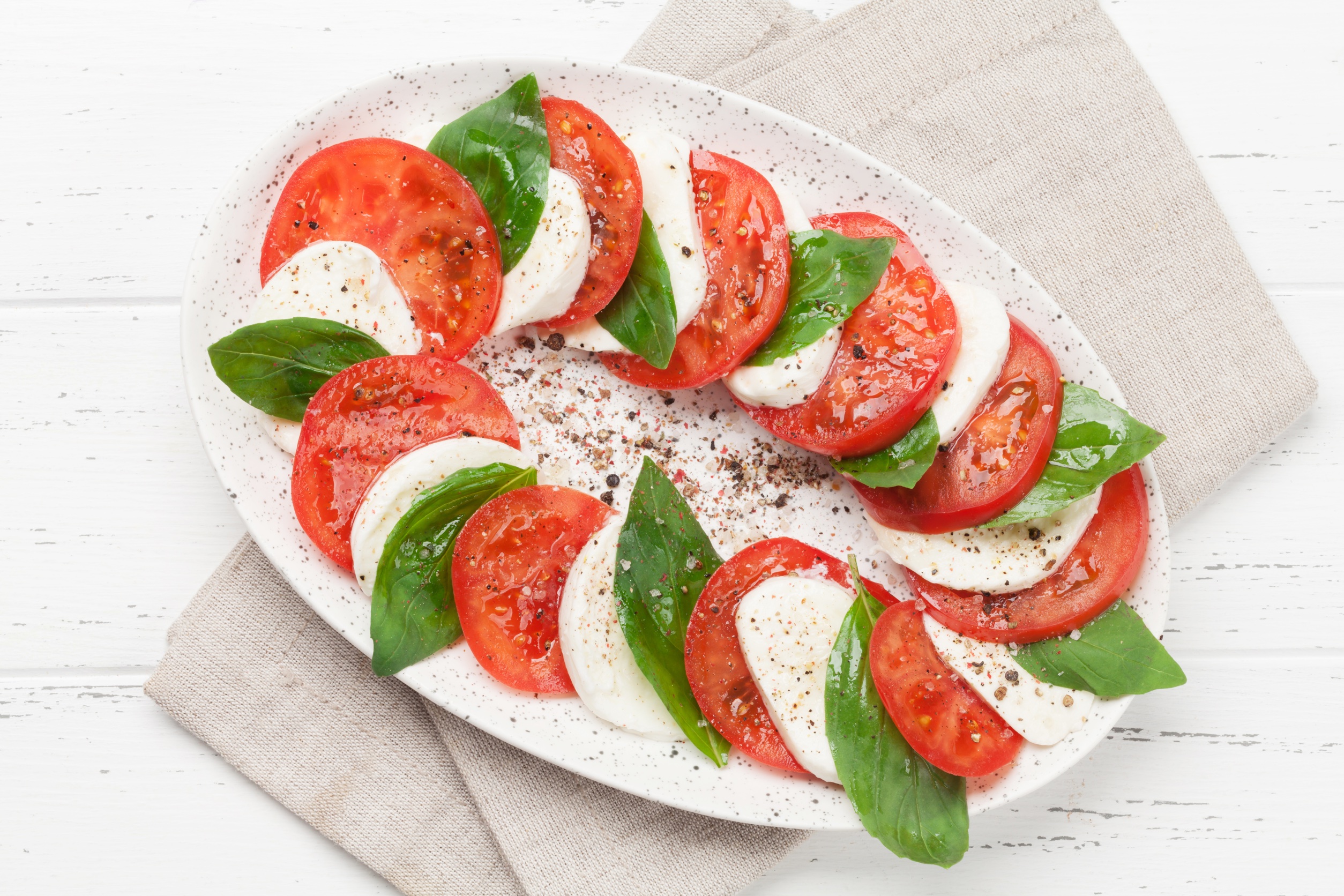 Making a tomato basil salad is especially nice when you can pick the basil right from your backyard. This is the first year that I've planted a basil plant. I'm not sure if it is beginner's luck - but it has been thriving and providing us with lots of fresh basil leaves for our salads.
Simply sprinkle some extra virgin olive oil and balsamic vinegar over the sliced tomatoes. Salt and pepper to taste.
Add some fresh mozzarella sliced and placed between the tomato slices. With a clean, kitchen scissors cut up from basil leaves to put on top.
Tomato Onion Salad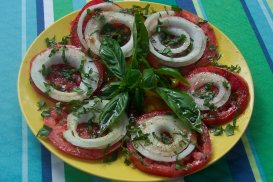 Don't have any mozzarella cheese and don't want to run to the grocery store?
Make a tomato onion salad that is just as good. I use the same recipe as above - slice some fresh, locally grown tomatoes and place sliced onions on top.
Sprinkle extra virgin olive oil and balsamic vinegar over the vegetables and salt and pepper to taste.
Cucumber and Onion Salad

Head to your local farmer's market for fresh cucumbers and onions to make this standard, but favorite salad. This salad can be made ahead of time so that there is no last minute work.
Chill the salad before serving it and slice the cucumbers really thin.
Recipe 1
1 Thinly Sliced Cucumber cucumber and onion salad
1/2 Medium Sized Onion - Chopped
2 Tablespoons of White Wine Vinegar
3 Tablespoons of Extra-virgin Olive Oil
Spritz of lemon Juice
Salt and Pepper
Sprinkle with Fresh Dill
Recipe 2
Mix 1/2 cup of white vinegar, 1/2 cup of water with 1/4 cup of sugar. Then add:
1 Large Cucumber Thinly Sliced
1/2 Onion Thinly Sliced
Many recipes call for 1/2 cup of sugar, but I've reduced it to 1/4 cup and no one seems to notice :)
Add salt and pepper to taste or sprinkle with dried dill.
Let it chill for a couple of hours and the cucumbers get nice and crisp.
Seven Layer Salad Recipe

What I like about this 7 layer salad recipe is that it is one way to get my husband to eat salads.  Sneak in some extra good for you vegetables like small cut up broccoli and he will still eat it. Served in a trifle bowl, it looks great too!
Ingredients
Layer the ingredients in this order:

3 Cups Chopped Up Romaine (better tasting and more nutrients than iceberg lettuce)
1 Cup Chopped Celery 
1 Cup Chopped Orange Pepper or Red Onion
1 Bag of Frozen Peas Thawed
Topping
Spread 1 Cup of Hellmann's Mayonnaise over the top
Sprinkle about 1 - 2 Teaspoons of sugar over the mayo (This easy step works. You don't need to mix the sugar and mayo and then spread)
Top with 8 oz bag of Shredded Cheddar Cheese, Crumbled Bacon and Sliced Green Onions

Refrigerate 24 hours for a cool, crisp refreshing salad.
Go from Cold Vegetable Salads to Cold Salad Recipes
Return to Pool Fun for Everyone Home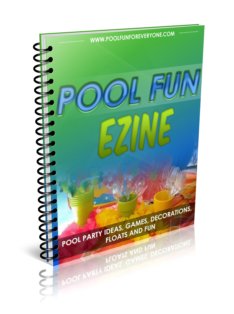 Looking for ideas to have fun with friends and family out by the pool? Get free tips on:
Pool Party Themes, Invitations, Games and Decorations
Outdoor Patio Umbrellas - Frame, Fabric and the Best Size
Swimming Pool Floats for Infants, Kids and Adults

Pool Party Food from Summer Appetizers to Cold Desserts
Outdoor Party Lights - Patio Umbrella Lights to Solar Torches


Sign up here:
© Copyright 2011 - 2023 www.PoolFunforEveryone.com
All rights reserved. This DMCA site is protected under U.S. and International copyright laws. Do Not Copy any Content or Images. No use is permitted without written permission.