Swimming Pool Fountains

Pool Party Decoration for Sight and Sound
Swimming pool fountains add a nice flair and a cool, refreshing, sound as you relax by the pool or entertain friends.

Enjoy watching the pretty view and hearing the soothing sound of moving water with this swimming pool accessory. There is a nice variety of fountains to choose from that are actually quite inexpensive.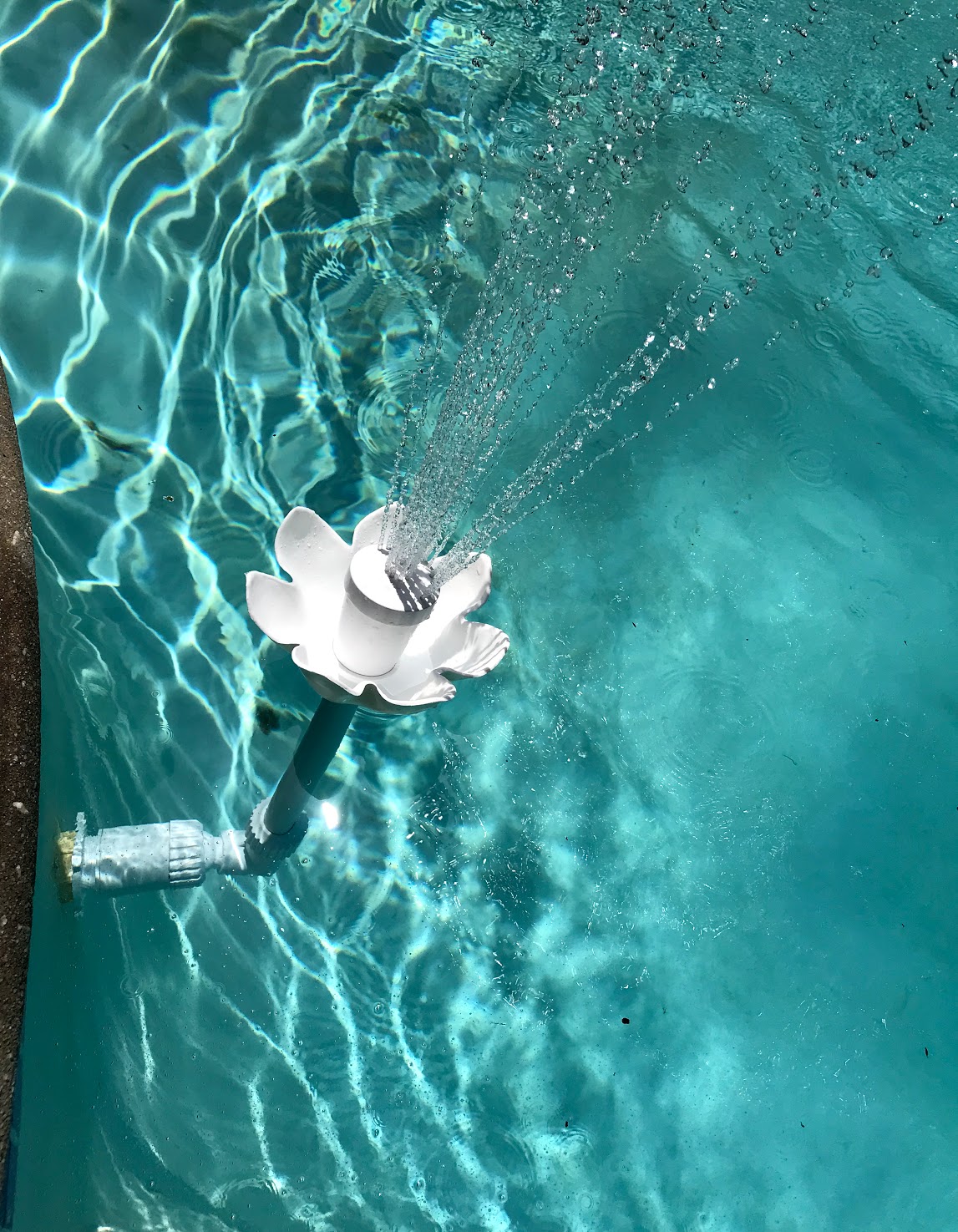 Two added benefits of this pool accessory are:
1. Helps with the circulation of the pool water, which can decrease your need for pool chemicals and
2. Cools the temperature of your pool when it gets too warm.
Or if the air temp is warmer than your pool water, the fountain can actually warm up your pool water. If you live in areas where the summers get really hot like Texas, Arizona, or Georgia, run your pool fountain at night when the temp is cooler and the temperature of the pool water will drop.
Here are some of your options.
Floating Pool Fountain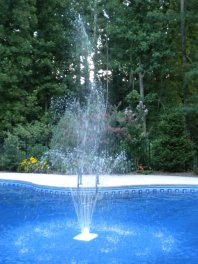 Be sure to get your pool fountain hooked up for your next pool party. It's the perfect pool party decoration for luau or beach themed pool parties.
Most floating pool fountains attach to the return of the pool and work on any standard system. They come with an assortment of fittings needed to fit many types of pools.
The height of the fountain can by adjusted by covering more or less of the bleed holes - these are holes that are on the elbow piece of the fountain. The more holes that are covered the higher the fountain will go.
There are several styles of swimming pool fountains to consider. We purchased the 3 Tiered Grecian Pool Fountainby Swimline. It can be used in an above ground or inground swimming pool.
You may be surprised like I was that swimming pool fountains are very inexpensive. Amazon has really good prices and you can get free delivery if you are a prime member. 
These fountains need to be removed and drained before it freezes and stored in the garage for the winter otherwise they will be damaged.

The long tube makes it possible to position the swimming pool fountain anywhere in your pool. Decide where you want it and then attach the weight to the tube so it stays put.
We love using our floating pool fountain especially when we have guests and are entertaining out by the pool.
It adds a nice sound and visual delight. This is the one that we have and use.
3-Tier Swimming Pool Fountain, Easy Set Up
Waterfall Swimming Pool Fountains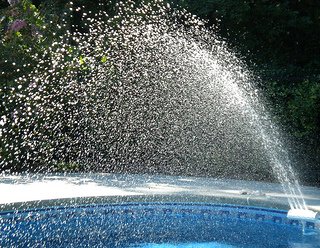 This fountain attaches to the side of the pool. It doesn't get in the way of swimming if you want to play in the pool.
It was easy to attach and inexpensive. The power of the spray can be adjusted. We love the look of a fountain and the refreshing splashing sound it makes.
We can leave this one up since it sits right on the side of the pool.
Install this easy swimming pool fountain for your guests to enjoy the soothing sound of splashing water and the cooling effects of fountain.
We use our pool fountain to cool our water when it finally gets too warm in August, and also love to turn it on when we our out sitting by the pool.
Lighted Pool Fountain is Water Powered, Watch Our Easy Install Video; No Tools Required
Above and Inground Swimming Pool Fountain

This pool fountain works for an above ground or inground swimming pool. This fountain is an easy way to decorate your swimming pool while actually functioning as a way to help circulate and cool your pool water.

The spray is adjustable and you can expect up to 14" of spray depending on your pool pump.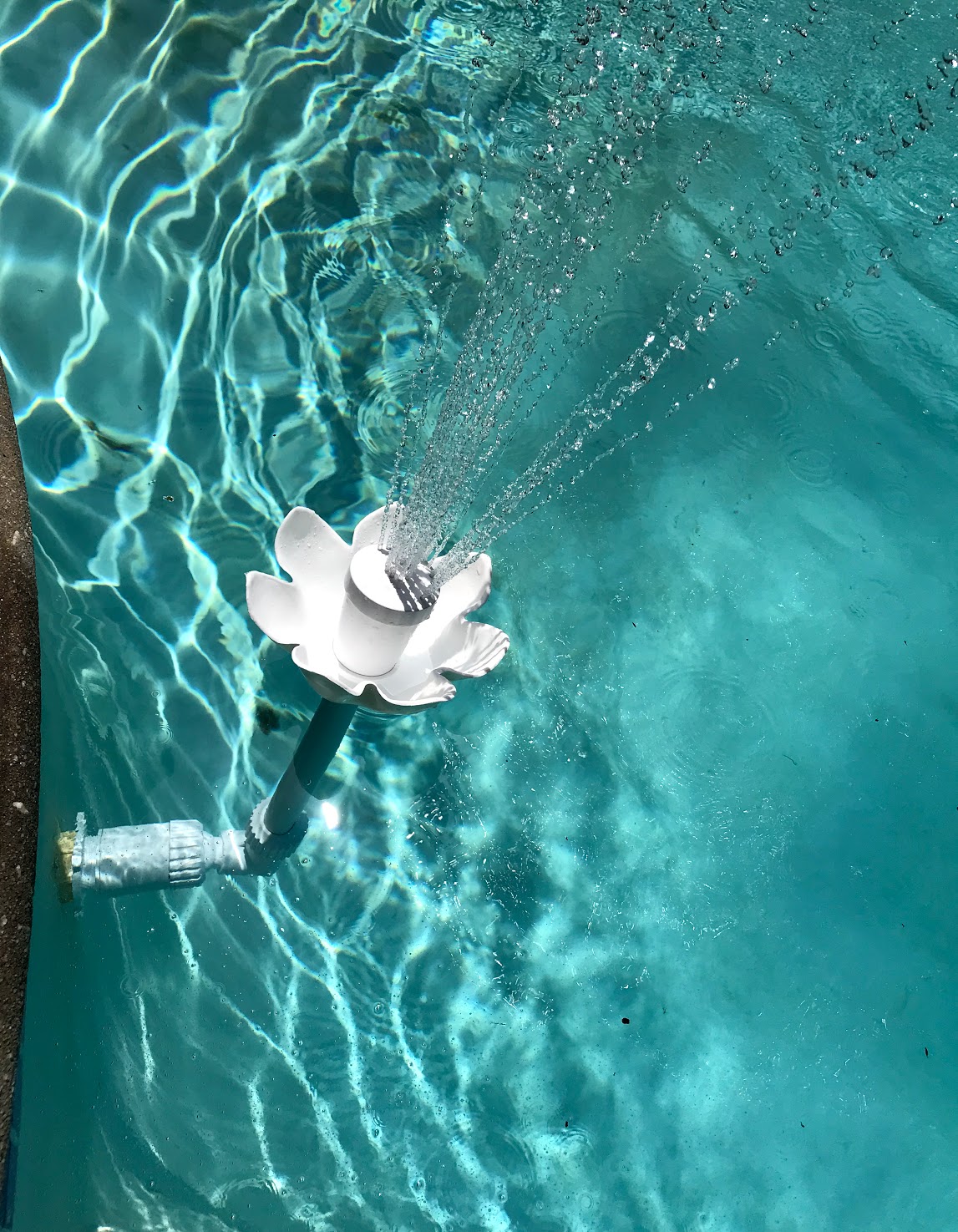 Connect to water return fittings.  First turn off pool pump, remove return eye fitting, then install fountain on return jet (fits 1-1/2-inch threaded return jet fittings), and adjust the water flow & direction.
JED Pool Tools 90-930 Deluxe 2 Tier Flower Pool Fountain
Swimming pool fountains offer the soothing sound of tumbling water and a cooling view of water spraying through the air.  Not only does a fountain offer a visual delight, it can serve a purpose as well by circulating and cooling your pool water.
Return to Pool Decorations

Go from Swimming Pool Fountains to Pool Fun for Everyone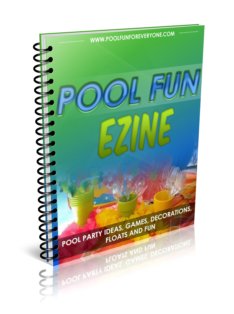 Looking for ideas to have fun with friends and family out by the pool? Get free tips on:
Pool Party Themes, Invitations, Games and Decorations
Outdoor Patio Umbrellas - Frame, Fabric and the Best Size
Swimming Pool Floats for Infants, Kids and Adults

Pool Party Food from Summer Appetizers to Cold Desserts
Outdoor Party Lights - Patio Umbrella Lights to Solar Torches


Sign up here:
© Copyright 2011 - 2023 www.PoolFunforEveryone.com
All rights reserved. This DMCA site is protected under U.S. and International copyright laws. Do Not Copy any Content or Images. No use is permitted without written permission.