Floating Pool Lights

Floating pool lights come in an assortment of styles and lighting sources - from solar to LED lights.
Floating lights can set the mood for a great evening by the pool. You can use large swimming pool candles for a more quiet and relaxed feeling or use bright, multi-colored lights that change lights for a disco effect.
The three main thing to keep in mind are:
Size of Lights

Small lights look good in a hot tub or bird bath but not in a big swimming pool.  Larger is usually better.  The smaller the lights the more you need for impact in a large area like a pool. The larger the lights the bigger the impact.  You can find these orbs in 3", 6", and 12". 
Number of Lights

If you want to using floating lights for your pool, you can't just get 2-4 of them.  It will look inadequate.  A pool is just too big. You need LOTS of lights.  If you don't want to do that then check out some other pool party light options. 
A Way to Anchor Them
Floating pool lights will drift and bunch together . If your pool pump is on they will end up by the skimmers. So run your pump before the party and turn it off just before the guests arrive.  Also try to use lights that have anchors to them - like the weighted balloons or the Solar Lotus Flowers. 
How to Power Them
Your two options are solar powered or battery powered.  The solar balls can run up to 6 hours on a single charge.
Set of 12 - 3" Battery Orbs
This is a set of 12 3" orbs that features 7 colors to chose from or you can opt to have the balls transition through all of the colors.
You can use these light up orbs as floating pool lights or place them along the pathway to your outdoor party.  Two CR2 batteries are needed for each orb.  Make sure that the battery cover is snug before placing them in the water, and to have them last longer, turn off when not in use.  Do not leave them in the water when you are not using them as they may corrode.  Turn your pool pump off so they don't clump together.
Set Of 12 Light Up Orbs With Two 5-Packs Of Spare Replacement Batteries
Solar Floating Pool Lights - 12"

When it comes to lighting up your pool at night - size matters. The larger the better
unless your pool is really small. That's why I love these 12" solar globes. They are of course waterproof so they can be used in the pool. The best part is that they have a little loop on the bottom to anchor these floating lights so that they don't all bunch up together. Another loop on top allows you to hang the solar lights from a tree branch or shepherds hook.
With four color settings you will find that these solar floating pool lights will set the atmosphere for an eventful evening pool party. If you like color - this one has it. There are settings for red, blue and green. Set the color you want by pressing a button.
Simply turn it off by holding the button. Another nice feature is that it automatically turns off after four hours.
6-PK Floating Pool Lights-12" Globes 4 Color Settings-Solar LED Balls-Inflatable-Waterproof-Floatable and Hangable
Orb Floating Pool Lights

While this solar pool light sits on top of the pool it provides a disco like lighting under the water. 

 It displays multicolored patterns of light for a party setting.  There are 7 different light show options: lights flashing randomly, two speed flashing,  lights fading from one to the next, random cycling through all shows, chasing lights, in a wave, and lights staying on continuously.
It will run 6-8 hours on a full charge.  Of course it needs to sit out in the sun to get it charged.  Press the on button and put it in the swimming pool.   For larger pools it would be best to have two of them. 
These lights work best in pools with a light colored bottom - whether it's vinyl or gunite.  The light display is just not that visible in a pool with a dark liner.
Solar Underwater Light Show for Swimming pools & hot tubs (DISCO Color Changing)
Light Up Balloons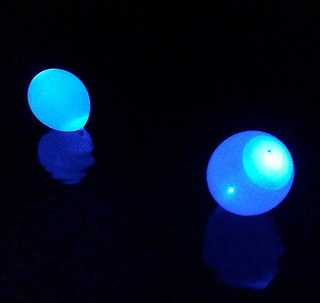 Light up balloons offer the same two light technologies - inserted glow sticks or LED lights. The glow sticks will last for one evening while the LED lighted ones can be used multiple times if you change the battery.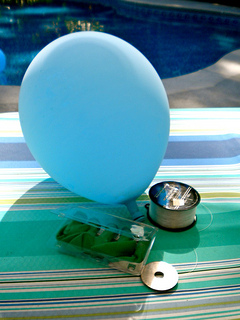 Here is how we turned the light up balloons into floating pool lights. We purchased clear string and heavy washers from the local hardware store.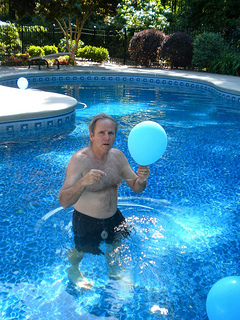 Go into the pool and determine how long the string should be. Longer string is needed for balloons floating in the deep end. 

Tie the string to the balloon and to two washers.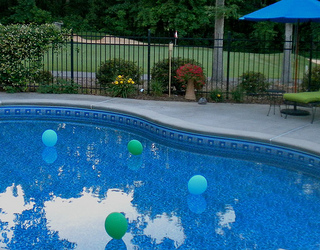 We positioned and turned the light up balloons on just before our guests came at around 6:30 PM so that as the sun went down, the lights became evident.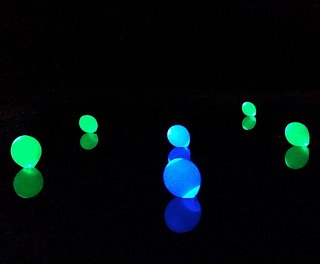 LED balloons offer three different light modes. There is a button at the base of the balloon: slow blink, fast blink, and steady on. These high quality balloons will stay lit for 10 hours. Extra batteries come in the package -so just replace the batteries for the next time. Balloons come in lots of different colors - white, red, blue, green, yellow and orange.
LED Light Up Balloons Pack of 30 Premium Led Balloons Mixed Color 3 Flashing Modes Fillable with Helium or Air
Go from Floating Pool Lights to Swimming Pool Lights

Go from Floating Pool Lights to Pool Fun for Everyone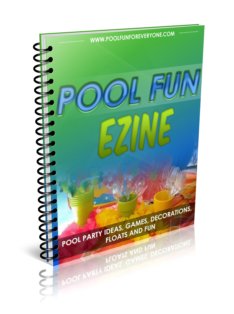 Looking for ideas to have fun with friends and family out by the pool? Get free tips on:
Pool Party Themes, Invitations, Games and Decorations
Outdoor Patio Umbrellas - Frame, Fabric and the Best Size
Swimming Pool Floats for Infants, Kids and Adults

Pool Party Food from Summer Appetizers to Cold Desserts
Outdoor Party Lights
- Patio Umbrella Lights to Solar Torches

Sign up here:
© Copyright 2011 - 2020 www.PoolFunforEveryone.com
All rights reserved. This DMCA site is protected under U.S. and International copyright laws. Do Not Copy any Content or Images. No use is permitted without written permission.