Choosing Pool Liners - By A Pool Owner
Choosing pool liners is an important decision in the process of putting in new pools or replacing pool liners. We have done both.
Selecting or Replacing Pool Liners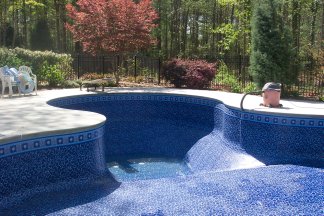 There are several considerations when you are in the process of selecting your new pool liner or replacing an existing one.
They are the warranty, the liner thickness and the color or pattern.
Of course along with selecting a pool liner you are also choosing your installer. Be sure to check with several references before you make your final decision.
Pool Liner Thickness
Pool liner thickness is listed as "gauge" or "mil." You would think that thicker pool liners are more durable and may last longer.
You will see the liner thickness listed as "gauge" or "mil."
The two options are 20 mil or 27 mil.
We decided that for an extra $200-$300 we would go with the thicker liner.
Ask the pool companies if they have any 27 mil liners available at the 20 mil price. Each spring many of the pool liner companies will select three to five 27 mil liner patterns and order larger quantities of these patterns and then make them available to the consumer at the cheaper 20 mil price.
Light Vinyl Swimming Pool Liners
When we first put in our inground swimming pool 10 years ago, we decided to go with a lighter bottom and a darker tile border. The border kept it's color quite well considering all the chemicals and UV light it was exposed to.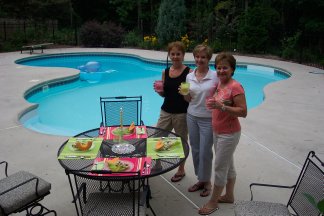 The bottom of the pool often showed stains that developed due to chemical reactions and leaves that fell in the fall.
We used different stain removers which worked well, but also lightened the bottom liner, so that as the years went by it got lighter and lighter.
Dark Vinyl Swimming Pool Liners
Here is a picture of our new dark vinyl swimming pool liner. I had a girl's weekend at my house and of course we spent some time out by the pool.
I didn't mention that we had put in a new liner, and all of the guests commented on how much the pool "sparkled."
Compared to the light pool liner, we like the darker liner for several reasons.
1. It does add some some "sparkle, life, depth" compared to the lighter liner.
2. It won't show stains and will be easier to maintain.
3. When the pool lights are on in the evening the bottom surface of the pool appears smooth. Every indent and uneven surface was very noticeable and I think magnified by the water with the lighter pool liner.
The color of the darker liner, is more of a navy blue with a white pattern scattered through out. The first picture at the top is our new swimming pool replacement liner.
This was the 3rd time this season that our pool installers had put in this vinyl liner. The owner of the company and the installer both said it was their favorite - it's mine now too :)




Go from Choosing Pool Liners to Inground Swimming Pool Liners

Go from Choosing Pool Liners to Pool Fun for Everyone Home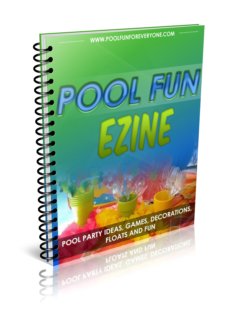 Looking for ideas to have fun out by the pool? Get free tips on:
Pool Party Themes like Flip Flop Parties or Beach Parties
Pool Party Games like Diving for Pirate Treasure or Beach the Ball
Pool Toys for Infants and Adults
Pool Party Food, Floats, Furniture and more...
If you said "yes" to any of the above, sign up for my free Pool Fun E-Zine.