Swimming Pool Cleaning Equipment
Invest in pool equipment that will help minimize your time spent managing your pool while keeping the water clear and clean.  When it comes time to replace your swimming pool pump, filters, cleaners and other equipment, it pays to do some research.  
Cleaning Pool Equipment 
Basic tools you need to keep your pool clean is a long handled vinyl liner brush, a pool skimmer and a deep bag pool rake. Even with automatic pool cleaners, it is still necessary to brush the bottom of your pool occasionally and depending on how many trees you have, leaves and debris need to be skimmed out especially after a storm.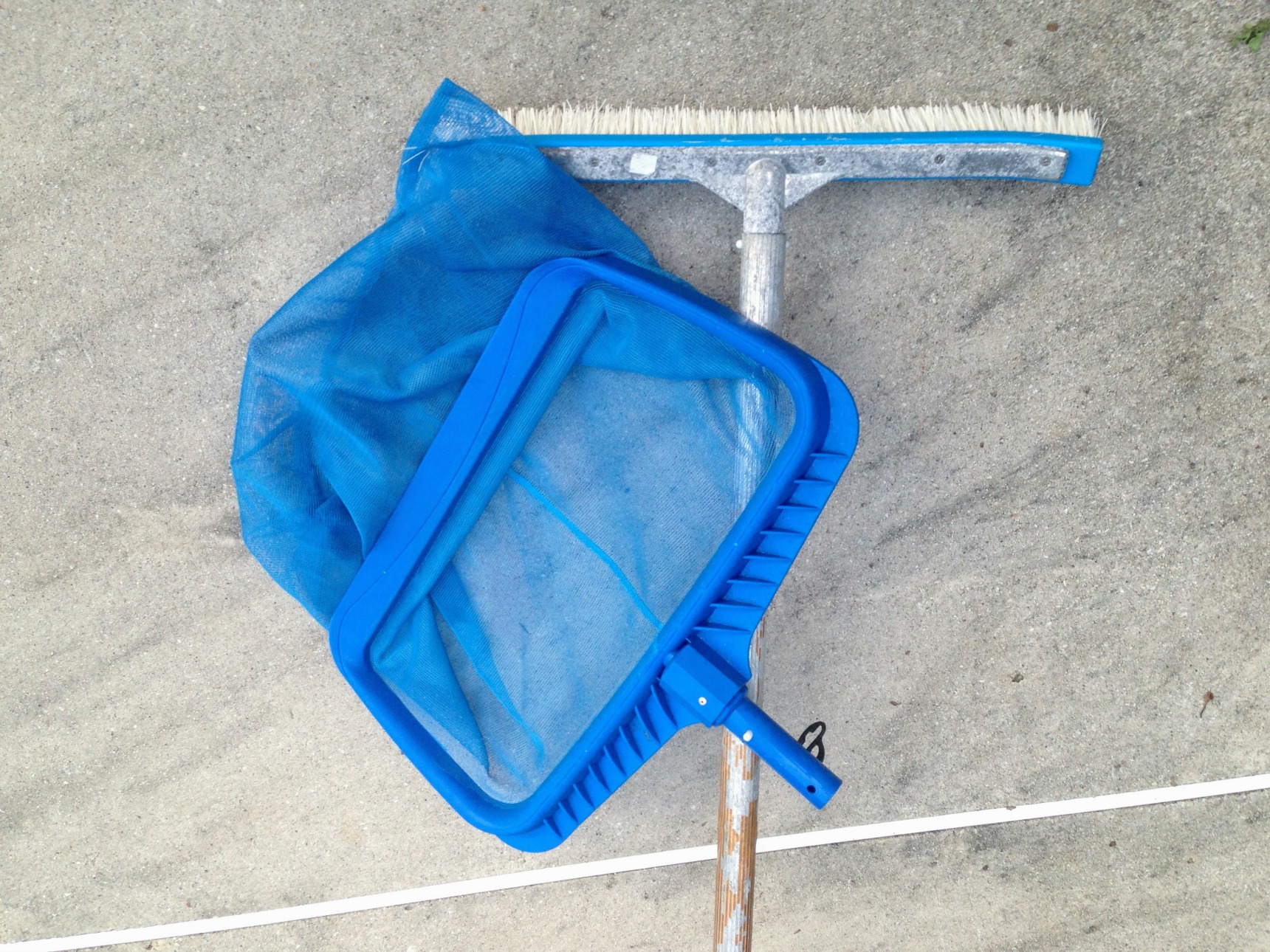 Another good reason to have these pieces of swimming pool cleaning equipment is that automatic pool cleaners are hard on vinyl liners.  Ours takes off tiny flecks of color so we have little white specks on our deep blue vinyl pattern. 
The deep bag is called a rake and is especially good in the fall if you have lots of leaves. You can find these at your local pool store or on-line at Amazon. 
JED Swimming Pool Cleaning Bundle (Pole + Brush + Skimmer + Rake)
Polaris Automatic Pool Cleaner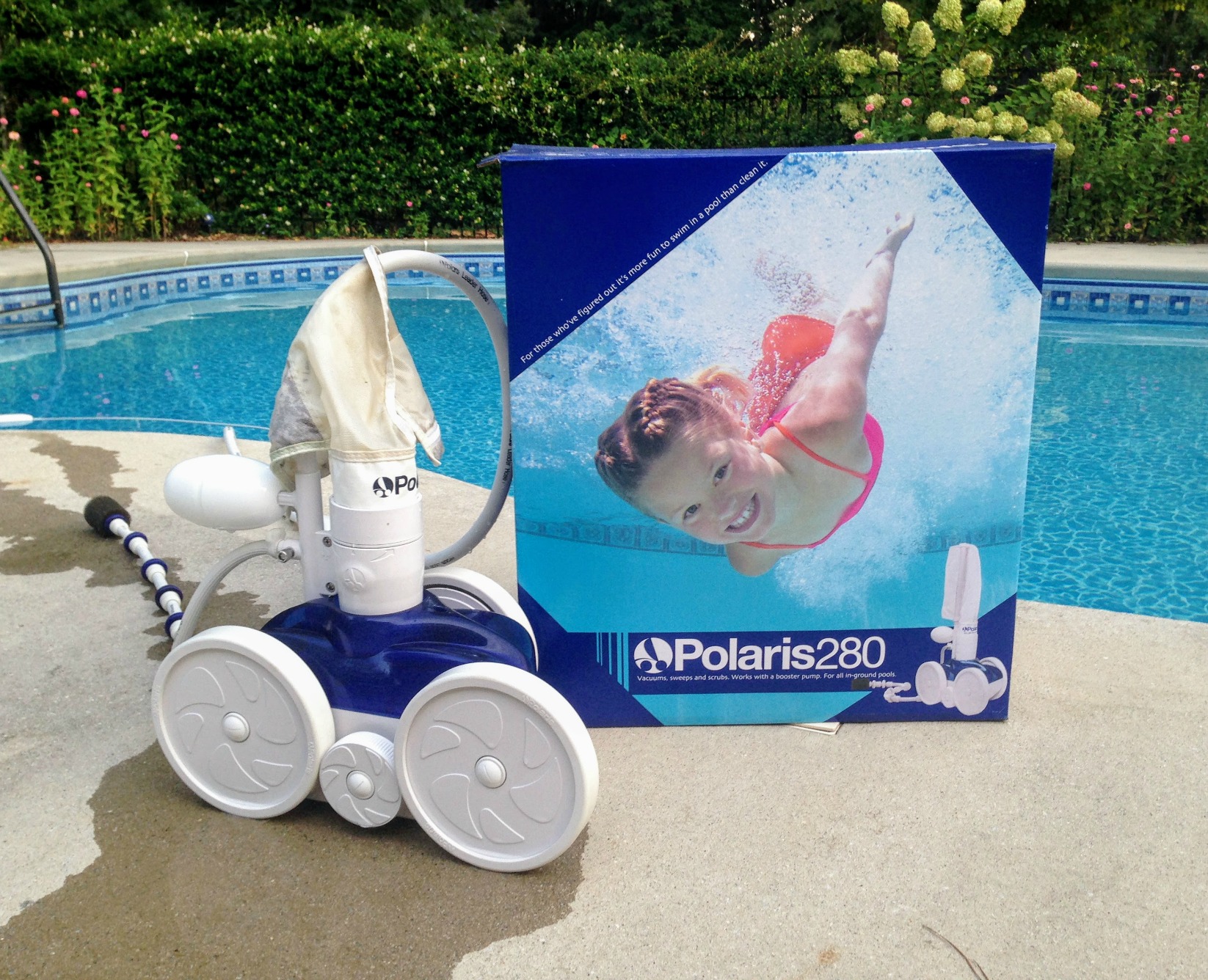 An automatic pool cleaner like this one from Polaris travels across the bottom of sides of your inground swimming pool picking up sand, debris and leaves.  We bought this older versions because it has less moving parts so there is less opportunity for things to go wrong.  Newer versions clean the pool in a quicker amount of time, but not sure what the benefit of that is.  So we spent less on the Polaris 280 and are very happy with how well it cleans the pool. 
While the skimmers are good at removing surface debris, automatic pool cleaners pick up debris before they reach the pool basket and filter, which means less work and a longer life for your pool filter.   
Want your pool to look clear?  The Polaris 280 has done a great job of keeping our water circulated and looking crystal clear. 
Polaris Vac-Sweep 280 Pressure Side Pool Cleaner
Salt Water Pool Equipment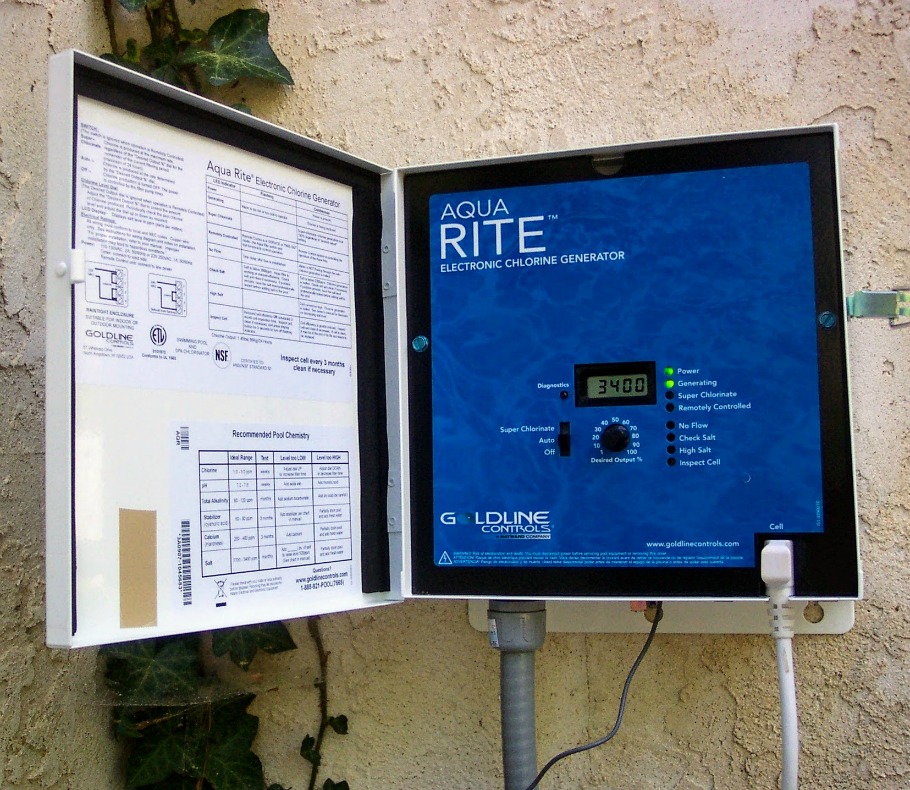 Trying to decide on a salt water pool vs chlorine?  We were in the same situation.  Originally our pool started out as a standard chlorine pool.  After several years of pool ownership and enjoying the less irritating salt water pools of friends we decided to make the switch.  
Managing pool chemicals and keeping it in balance has been so much easier since we moved to a salt chlorine generator.  The added bonus has been that the pool water is less harsh and irritating to our skin and hair.  Family members with eczema who couldn't swim in public pools because of the high chlorine content found that our salt water pool was the best for their skin.
Go from Swimming Pool Cleaning Equipment to Pool Fun for Everyone Home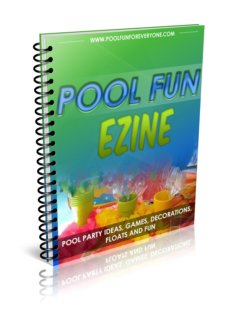 Looking for ideas to have fun with friends and family out by the pool? Get free tips on:
Pool Party Themes, Invitations, Games and Decorations
Outdoor Patio Umbrellas - Frame, Fabric and the Best Size
Swimming Pool Floats for Infants, Kids and Adults

Pool Party Food from Summer Appetizers to Cold Desserts
Outdoor Party Lights
- Patio Umbrella Lights to Solar Torches

Sign up here:
© Copyright 2011 - 2016 www.PoolFunforEveryone.com
All rights reserved. This DMCA site is protected under U.S. and International copyright laws. Do Not Copy and Content or Images. No use is permitted without written permission.