Under the Sea Party
An Under the Sea party is a pool party theme that fits boys or girls or a mixed group.
Pool Party Themes for Boys or Girls
Pool party themes help give direction to your invitations, decorations, food, games and party bags. The decorations and games can be adjusted so that they appeal to all different ages.
My granddaughters loved helping me make these fish party decorations made out of paper plates. We painted them blue, cut out the mouths, stapled two plates together, and then stapled in deep blue and aqua blue tissue paper that were cut into strips.
Place the fish in lots of different places. We hung these "tropical fish" from the patio umbrella that is also decorated with aqua blue shimmery netting. These tropical fish were put on blue painted dowels and set on either side of the pool gate welcoming the pool party guests as well.
Deep Sea Birthday Party


A Deep Sea Birthday Party provides you with lots of themed pool party games that include swimming with other deep sea fish and mermaids.
Under the Sea Decorations
Have fun with your kids making these Under the Sea decorations. Our granddaughters loved painting the plates.
Involve your kids in the planning and decorating. My granddaughters came up with some of the greatest ideas for our Under the Sea party.
To see more pictures of how we decorated for this pool party theme click here: Under the Sea Decorations
Under the Sea Party Supplies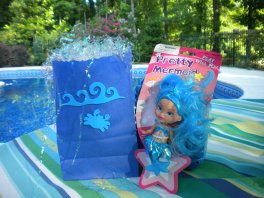 These deep sea party bags were made with blue lunch bags that I found at Target.
Trim the top of the bag with a decorative scissor and stick some ocean themed foam stickers on the front.
It's easy to find inexpensive favors in the beginning of the summer but by mid-July most of them are gone. I bought the last 5 of these mermaids at the Dollar store for the girls party bags and found some fun, tropical pool fish for the boys.
Fish straws and Little Mermaid and fish stickers completed the bags.
Under the Sea Pool Party Games
Under the Sea pool party games include the Trinket Dive, Swimming with Sharks, and a Mermaid Rescue.
Pool games for kids need to match the age and the ability of the child. Most games can be adapted so that the games are fun and yet a bit challenging.
Always have plenty of adult supervision.
For pool game ideas click here: Under the Sea Pool Party Games
Under the Sea Cake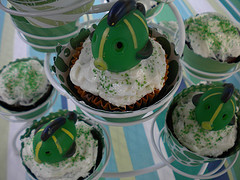 Make fun cupcakes for your Under the Sea cake. Colorful cupcake wrappers add color and design, while playful toppers add to the themed pool party.
You don't have to be a cook extraordinaire to make these fun cupcakes. Bright green cupcake wrappers trimmed with decorative scissors provide lots of color while the cute puffy fish bring an element of fun.
The kids love cupcakes topped with toys that they can actually take home and play with.
Display your creative cupcakes on a cupcake stand
and use it as a centerpiece for your Under the Sea decorations.
Top your cupcakes with colorful plastic fish that can also be used as take home party favors.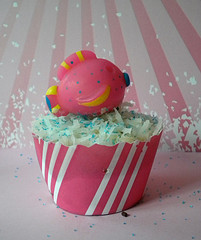 These fun cupcakes are topped with some fresh coconut and sprinkled with some blue colored sugar. The pink cupcake wrappers were made from scrapbooking paper.
The wrappers provide so much more color than cupcake liners. Even the more expensive liners fade and lose their color after they've been baked.
Cupcakes are easy to make, easy to decorate and an easy to serve dessert for any kids pool party.




Go from Under the Sea Party to Pool Party Themes

Return to Pool Fun for Everyone Home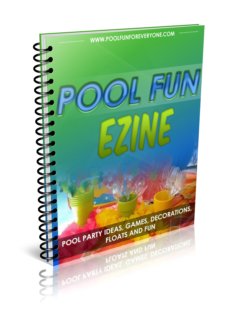 Looking for fun ideas to use out by the pool? Get free tips on:
Pool Party Themes like Flip Flop Parties or Beach Parties
Pool Party Games like Diving for Pirate Treasure or Beach the Ball
Pool Toys for Infants and Adults
Pool Party Food, Floats, Furniture and more...
If you said "yes" to any of the above, sign up for my free Pool Fun E-Zine.