Beach Party Ideas

Need some beach party ideas for your next pool party? This is a colorful and fun pool party theme for kids and adults.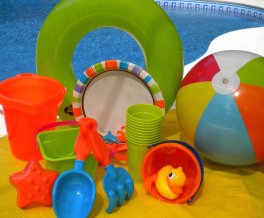 Colorful beach balls, swim rings, striped towels, and beach ball balloons all make for a great summer beach party.
Beach Party Ideas for Invitations

Beach party invitations can be store bought, custom ordered or uniquely your own.  Don't under estimate the importance of the invite - they set the theme for your get-together, make people feel special, and build anticipation.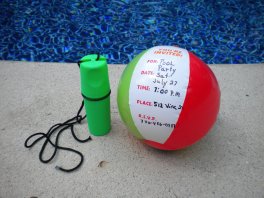 There are several options of buying or making your own beach party invitations. You can of course order custom invitations from companies like Vista print or on line.
Real beach balls make the perfect beach party invitations. I found these fun pool party invites on line at Amazon.
Write the invites on the deflated beach balls and put them in the handy container. They can be mailed or hand delivered.
Beach Container with Beach Ball Invitations (1 DOZEN)

Summer Fun Personalized Invitation - $0.99
from:
Birthday in a Box
The most convenient way to get out your invites is to custom design and order them on line. What I love about this is that it can be done anytime of the day and any day of the week. No more going to a store that's only open when you can't get there. You can change colors, fonts, and wording to fit your special occasion.
Surfer Theme

Surfer Dude Personalized Invitation - $0.99
from:
Birthday in a Box
I love how these are printed for you. One thing I am not good at is printing things myself - the cartridge get's jammed, the line up is off and then the invites are wasted. Order on-line and all of that hassle is gone.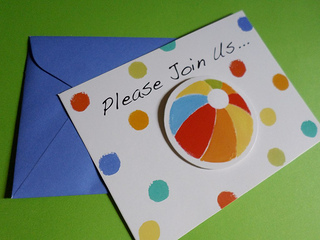 You can also get invites that allow you to fill-in the blanks for the party time, date and location. I love these Beach Ball Invites that were purchased from Birthday in a Box. We used them for our annual neighborhood party that of course carried a beach theme. I bought an extra set of invites and used just the beach balls for party tags on the party bags.

To make a bigger splash send an unconventional invite - like an invite in a bottle that include miniature sunglasses and umbrella. 


Invitation in a Bottle - $1.39
from:
Birthday in a Box
Beach Theme Party Decorations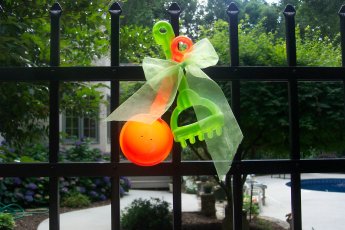 What I love about beach party decorations are the bright colors like orange, yellow and lime green.
Use colorful sand buckets and sand toys to decorate with and even serve your food in them.
Colorful cheap paper lanterns from the Dollar Store provide splashes of color on your table or hanging from a tree or patio umbrella.
To see some pictures and to get some great ideas click here:
More Beach Party Decor Ideas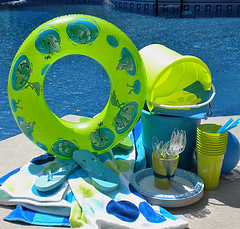 Get more ideas for floating pool decorations and pool party lights to make your beach party memorable.
Decide on a color scheme and then stick to it starting with the invitations to the beach party decorations.
Use colorful beach towels, tikki torches, beach balls and more:


More Beach Party Decor Ideas - Tips and Pictures
Cheap Paper Lanterns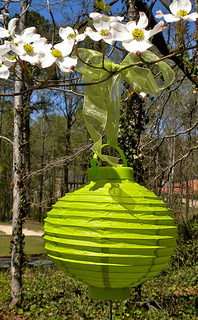 Cheap paper lanterns are a great way to provide color and a festive feel inexpensively.
Decide on a color scheme for your beach party and then buy hanging paper lanterns in those same colors.
They are easy to hang on the ribs of your patio umbrellas or tree branches.
We also place them from vines growing on our garden arbor so that the guests are greeted with a party feel right at the start.
Outdoor parties require bigger ones than indoor parties - so be sure to get at least 14" lanterns or larger.

Cheap Paper Lanterns
Beach Party Favors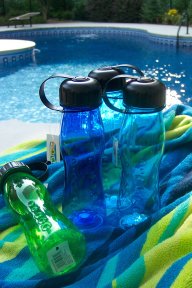 From water bottles to
Can Koozies
, send your guests home with a fun reminder of a special time together.
Fill new sand buckets lined with tissue paper with sunglasses, sunscreen and moisturizing lotion. 

Or for a truly special reminder, provide each guest with a take-home beach towel.
Other ideas for teens or adults are:
Fun coasters, insulated water bottles, or cheap sun visors.
Beach Party Food Ideas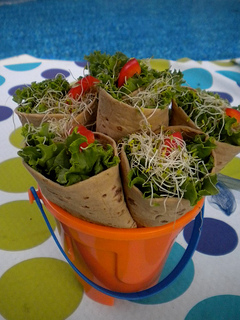 Serve your beach party food in bright orange, yellow or lime green sand buckets. 
Tasty wraps take on a new look when served in this new orange beach pail.

Line a sand bucket with a colorful napkin and put in your chips.
Use a (new) sand shovel to serve the chicken salad. A bucketful of Goldfish is a perfect snack for kids.
Get some beach party ideas for appetizers, salads, and cupcakes here:
Beach Party Games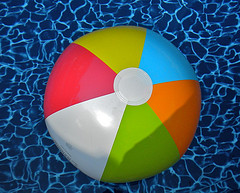 What's a beach party without beach ball games? Here is one that works for many different ages.
Give a person a large blown up beach ball. See how many times that person can tap the ball and keep it the air before it hits the ground (or the water if the game is in the pool).
Divide the guests into teams of two. See how many times two people can tap the ball to each other before it drops.
The person or team that keeps it in the air the longest wins.
Beach party games for the pool can be as simple as water volleyball, using a beach ball instead. Get more ideas here:
Indoor Beach Party Ideas

If rain is keeping you from the outside, move your beach party inside. Or in our case it wasn't the cold or the rain, it was record heat and humidity that moved our beach wedding shower inside.
Decorate with colorful cheap paper lanterns, set out swimming pool floats in the corner of the room, and use sand buckets and sand shovels to serve the food.
To see what we did for our indoor beach party click here:
Go from Beach Party Ideas to Pool Fun Home Page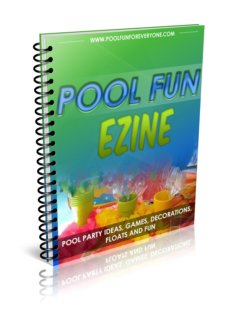 Looking for ideas to have fun with friends and family out by the pool? Get free tips on:
Pool Party Themes, Invitations, Games and Decorations
Outdoor Patio Umbrellas - Frame, Fabric and the Best Size
Swimming Pool Floats for Infants, Kids and Adults

Pool Party Food from Summer Appetizers to Cold Desserts
Outdoor Party Lights
- Patio Umbrella Lights to Solar Torches

Sign up here:
© Copyright 2011 - 2016 www.PoolFunforEveryone.com
All rights reserved. This DMCA site is protected under U.S. and International copyright laws. Do Not Copy and Content or Images. No use is permitted without written permission.