Baby Pool Floats

Baby pool floats come in a variety of styles and shapes.  Some come with removable shades or canopies that provide some kind of shade or protection from the sun.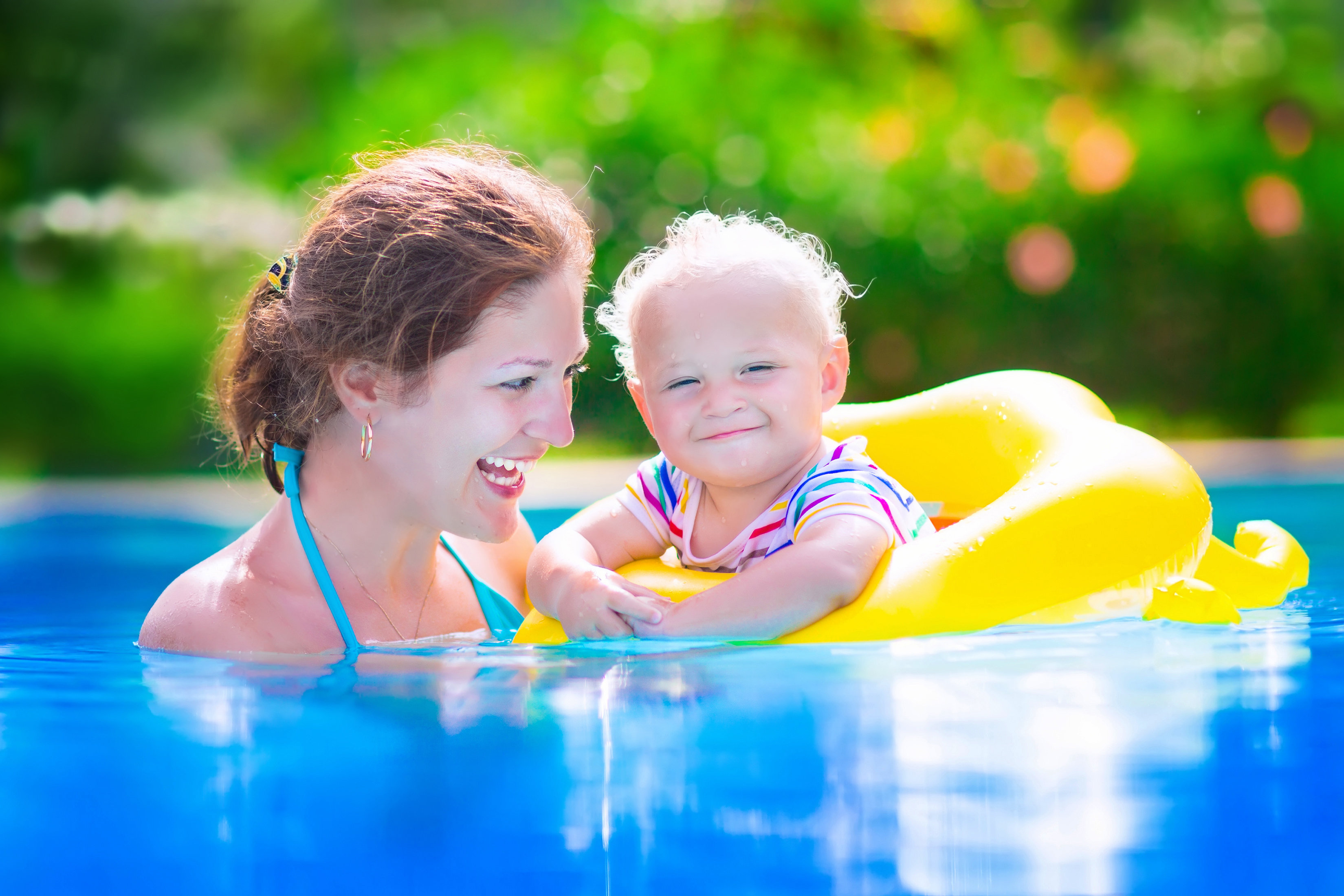 We have used infant pool floats for our kids and now our grandchildren. With new grandbabies, spending time in the pool with them is so fun and entertaining.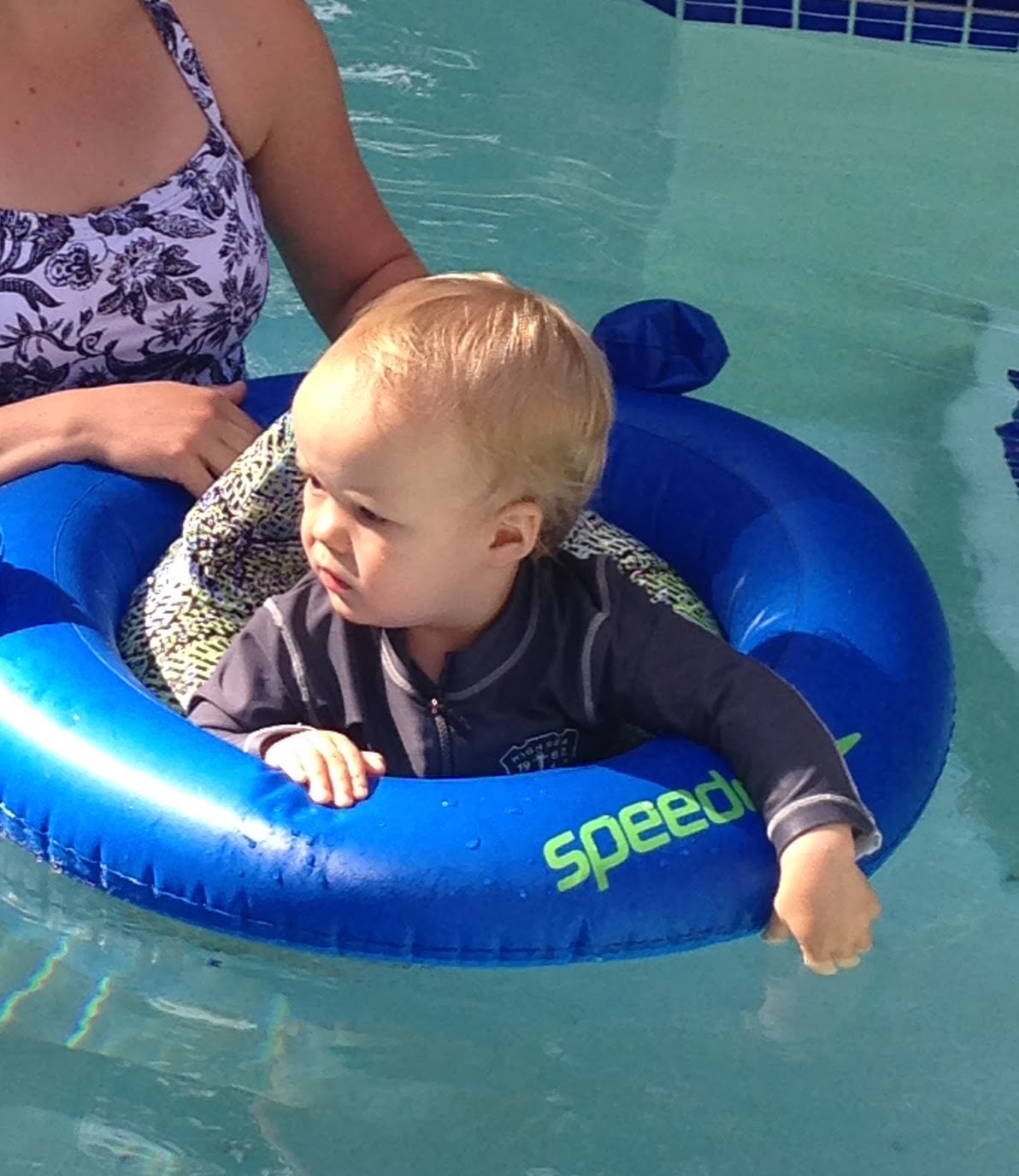 Babies just love being in the water - at least all of ours have - they love freely kicking their dangling feet and splashing with their hands.
Because a babies skin is very sensitive to the hot sun and the affects of ultra-violet light, be sure to get a float with a canopy.
Many baby pool floats provide some kind of top that will shade the infant's delicate skin. It is easy to attach or detach if it isn't needed.
The float we are using for our 18 month grandchild is the Speedo Fabric baby pool float.  It has two rings - an outer ring and an inner ring so we set a couple of fun toys inside the rings for our little one to play with. 

It is good for up to 33 lbs and the instructions state that it is made for babies 6 to 24 months. The shade piece needs to be blown up but it doesn't stay put very well nor does it provide great coverage. So if you need one with a better canopy then I recommend the baby spring float.

What we did like about the Speedo float is that the baby sits a little deeper in the water, has a back rest for stability for younger ones and seems more stable. This one is made out of fabric instead of plastic vinyl, which I can't ask our 18 month old granddaughter, but I think she likes the feel of it better than the sticky vinyl. It is definitely easier to get her in and out of it.
Baby Pool Floats with Shade
Baby Spring Floats

We also found that a baby spring pool float is more durable than an inflatable one. Our first inflatable infant pool float developed a leak within a month.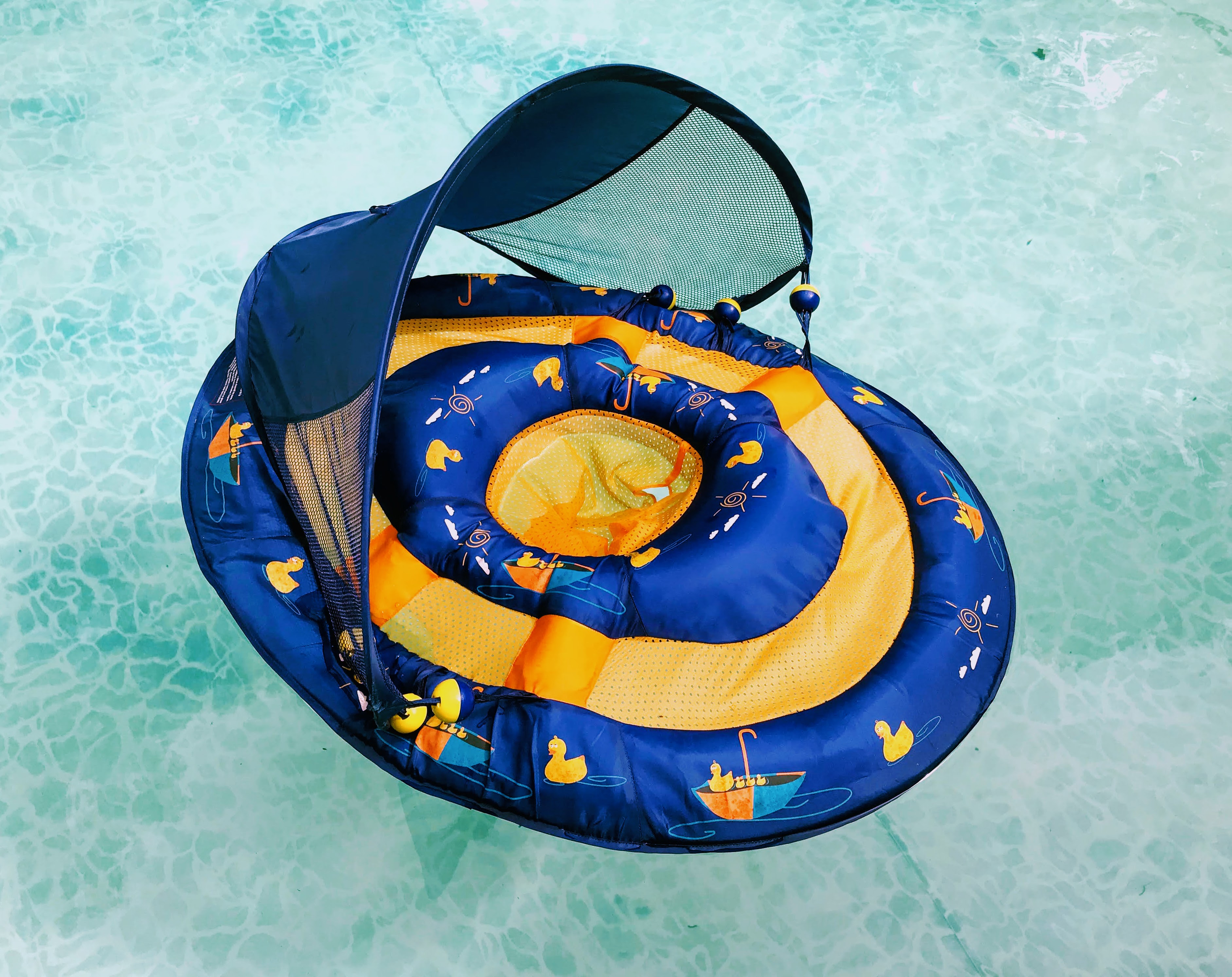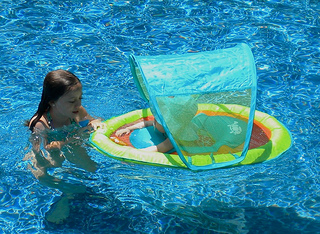 This is our favorite float if you are wanting one with a canopy or shaded top. It is easy to put on and take off and it stays in position or can be adjusted to allow for better shading. 

It is durable, it won't develop a leak and provides the best shade.  Newer models have an attached toy that helps to entertain and keep baby happy. 
Get yours at Amazon here:
Baby Float That Entertains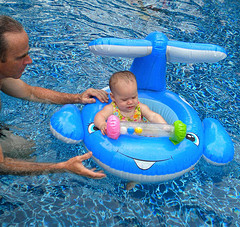 We have tried several different baby pool floats - some work better than others. 
One of our floats includes some extra features  - like little spinners and a squeaky toy that keeps our new baby entertained and happy. If the float doesn't have a toy, bring a plastic waterproof, squeaky toy into the pool with you and the baby. Let him/her play with it while you push them through the water.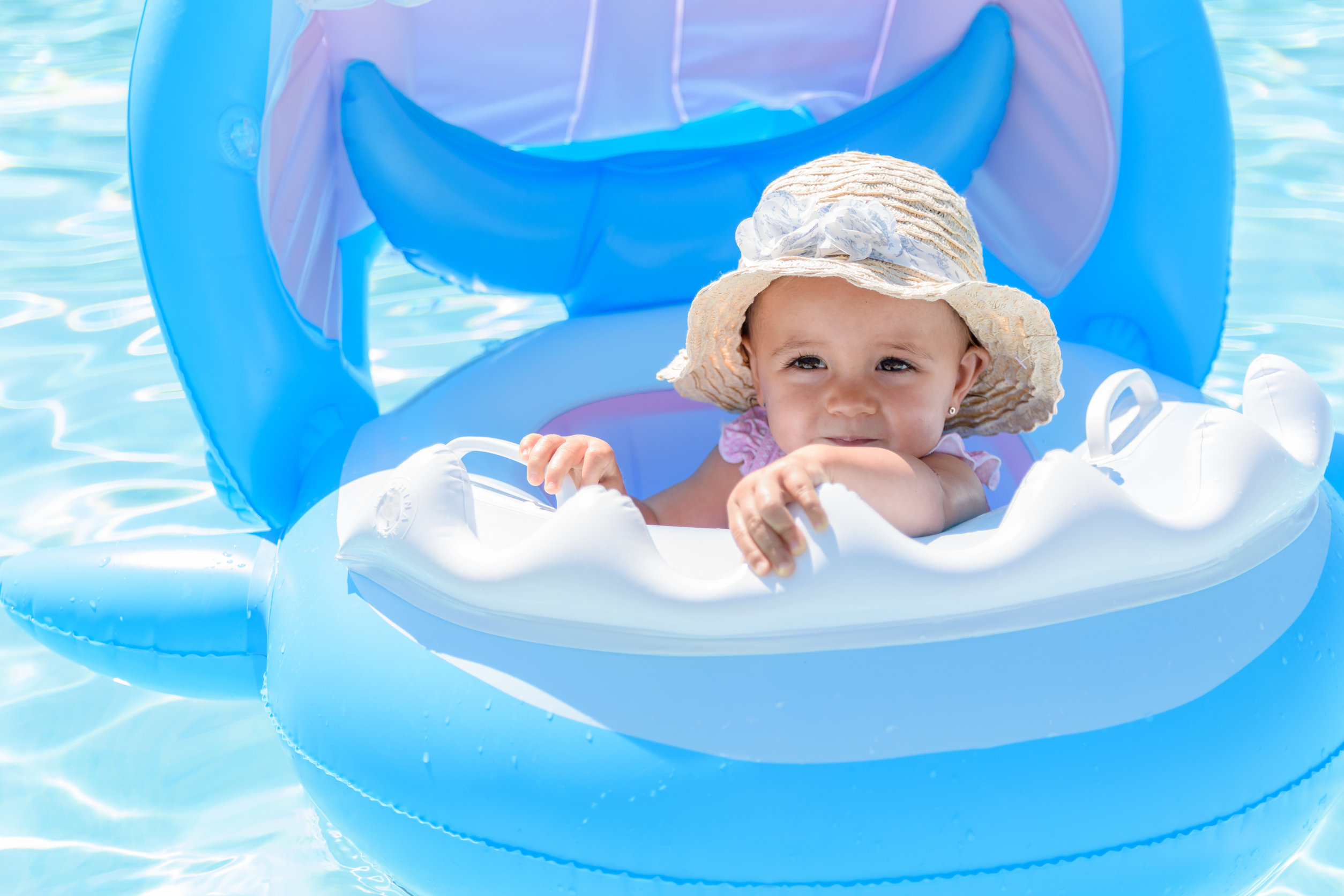 If you own a pool and plan to use it often, an infant pool float will provide you and your baby with many hours of fun.
Of course never leave a baby unattended in any pool float - not even for a second. These floats are not a lifesaving device and require competent and constant adult supervision.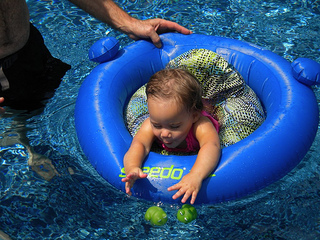 It is a good idea to have a couple of
colorful bath squirt toys
or pool toys for babies to play with while they are in their baby pool floats.
We put these fun squirt frogs just in front of the pool float and she loved kicking her feet so she could get to them.

         Toddler Pool Floats
Entice your reticent toddler into the pool with a toddler pool float shaped like a car, an airplane or an animal.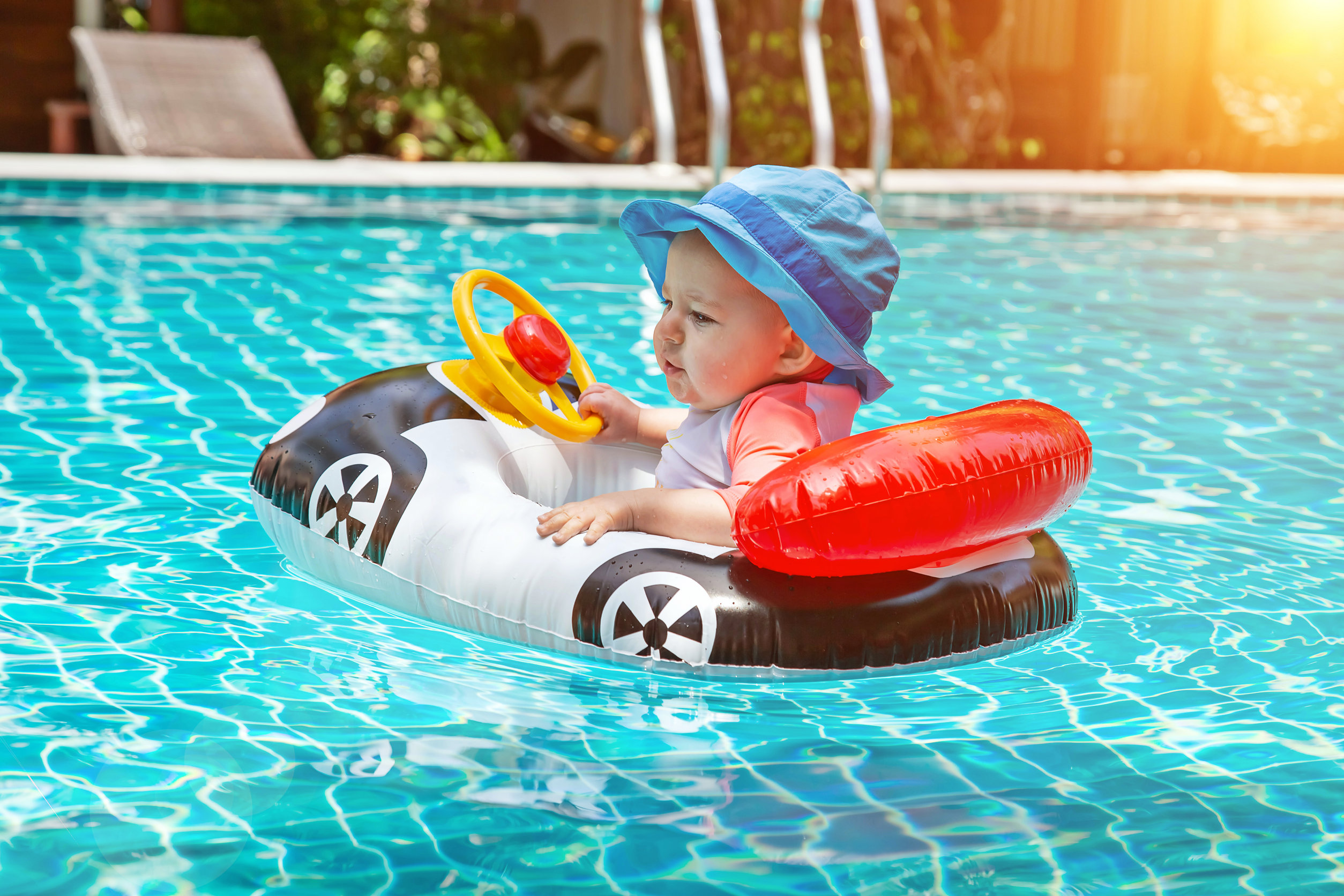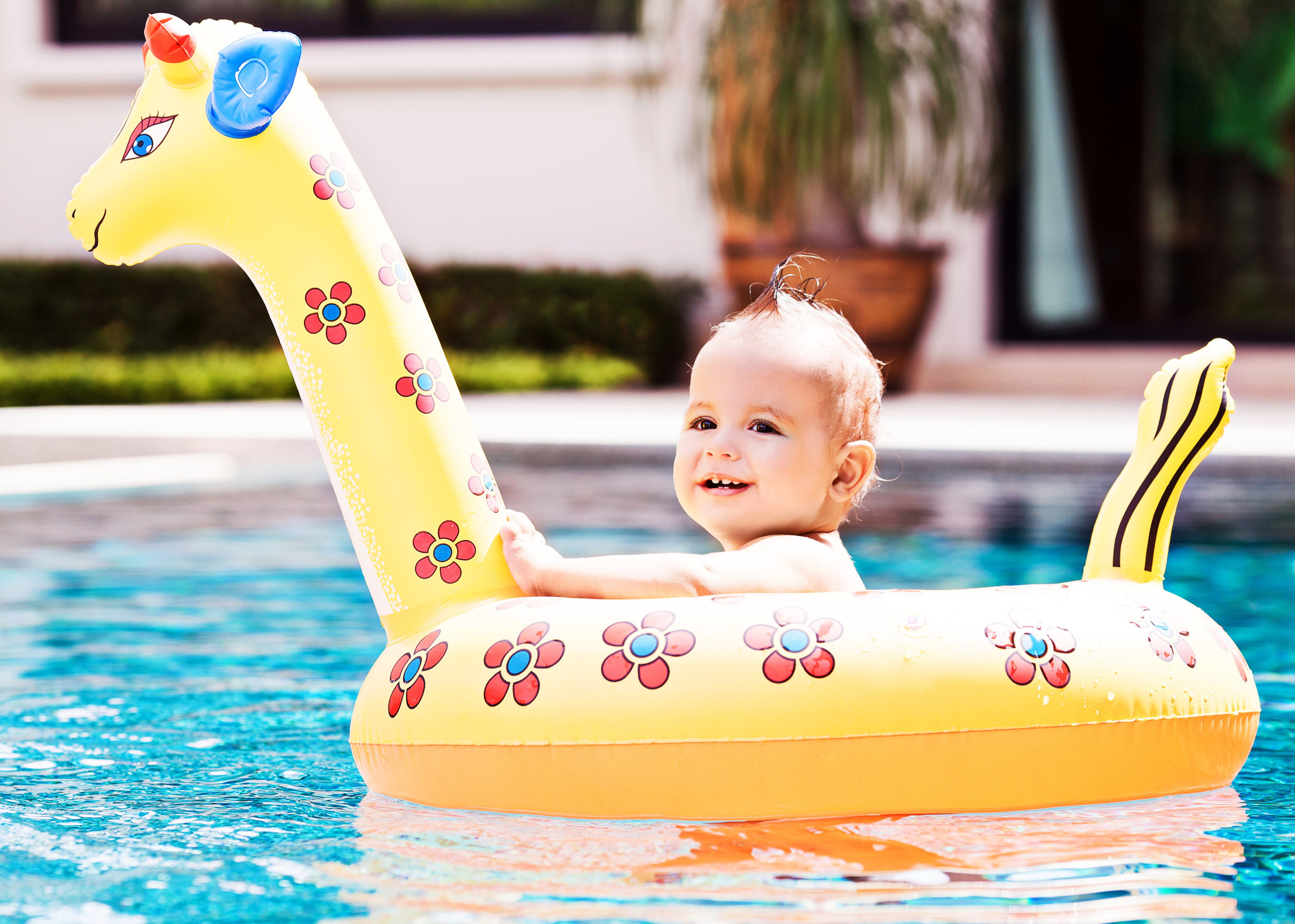 Swim  Diapers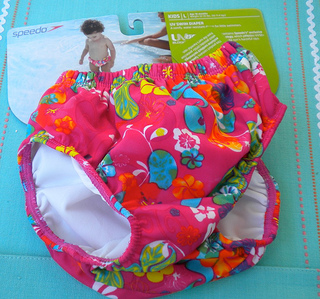 Keep swim diapers handy and ready to go for the babies and toddlers in your family. We like the cloth diapers that can be washed and reused. But you can also use
disposable swim diapers.
They are available in three sizes:
Small for ages 0-6 months (10- 18 lbs or 4.5-8.1 kgs)
Medium for around 12 months (18-22 lbs or 8.1-10 kgs)
Large for around 18 months (22-25 lbs or 10-11.4 kgs)
The snug elastic leg bands keep you know what in and the pool clean. These diapers are intended to be worn alone, not with a regular diaper under it. Hand wash with cool water and non-chlorine bleach.  Get yours at Amazon here:

Swim Diaper
With a few bath squirt toys, swim diapers and the right float,  you  and your baby can have fun in the pool.

Go from Baby Pool Floats to Swimming Pool Floats

Return to Pool Fun for Everyone Home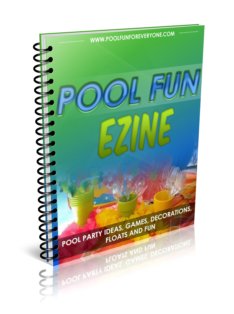 Looking for ideas to have fun with friends and family out by the pool? Get free tips on:
Pool Party Themes, Invitations, Games and Decorations
Outdoor Patio Umbrellas - Frame, Fabric and the Best Size
Swimming Pool Floats for Infants, Kids and Adults

Pool Party Food from Summer Appetizers to Cold Desserts
Outdoor Party Lights - Patio Umbrella Lights to Solar Torches


Sign up here:
© Copyright 2011 - 2023 www.PoolFunforEveryone.com
All rights reserved. This DMCA site is protected under U.S. and International copyright laws. Do Not Copy any Content or Images. No use is permitted without written permission.